Beginner's Corsetry Course: June 3-5th, 2019 (3 days)
Book your place in this Beginner's Corsetry Class and learn how to make your own steel-boned genuine underbust corsets. At the end of this corsetry course you'll have a custom fitted black corset and personalised pattern to keep. You'll gain the confidence, knowledge and inspiration to build on your success and make more corsets on your own. Receive expert guidance from an industry professional in a fun, warm environment. All shapes, sizes and ages welcome!
Dates: Monday 3rd – Wednesday 5th June, 2019 (3 days)
Times: 9:30am – 6:30pm each day (27 hours of tuition)
Location: Vanyanís studio, Healesville, Victoria, Australia
For accommodation and travel advice, please click here.
Price includes: all materials, corset pattern, morning and afternoon refreshments
Experience: you must already know how to sew and use a sewing machine (read more)
Small class size: 2-3 attendees
Payment in full must be received prior to course commencement
Prior to class commencement we will contact you for your measurements
IMPORTANT: For all course details, student requirements and skill level, a list of what to bring and what to wear, please click here.
3 in stock
Add to Wishlist

Category: Classes
Tags: beginnerscorsetmakingcoursebyvanyanis, corset, corset class, corset class australia, corset course, corset course australia, corsetmaking, corsetry, fashion student, learn to sew, melbourne, sewing, vanyanis, yarra valley

For your chance to be featured, use #BeginnersCorsetMakingCoursebyVanyanis on Instagram.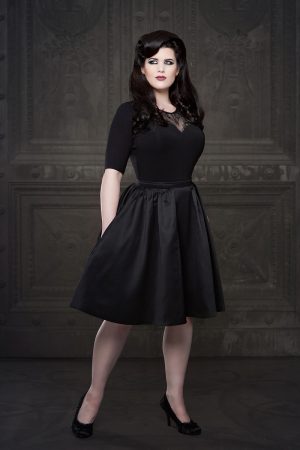 Ready to Wear, Skirts
At Vanyanís, we believe that elegance goes hand in hand with comfort and utility. This is why our decadent satin skirt has two generously deep hidden pockets - freeing you of the need for a clutch should you choose.
The skirt is cleverly cut to accentuate your waist and hips, without adding 'bulk' at the front. The luxurious satin is gathered at the back and sides, joining the flat front. The hemline is generous and you instantly want to swish about when you wear it. Why not wear a petticoat underneath for a vintage feel?
This skirt is the height of luxury and we've loved bringing a couture feel to this garment. The skirt is fully lined in cupro (a hypoallergenic, anti-static fabric made from the silky fibres of the cotton plant) which feels incredibly soft against your skin.
Christian Dior once said "You can wear black at any time. You can wear it at any age. You may wear it for almost any occasion." We couldn't agree more.
$

355.00