Intermediate Corsetry Course: February 8-10th, 2018 (3 days)
Book your place in this Intermediate Corsetry Class and learn how to make your own steel-boned genuine overbust corset. The focus of this class is learning how to perfect bust fit as well as a more in-depth look at refining corset fit overall. At the end of this corsetry course you'll have a custom fitted corset (made with coutil and fully lined) and personalised pattern to keep. You'll gain the confidence, knowledge and inspiration to build on your success and make more corsets in different fabrics on your own. Receive expert guidance from an industry professional in a fun, warm environment. All shapes, sizes and ages welcome!
Dates: Thursday 8th – Saturday 10th February 2018 (3 days)
Times: 9:30am – 6:30pm each day (27 hours of tuition)
Location: Vanyanís studio, Healesville, Victoria, Australia
For accommodation and travel advice, please click here.
Price includes: all materials, corset pattern, morning and afternoon refreshments
Experience: you must have intermediate sewing skills and have previously attended one other Vanyanís corsetry course.
Small class size: 2-4 attendees
Payment in full must be received prior to course commencement
Prior to class you will need to complete some pre-course work. You will be sent a kit with fabric and instructions to sew a corset toile which you will need to bring to class
We will contact you closer to class commencement so you can select your coutil fabric from the available options.
IMPORTANT: For all course details, student requirements and skill level, a list of what to bring and what to wear, please click here. (coming soon! In the meantime feel welcome to contact us directly)
Out of stock
Add to Wishlist

Category: Classes
Tags: corset, corset class, corset class australia, corset course, corset course australia, corsetmaking, corsetry, fashion student, healesville, IntermediateCorsetMakingCoursebyVanyanis, learn to sew, melbourne, sewing, vanyanis, vanyanisschoolofcouture, yarra valley

For your chance to be featured, use #IntermediateCorsetMakingCoursebyVanyanis or #VanyanisSchoolofCouture on Instagram.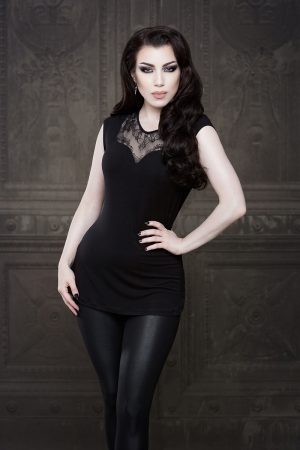 Ready to Wear, Tops
These Sweetheart Tops are made with a luxurious bamboo jersey and feature a gorgeous Leavers Lace panel, carefully cut to accentuate your bust, bringing glamour to your wardrobe. We believe fashion should be versatile and we love how wearable these tops are.
We've tested the fit of these tops on women with all different bust sizes and it consistently flatters, giving an amazing fit for a range of shapes. This is no ordinary 'tee'. Key to the success of this versatile fit are a number of hidden elements, including: • Clever patterning drafted to fit and accentuate your own shape (rather than relying on the stretch of the fabric) • Designed to accommodate larger busts (so that armholes will not stretch to expose your bra) • A centre back seam (allows the top to follow the natural curve of your back) • A curved hemline that comes up into small split at the side seams (to give shape and accommodate hips) • A longer back to allow elegant, flattering styling over pants and leggings • To ensure the long life of this garment, you must wash it in a garment bag, in cold water on gentle cycle. See 'Fabric & Care' tab below for all care instructions.
As part of the slow fashion movement, we believe clothing should be sewn to last and we've taken extra care to ensure that the seams of this garment stay strong. Bamboo is an eco-friendly, hypoallergenic and breathable fabric. We spent months sourcing these particular fabrics to ensure the garment could be worn frequently – and with its endless styling potential we're confident you'll love it like we do!
$

135.45 inc. GST