Intermediate Corsetry Course: October 29-31st, 2018 (3 days)
Book your place in this Intermediate Corsetry Class and learn how to make your own steel-boned genuine overbust corset. The focus of this class is learning how to perfect bust fit as well as a more in-depth look at refining corset fit overall. At the end of this corsetry course you'll have a custom fitted corset (made with coutil and fully lined) and personalised pattern to keep. You'll gain the confidence, knowledge and inspiration to build on your success and make more corsets in different fabrics on your own. Receive expert guidance from an industry professional in a fun, warm environment. All shapes, sizes and ages welcome!
Dates: Monday 29th – Wednesday 31st October 2018 (3 days)
Times: 9:30am – 6:30pm each day (27 hours of tuition)
Location: Vanyanís studio, Healesville, Victoria, Australia
For accommodation and travel advice, please contact us.
Price includes: all materials, corset pattern, morning and afternoon refreshments
Experience: you must have intermediate sewing skills and have previously attended one other Vanyanís corsetry course.
Small class size: 2-4 attendees
Payment in full must be received prior to course commencement
Prior to class you will need to complete some pre-course work. You will be sent a kit with fabric and instructions to sew a corset toile which you will need to bring to class.
We will contact you closer to class commencement so you can select your coutil fabric from the available options.
IMPORTANT: For all course details, student requirements and skill level, a list of what to bring and what to wear, please click here. (coming soon! In the meantime feel welcome to contact us directly)
Out of stock
Add to Wishlist

Category: Classes
Tags: corset, corset class, corset class australia, corset course, corset course australia, corsetmaking, corsetry, fashion student, healesville, IntermediateCorsetMakingCoursebyVanyanis, learn to sew, melbourne, sewing, vanyanis, vanyanisschoolofcouture, yarra valley

For your chance to be featured, use #IntermediateCorsetMakingCoursebyVanyanis or #VanyanisSchoolofCouture on Instagram.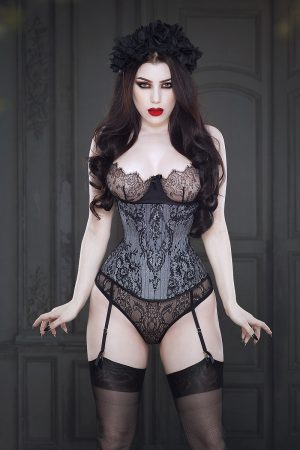 Ready to Wear, Corsets
The Lillian Underbust Corset is a luxurious, limited edition design from our first ready-to-wear corset collection. Featuring exquisite black lace that has been carefully cut and sewn to best accentuate your curves. The lace is laid over a gorgeous grey satin and the corset is bound with a decadent silk duchess binding and laces up with a soft satin ribbon.
One of the trademark features of a Vanyanís corset is the sleek silhouette and smooth, wrinkle-free finish on the fabric. The Lillian Corset is made with the best materials we could find (including a European coutil strength layer, German steel black busk and the most luxurious satin ribbon lacing). It has 30 spiral and flat steel bones, but still feels 'light' to wear as the quality fabrics provide strength and support without being bulky. (For those that love details, check out the 'Corset Details' tab below for all specifications on this corset.)
The Lillian Corset is cut straight under your bust and features a high back for a smooth silhouette. The corset comes with a structured modesty panel that is easily removable without having to unlace the corset (we used snaps!). Each corset comes in a beautiful branded box, perfect for gifting to yourself or a loved one. Click here to view a video showcasing the details.
The level of care and attention-to-detail that has gone into this making collection has resulted in an exceptional corset that will make you feel incredible.
$

795.00