Retractable Sewing Measuring Tape
We're in love with all things black and gold so of course we had to find a measuring tape to suit! This retractable measuring tape is great for keeping around your studio or in your handbag (when out fabric shopping). The tape features metric and imperial measurements and is soft and flexible.
150cm/60″
Made in China.
5 in stock (can be backordered)
Add to Wishlist


For your chance to be featured, use #VanyanisSewingSupplies on Instagram.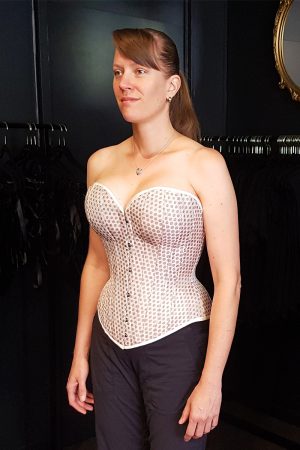 Classes
Book your place in this Advanced Corsetry Class and learn how to make your own steel-boned genuine overbust corset. The focus of this class is to learn how to work with 'fashion fabrics' as well as a more in-depth look at refining corset fit (especially over the bust area). At the end of this corsetry course you'll have a custom fitted corset (made with the fashion fabric of your choice) and personalised pattern to keep. You'll gain the confidence, knowledge and inspiration to build on your success and make more corsets in different fabrics on your own. Receive expert guidance from an industry professional in a fun, warm environment. All shapes, sizes and ages welcome!
Dates: Wednesday 2nd - Sunday 6th January 2019 (5 days)
Times: 9:30am - 6:30pm each day (40 hours of tuition)
Location: Vanyanís studio, Healesville, Victoria, Australia
For accommodation and travel advice, please contact us directly.
Price includes: materials, corset pattern, morning and afternoon refreshments
You will need to supply your own 'fashion fabric' and matching thread (all other materials will be supplied)
Experience: you must already have experience making corsets and have previously attended at least one other Vanyanís corsetry course.
Small class size: 2 attendees
Payment in full must be received prior to course commencement
Prior to class you will need to complete some pre-course work. You will be sent a kit with fabric and instructions to sew a corset toile which you will need to bring to class.
$

1,475.00