Vanyanís Tote Bag
As an elegant, knowledgeable woman, you know that plastic bags are both unsightly and unkind to our environment. Here in Australia, an estimated 3.92 billion disposable plastic bags are used each year. Many of these go on to cause general havoc, blocking waterways, and even finding their ways into the stomachs of our wildlife. Wherever you are in the world, you can do your bit for the environment while looking très chic while out shopping with our beautiful reusable calico bags.
These calico bags are screen-printed in Melbourne with our gorgeous corset monogram in black. Made from a high-denier, quality fabric, all internal seams are cross stitched making them stronger than your average calico tote and guaranteeing you will get plenty of use from them in years to come!
Add to Wishlist


For your chance to be featured, use #VanyanisTote or #VanyanisMerch on Instagram.
Description: Cream bag with black screen-printed logo on one side.
Fabric: 100% Cotton calico. 120gsm high denier fabric.
Size: Bag measures approximately 36cm wide x 40cm height. The straps each measure 73cm.
Care: For best results we recommend hand washing in cool water. Warm iron with pressing clothing. Do not tumble dry. Do not bleach.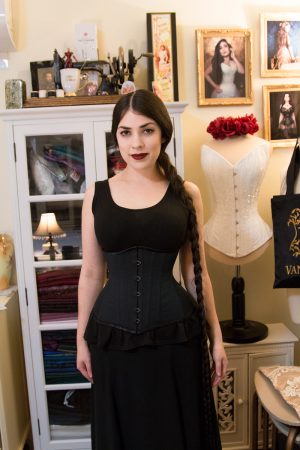 Book your place in this Beginner's Corsetry Class and learn how to make your own steel-boned genuine underbust corsets. At the end of this corsetry course you'll have a custom fitted black corset and personalised pattern to keep. You'll gain the confidence, knowledge and inspiration to build on your success and make more corsets on your own. Receive expert guidance from an industry professional in a fun, warm environment. All shapes, sizes and ages welcome!
Dates: Tuesday 14th - Thursday 16th November, 2017 (3 days)
Times: 9:30am - 6:30pm each day (27 hours of tuition)
Location: Vanyanís studio, Healesville, Victoria, Australia
For accommodation and travel advice, please click here.
Price includes: all materials, corset pattern, morning and afternoon refreshments
Experience: you must already know how to sew and use a sewing machine (read more)
Small class size: 2-4 attendees
Payment in full must be received prior to course commencement
Prior to class commencement we will contact you for your measurements
IMPORTANT: 
For all course details, student requirements and skill level, a list of what to bring and what to wear, please click here.
$

795.00