My best friend Amy recently hosted her annual 'Rococo picnic' which are held at various historic locations around Melbourne. I wasn't able to attend this years' one, but luckily I have been able to attend the two previous ones myself. The first picnic was held at Como House, the second at Rippon Lea Estate and the third at the Abbotsford Convent (follow the links to view Amy's blog posts about each picnic – well worth a read and filled with lots of lovely photos). They are fun filled days, spent lounging around in decadent clothing and indulging in delicious food (I wish we could do this more than once a year!). Prior to the picnic I was asked to help complete an outfit to be worn at the auspicious event.
Over the years I have made Adam (Amy's gentleman friend) numerous waistcoats (amongst other things) and he has modelled for Vanyanis both on the catwalk, and at various photo shoots. Adam commissioned me to make him a black velvet waistcoat to complete his Elegant Gothic Aristocrat outfit for the picnic (which are seriously flamboyant affairs).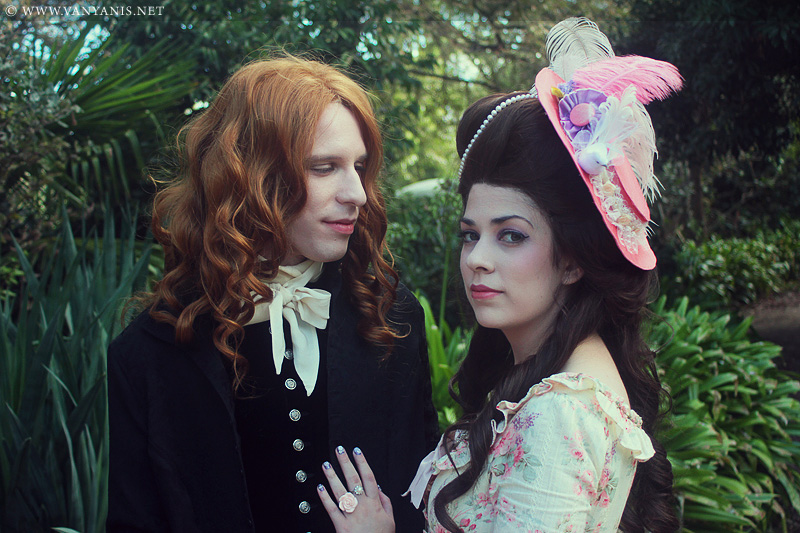 Adam and Amy looking incredible at the most recent picnic. Photo © MC Melody Doll
Adam decided that he wanted a remake of the Cavendish waistcoat, this time in luscious black velvet. I had made the original back in 2009 for a fashion show where he modelled an eighteenth century gentleman's ensemble (see footage of the event here). The waistcoat was made in olive green velvet, backed silk and lined in soft cotton. The pattern was based on a historic design and featured lots of detailed buttons and a tailored fit that flared below the waistline. The waistcoat comes down to mid thigh, and is flared and split at the side. Amy and Adam sourced the ornate military themed silver buttons for the remake and provided me with the double black velvet and satin backing.
L: Adam and Amy modelling at Circa Nocturna Fashion Show 2009. Photo © Mark Anthony Boyle
R: Clearer photo of the Cavendish waistcoat. Photo © Mark Anthony Boyle
The only change we decided to make was to have 15 buttons on the new version, as opposed to 18 like on the original (18 seemed excessive 😉 ). With those instructions I found the pattern (it had been safely stashed away for future use) and got cutting. It was a pleasant change to just be able to start work on the final piece without having to draft the pattern or make a toile! (I keep all my patterns for at least two years so if any of my clients want another garment made in the same design their pattern is ready.)
L: Pattern Cat made a fleeting appearance. | R: Cutting out the black velvet.
L: Showing the original waistcoat alongside the pattern.
R: Hand sewing the pieces together to prepare for machine.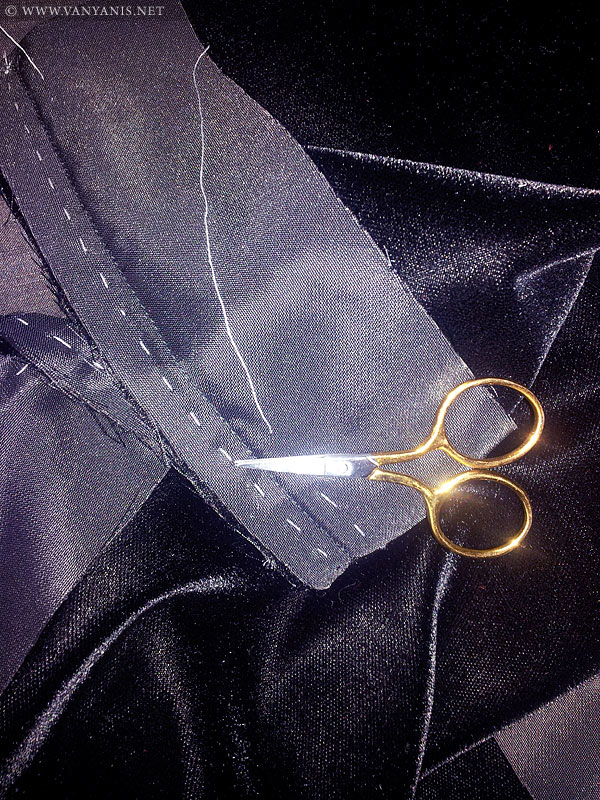 Unpicking the tacking after machine sewing in place.
L: Testing button hole shapes and sizes. | R: Sewing on the 15 buttons.
L: Labelled and finished! | R: Both waistcoats side by side.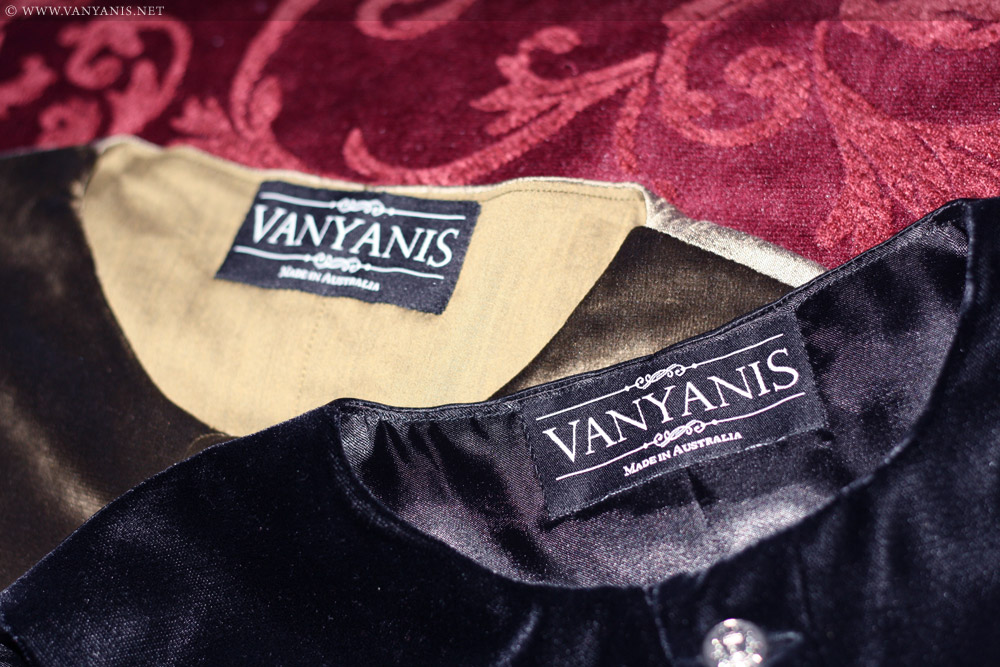 Branding 🙂
After delivering the finished waistcoat I had to wait a couple of weeks before I could see how Adam's outfit turned out, but as you can see below it was well worth the wait! With his auburn hair and dark aristocratic outfit Adam reminds me of Anne Rice's Armand, a character from The Vampire Chronicles.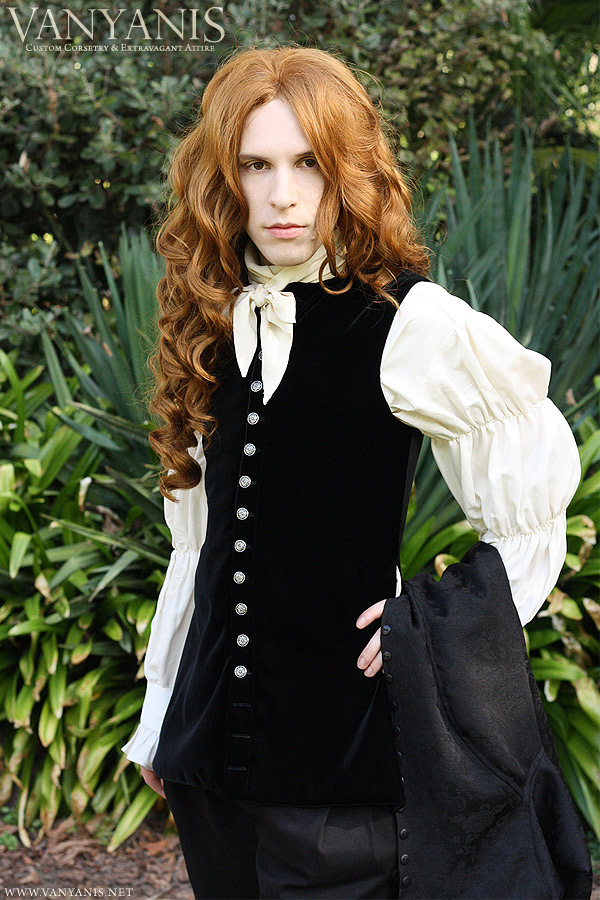 Front view of the waistcoat. Photo © Aletheia Nocturne
This photo has been quite popular on tumblr, you can reblog it from here.
Photos © Aletheia Nocturne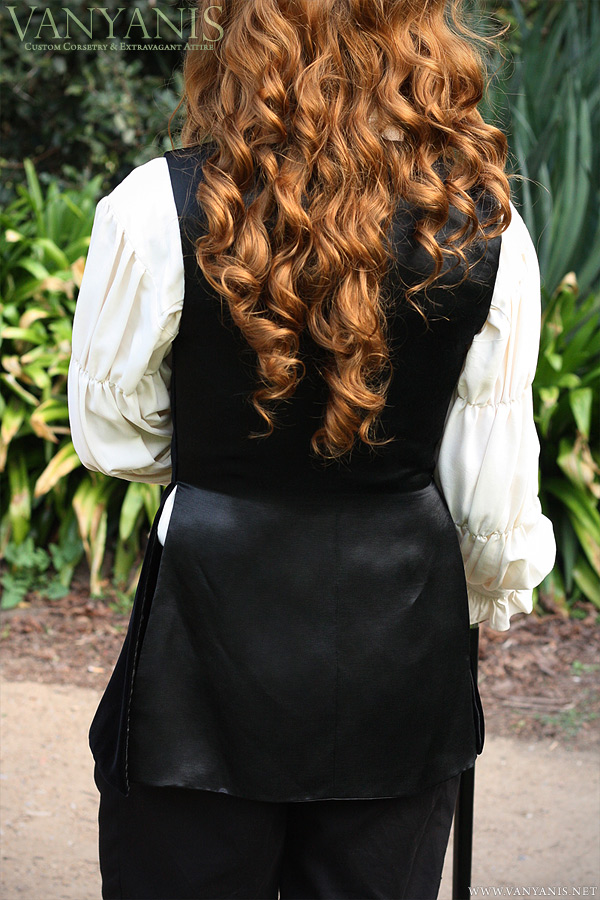 Back view of the waistcoat. Photo © Aletheia Nocturne
As always, thank you for reading. If you'd like to be kept updated when I post new blog entries you can subscribe (and go into a draw to win a Vanyanis gift voucher!)
Xx
Lowana