Well it's official, there's one week to go until Christmas and there's so much to do! You must be feeling the same? If you're just joining me now, welcome! Let me introduce myself – I'm Lowana and I run Vanyanis ~ a small independent corsetry and apparel business based out of Yarra Glen (a little town just an hour's drive from Melbourne), Australia. Up until very recently Vanyanis was a one-woman business but I've recently taken on an amazing assistant, Julianne, and together we make up the small team behind my label. I'm looking forward to having my first ever Vanyanis Christmas party with Julianne and the fashion students/interns who've helped me over the past year. It's seems a small thing, but to me it symbolizes taking that next step in my business and I'm so excited for what the new year will bring.
In the lead up to the end of the year Julianne and I have been flat out sewing customer orders and getting things in line for the new ready-to-wear collection (launching next year). I've also got a bunch of important birthdays this month on top of all the usual preparations for Christmas. I know most of you will be in a similar situation; what with end of year work functions, family celebrations and all those last minute catch ups that you try and squeeze in before the clock ticks over to the new year. So, in light of all of that I've put together a helpful guide to take the stress out of doing your Christmas shopping and hopefully this post will make your day just a little bit easier ? We've got loads of goodies at different price points to suit every budget and we ship worldwide. Plus, if you decide to shop with Vanyanis you'll have the added feel-good-bonus of knowing you're supporting a small business, putting a smile on our faces and treating my resident 'quality controller' Nomi to treats ?
Need some stocking fillers? On a budget? Have a Kris Kringle?
Check out the clearance section on our website. It's packed full of lots of delightful little treats to suit a variety of styles. Some items are priced to clear and all items in this section won't be restocked once we sell out. Prices range between $10 and $25 AUD.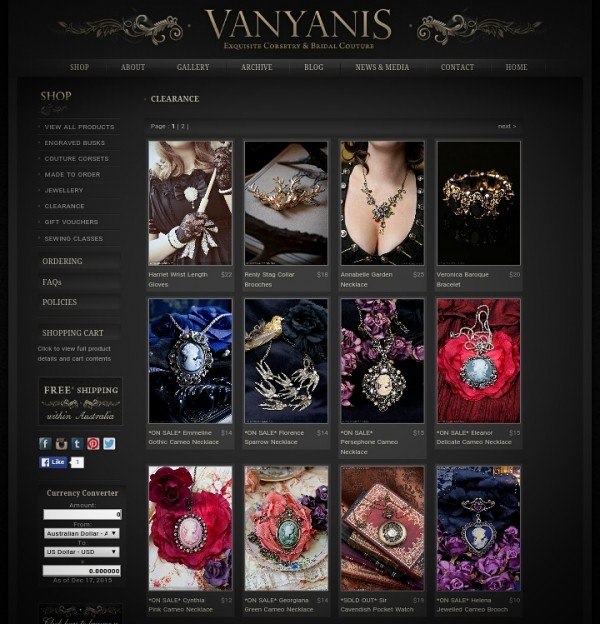 For the Corset Maker in your life…
…why not treat them to one or two of our unique Engraved Corset Busks? Made with high quality German steel, then engraved in Melbourne, they're available in 28cm or 36cm lengths and come in four different engraved colours (silver, gold, jet black and antique black (pictured). Vanyanis is the only maker of engraved busks and they are a gorgeous little detail that many corsetmakers have been longing for since Victorian times. Not sure which length to get? Whilst the shorter length has proven the most popular the longer length can be easily adjusted to any size and would be a fantastic versatile option. Available here for $49 or $59 AUD.

Why not treat them to some of our Corset themed Jewellery?
Jewellery is such a timeless (and in my experience) an always welcome gift. The bonus for giving jewellery is that you know it'll be the perfect fit and you don't need to worry about getting measurements or figuring out what their dress size is. Our Corset Themed Jewellery is beautifully designed (suitable for day or evening wear) and hand crafted here in Melbourne.
Available here for $99 (pendant), $145 (necklace), $185 (earrings) and $305 (earrings and necklace set – best value: save $25) AUD.
Do they want to learn to sew?
Why not book them some private sewing tuition with me (Vanyanis designer). I tailor each lesson to the skill level of each student and welcome sewers of any (or no!) experience. Whether they just want to learn how to use their machine, alter their clothes, make something that fits or even want some professional tips and tricks to improve the quality of their work – I can show them how. Lessons are held in the comfortable Vanyanis studio in Yarra Glen and are suitable for all ages. Lessons can be 1, 1.5 or 2 hrs long and are available casually or in 'term' packages (lesson rates have dropped for 2016!). Take a look at this blog post about a recent dress one of my students made.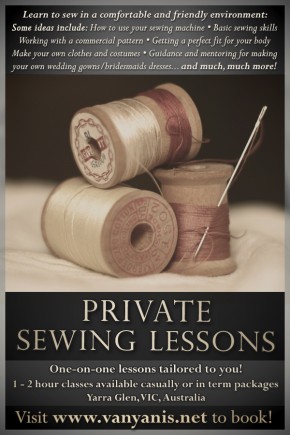 Available here priced from $45 – $80 (casual lesson) and $405 – $720 (10 lesson term package [pay for 9 lessons and get the 10th free]).
Attend an Embellishment Class with your loved one…
A ticket to one of our Embellishment Classes would make such a lovely gift – it's a fun filled day designed for sewers of any (or no) experience. Each new skill is broken down into easy steps giving you the ability to create beautifully detailed lace and beaded garments and accessories. Our students have used the skills learnt in our classes to jazz up dresses to wear to events (instead of buying a whole new dress), transform plain weddjng gowns to couture worms of art and even create bags and hats. It would be something lovely to do with a friend as experiences often make the best gifts. The next two classes will be hosted at the gorgeous Alowyn Gardens in Yarra Glen.
Tickets are available here for $95 (materials, morning and afternoon tea included). Lunch can be catered for an additional $20.
Alecto Underbust Corset
Our Alecto underbust is designed to create sleek, gorgeous curves whether its worn as foundation wear under clothes or as a lux statement piece over them. For those that know even a little about corsets, well, you'll know a Vanyanis corset when you see one. We take incredible care and give impeccable attention-to-detail creating the most exquisite pieces, from our 'basic' black underbusts all the way through to our couture pieces.
The Alecto corset is available in standard sizes 20″-30″ at $995 AUD. (Additional upgrades possible such as custom sizing, coutil lining, lace applique…)
Corset Making Courses
If you have a special person in your life that loves to sew and is interested in corsets, then this would be the ultimate present for them! We offer 3-day courses (at Beginner and Intermediate levels) where we teach a small group of students how to make their very own corset (either underbust or overbust). Classes are held in our studio in Yarra Glen and class sizes are kept small to ensure an optimal learning environment. Learning corsetry in one of our highly sort after courses takes away all the guesswork and sets you up for future success. It's fun, personal and a lovely way to learn alongside like minded people.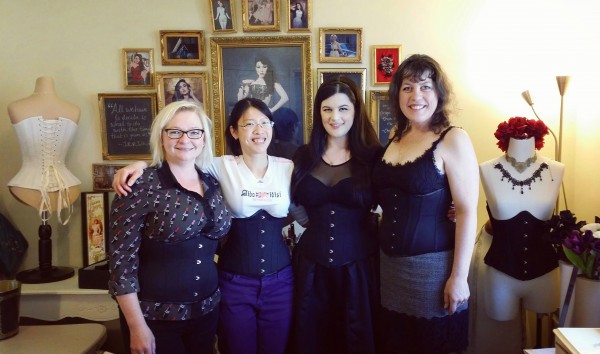 Click here to view the Beginners Corsetry and Intermediate Corsetry 2016 dates. Priced at $650 and $675 AUD. All materials, morning & afternoon tea included. Gift vouchers can be easily arranged for you: simply comment at checkout.
Couture Corsetry Experience
Why not spoil your loved one with the ultimate luxury experience: a couture corset designed and made exclusively for them. We accept only a limited amount of bespoke orders each year, ensuring a truly personalized experience for your loved one. Fittings can be conducted at our studio in Yarra Glen or via Skype for clients further afield. We've just stocked up on the most divine French laces which are destined to become stunning corsets. What colour lace would you choose?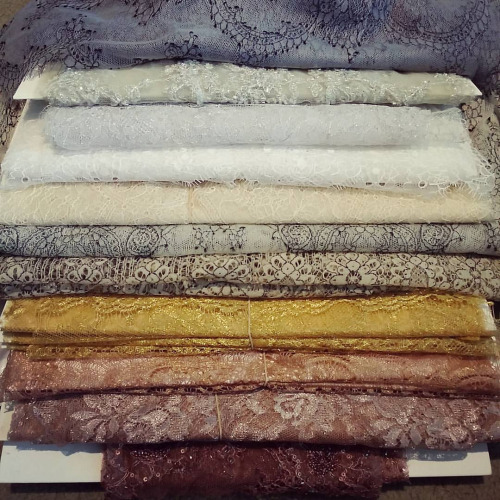 Contact us directly to reserve one of these laces and a place in our schedule and I will design something special, just for you and your loved one. Underbust corsets from $1,800 and overbust corsets from $2,200 AUD (a $500 deposit will secure you a place in our busy schedule).
Gift Vouchers
Overwhelmed with choice? Why not make it easy for yourself and get your loved one a Vanyanis Gift Voucher and let them decide what to use it on. Vouchers are valid for 12 months from date of purchase and can be redeemed on any Vanyanis product or service. Our vouchers can either be posted out to you (at no extra cost) or emailed for printing at home (if you're ordering last minute)
Available here in values from $25 up to $1,000 AUD.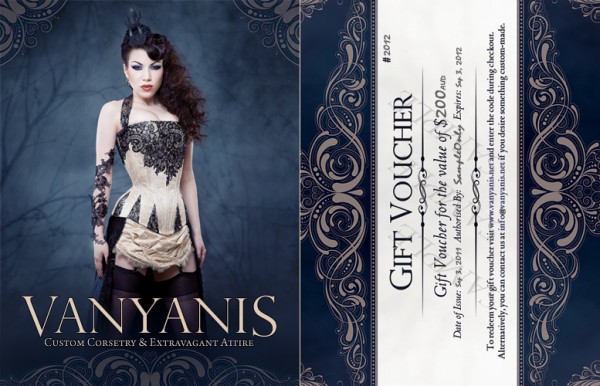 Postage Deadlines
There's still time if your're in Australia to get your orders out to you before Christmas (Australia Post permitting), but you need to get your order in to us by Sunday 20-Dec-15 for regular mail (most items in our store ship free within Australia via this method) or by Monday 21-Dec-15 if you want it shipped via Express post. If you're overseas I'm afraid you've missed the postage deadline in time for Christmas, however if you've spotted something that you know your special person would love we can still help you. We can email you a custom designed voucher of the item ordered so that they will have something to open on Christmas (such as "A corset necklace has been specially reserved for you" along with a photo). Simply leave a comment at checkout that you want a placeholder voucher emailed and we'll organize it ASAP for you.
If you have any questions or require any assistance please don't hesitate to leave a comment or send me an email. Thanks ever so much for reading and I hope you all have an amazing holidays and a very happy new year!
Xx
Lowana
P.S. If you've decided you *must* have something, why not forward this post on to that special person in your life, or even leave this page open on their computer as a helpful hint of what to get you ? Or just go ahead and treat yourself… you deserve it!