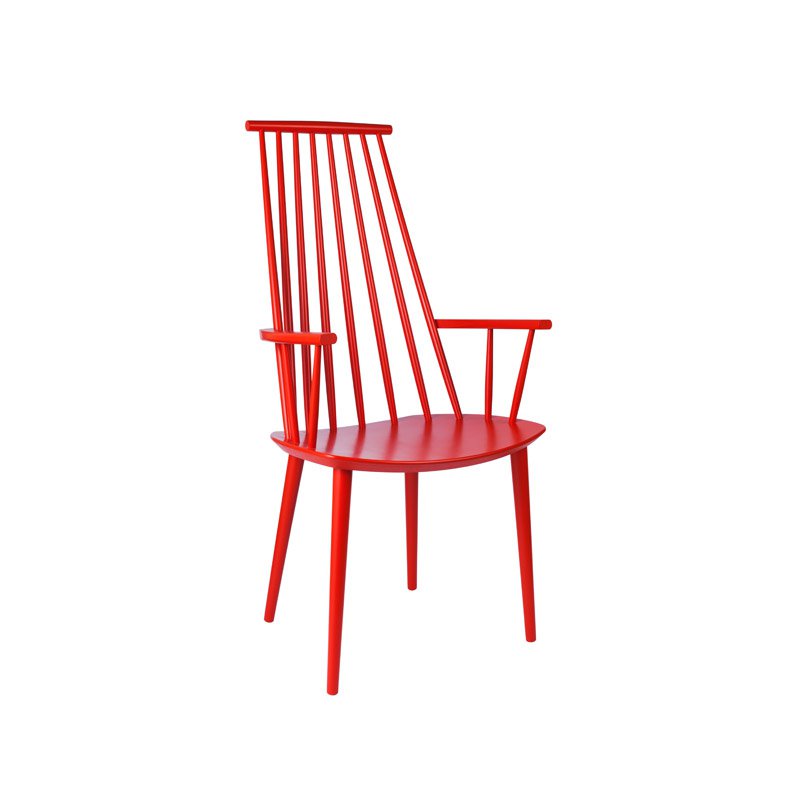 Welcome to our first blog entry! Here I'll be blogging about all things fashion related, sharing with you behind-the-scenes snippets, and perhaps revealing some of our secrets. Your host for this online fashion adventure will be me – Lowana O'Shea, the founder and designer of Vanyanís. To start off with a bang, I'd like to share with you an amazing silk couture outfit as modelled by the divine Morgana, also known as 'Threnody in Velvet'.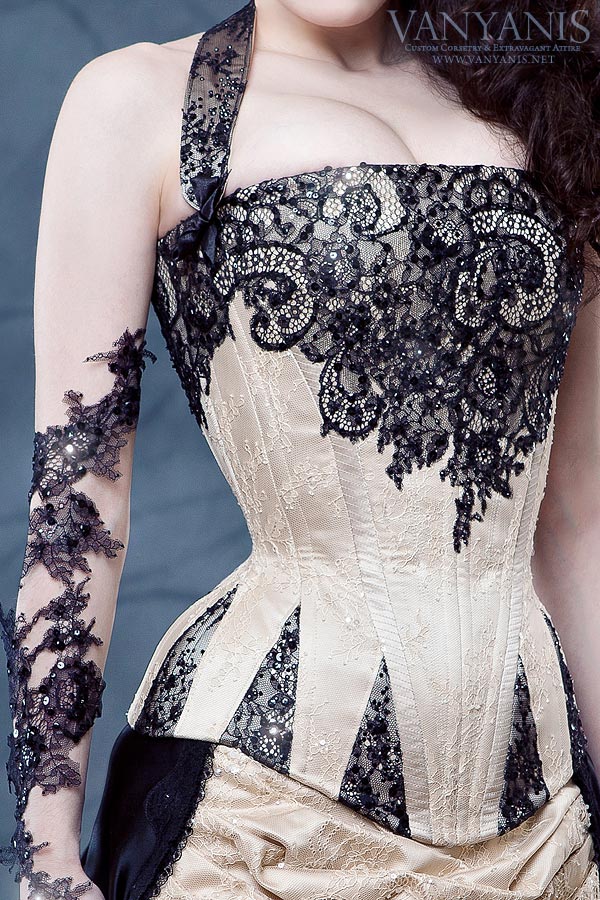 Preview of the finished corset
It all began back in 2008 when a friend showed me some photos of Morgana. I was instantly hooked by her style, grace and beauty. Since then I've been following her work, and excitedly awaiting photo releases along with the thousands who follow her. It was still early days for Vanyanís and I had the quiet idea that one day maybe she would model my clothes.
Three years later (in mid-2011) Vanyanís had grown and I was ready to take the next step. I needed a new website (having outgrown the old one) and for that I wanted a killer set of photos. I hadn't yet decided what to make, but I had a vague hope of getting Morgana to model it. I sent an email and waited fingers (and toes!) crossed. I didn't have to wait long and became ecstatic when I read that she would 'love to'.
I already had some silk fabric waiting but I had to find the perfect lace. Visions of delicate French lace, intricately woven with beads, appliqué and Swarovski crystals whirled before my eyes… knowing Melbourne's fabric shops as I do, it was easy to find.
L: Close up of the delicate beaded lace… | R: Lace laid over the silk fabric… yum!
Morgana had mentioned that she really liked my stays and historical corsets, and wondered whether that was what I was going to make her. To be honest I hadn't yet decided (I only had an idea of the colour, fabrics and embellishments) but I was happy to head in that direction and I began sketching some ideas. I wanted it to be a fusion of old meets new, my thoughts being that these photos would be the main images representing my business for a time and I didn't want to lock myself purely into the "historical" genre of fashion designer. I wanted to show something different from the normal over-bust corsets and make something really unique that could be styled and worn in a variety of ways.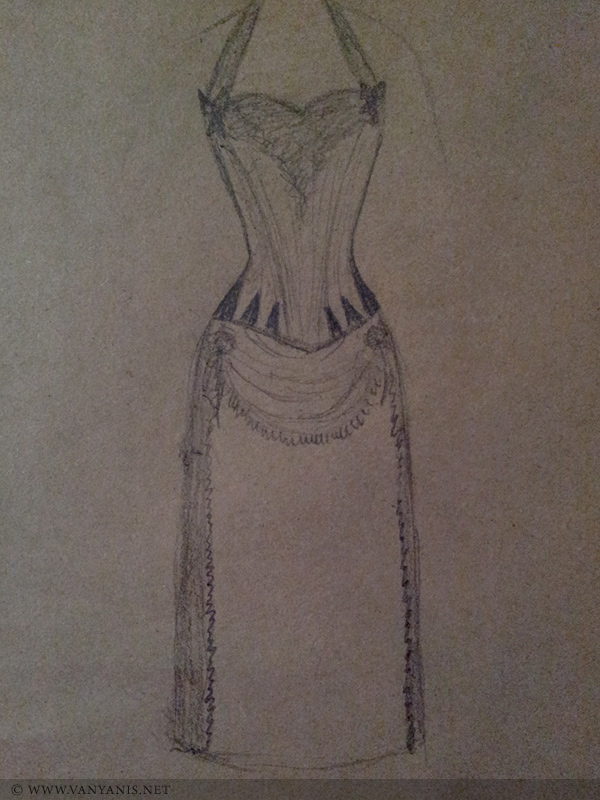 My initial sketch of the outfit which doesn't really do the design justice
Upon receiving Morgana's measurements I began drafting the pattern. This was an especially tricky pattern to create given that I would not be able to have a fitting in person as Morgana lives in the United Kingdom (I prefer to work in person with my clients as it always yields a superior result). I slaved over the pattern, triple checking measurements and making a mock-up out of calico to check that all the pieces fitted together perfectly. Once I was happy with it (I'm a perfectionist) I began work on the final piece. This was the smallest corset I've ever made, with the waist measuring a tiny 20 inches! Sewing the garment together is my favourite part; it's amazing to see the piece take shape and start to look like the sketch, or better yet the picture in my head (my sketching skills are somewhat limited).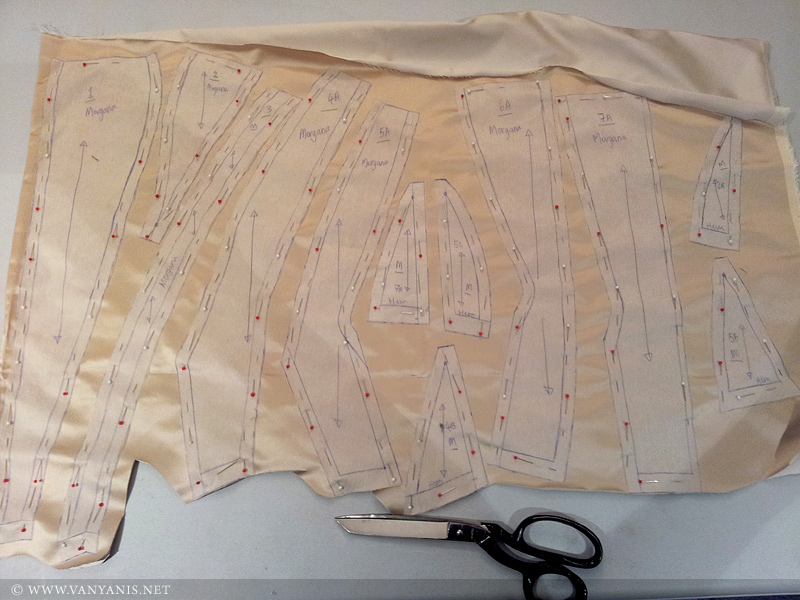 The corset pattern pinned to the silk ready to cut out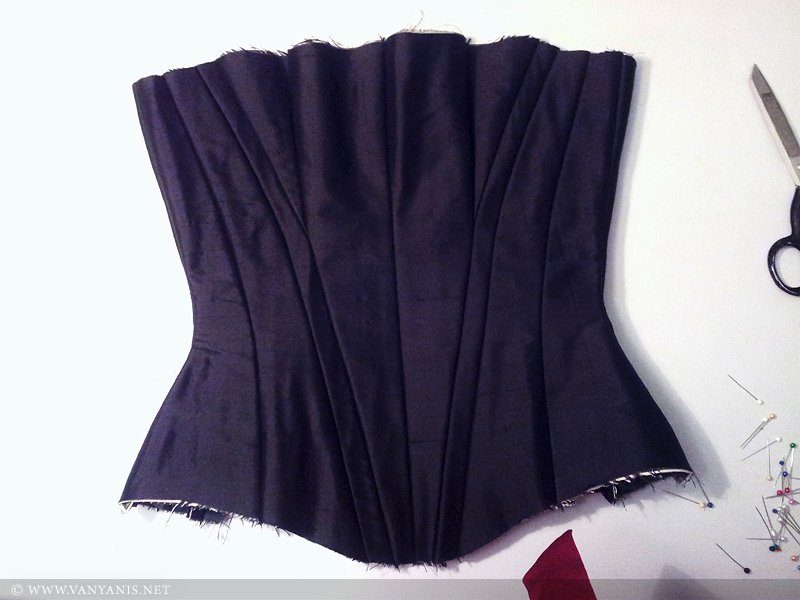 The black silk lining sewn together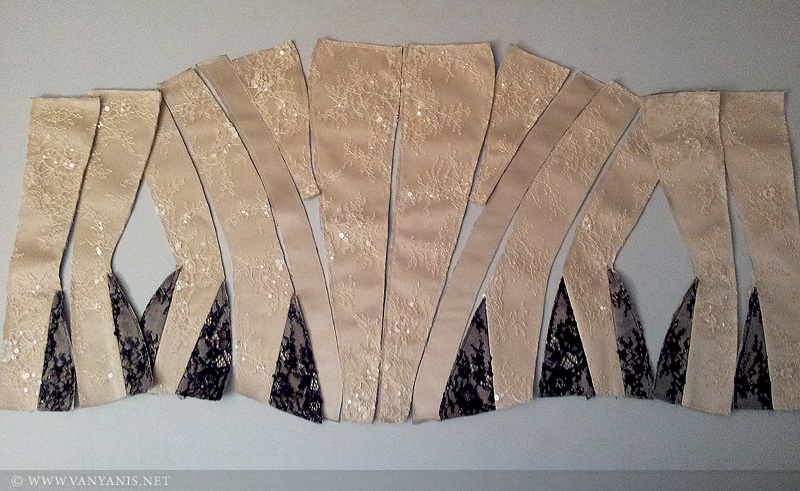 The silk fabric corset pieces overlaid with the beaded tulle ready to stitch together
The most enjoyable (and time consuming part) was hand appliquéing the black lace to the corset and fixing the Swarovski crystals to the corset. There's just something so relaxing about hand sewing, even though it takes a lot longer than using a machine. Overall (including the pattern) it took about 110 hours to finish the corset and matching skirt.
L: Almost finished… just missing the Swarovskis! | R: Ready to put the eyelets in
With the outfit complete I snapped a few photos before nervously heading down to the post office to ship it off to the United Kingdom. I was especially nervous about sending it, what if it got lost? I'd spent 110 hours (and quite a few dollars) making the outfit, it would be a disaster if it got lost along the way! I ended up shipping it via courier and paying extra for insurance; well worth it for the peace of mind it gave me, even if it wasn't needed in the end. Unfortunately I did run into a spot of trouble with customs in England and ended up having to pay about $200AU just to get the piece into the country!
L: Back view of the silk skirt showing the pleats and waistband
R: Front view of the skirt showing the cream silk and lace
L: Close up of the gathered silk and lace. Invisible press studs act as the fastening
R: Top of the corset with detachable halter straps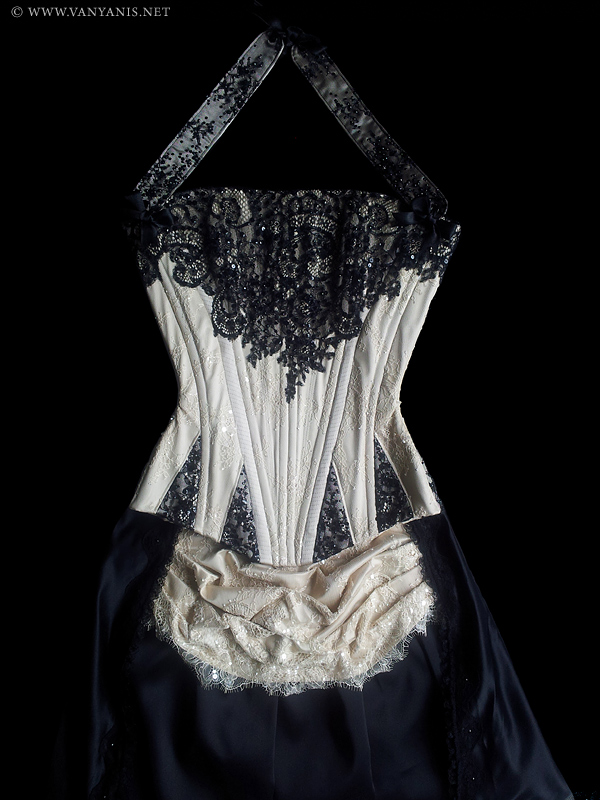 Front view of the complete outfit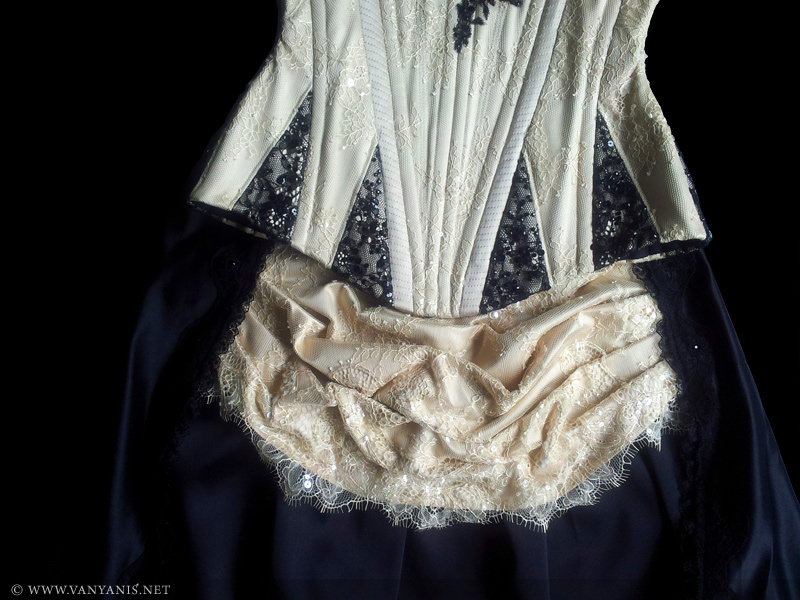 Detail of the corset inserts
L: Back view of the finished outfit showing the skirt pleats under the corset
R: Back view of the laced corset (modesty panel is detachable!)
After (begrudgingly) paying the import duty the outfit arrived safe and sound with Morgana and all I had to do was wait for her to do the photo shoot. Morgana doesn't only model, but also does her own hair, make-up and even takes the photos! She's definitely a "one woman powerhouse"! I want to mention that during this whole process Morgana was absolutely lovely to deal with. She answered emails quickly and was really helpful whenever I had a question. She was so patient with me during this process too (it ended up taking longer than I thought as I had to fit it in between other commissions and projects). She came up with the idea of the deer skull headpiece herself and even made it just for my shoot!
You can find Morgana at the following sites:
Model: Threnody in Velvet (website, facebook)
Photography: Iberian Black Arts (website, blog, facebook)
Hair and Make-up: Fatale Beauty (blog, facebook)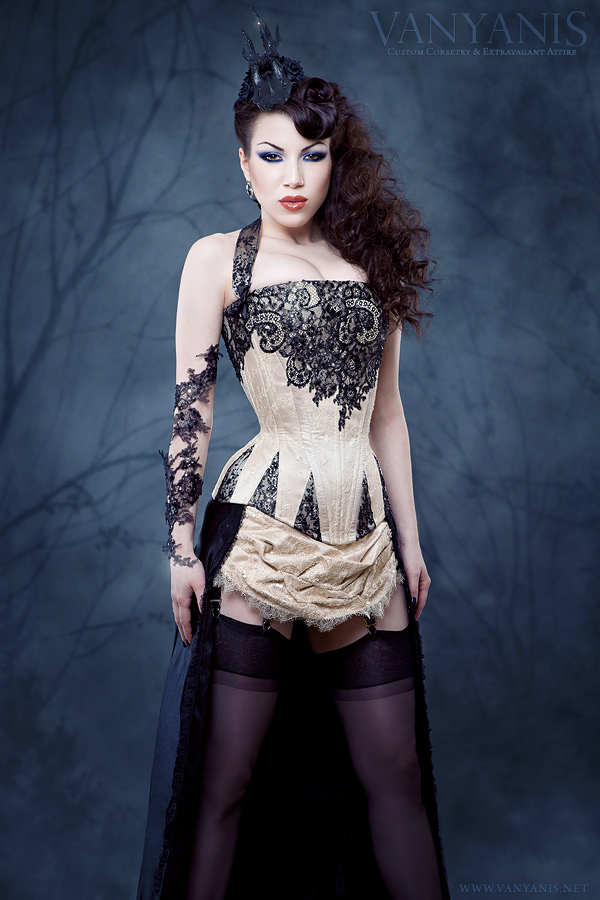 The first finished photo! Photography © Iberian Black Arts
Shortly after New Year's I received the first photo and I couldn't have been happier with the end result. I was thrilled to see how well the corset fitted (all those hours bent over the pattern had paid off) and the styling was wonderful too. Morgana described her look as an "Evil Queen" and that fits the bill, don't you think? One of the photos I'm proud to say received over 23,000 views on Morgana's deviantArt account. How amazing! I never dreamed that so many people would view my work and I'm still humbled by it. Here are all the photos from the collaboration, I'm sure you'll love them just as much as I do. 🙂
Photography © Iberian Black Arts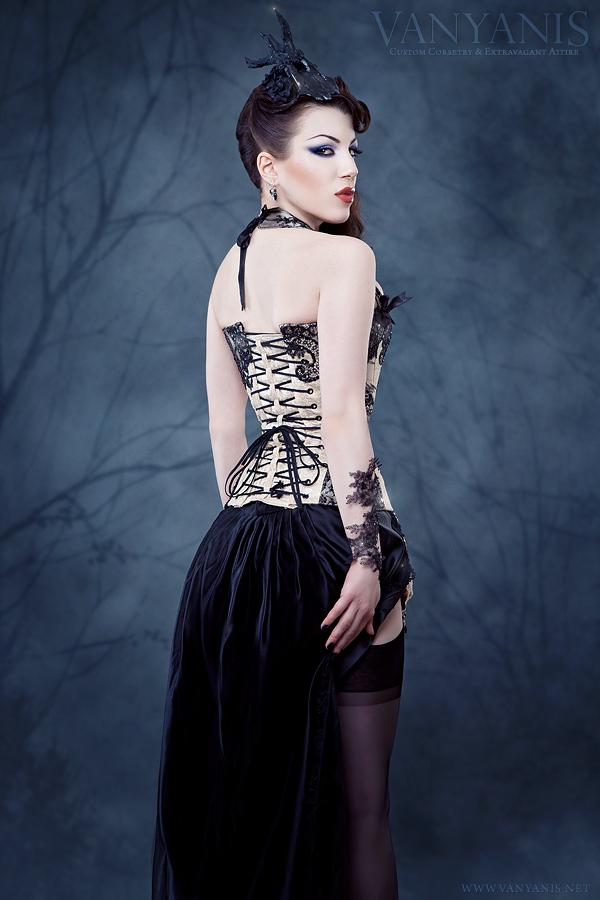 The final image showcasing the back of the corset. Photography © Iberian Black Arts
Thank you for visiting our brand new website and taking the time to read our very first blog entry. If you'd like to be kept in the loop and be the first to know when we post a new entry, you can subscribe using the form below and we'll send you an email. I'll be blogging more about the garments I make, fashion events I take part in, behind-the-scenes peeks, photo shoots and anything else fashion-related.
As a special incentive to subscribe, we're offering one lucky subscriber a Vanyanís gift voucher to the value of $25AU to use in our online shop! We'll draw the names out of a hat once we reach 50 subscribers and the winner will be notified via email and mentioned in a small update below.
Thanks again for visiting and good luck!
Xx
Lowana
UPDATE 01/07/2013 – We have reached 50 subscribers and we are delighted to announce that the winner of our competition is Lucy Brown! Lucy, check your email folders as we've sent you an email with details on how to claim your prize. Well done!