If you're reading this blog post, you're probably considering or have already decided to make your own wedding invitations. You're probably a bit creative already and relish the idea of doing something hands on and personal for your invitees. It's a wonderful thing to do and will definitely save you a lot of money that could be otherwise spent on other important things (a house or honeymoon for example). After all, a wedding is only one day out of the rest of your lives together and who wants to start a new phase of life in debt?! Crazy!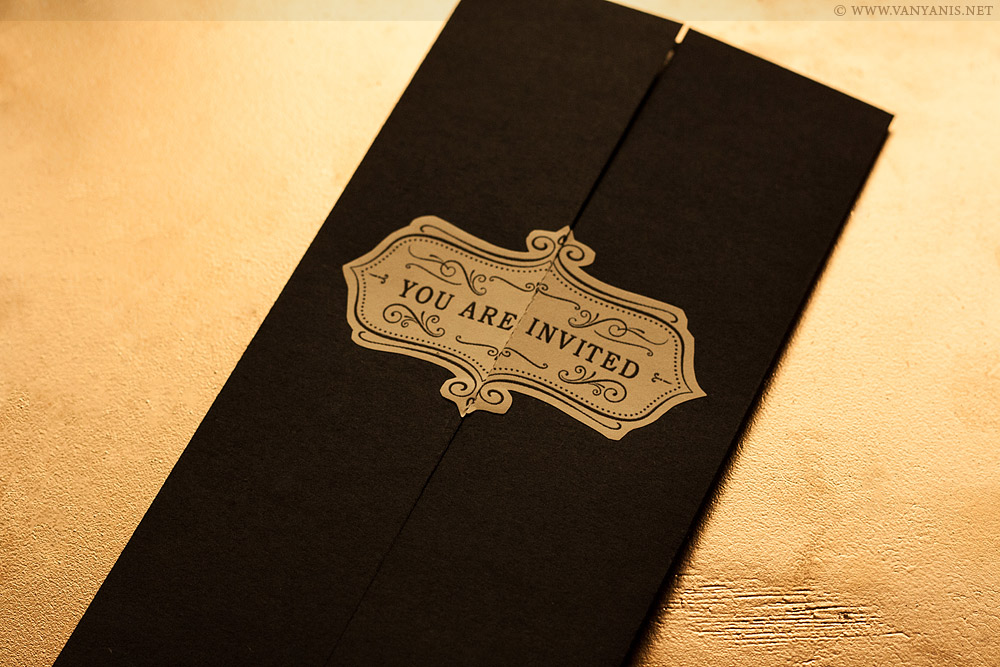 My first piece of advice for making your own wedding invitations is that whatever design you come up with, remember that you're going to have to make X amount of them. For my wedding we ended up with 100 people on our guest list which worked out to be about 70 households that needed an invitation. My taste for stationery and decorations in general is quite elaborate so I designed our invitations with that in mind. Half way through making them I almost gave up. You see I had the brilliant idea of creating individual address labels to glue to the envelopes, as well as return address labels and "You Are Invited" seals to close the invitations themselves. All of these needed to be cut out individually as they were not square or rectangular designs. I did get help from my fiancée, mother and bridesmaid Amy but it was still a mammoth task. Each invitation ended up taking about half an hour to create. That's 35 hours of work, just for invitations!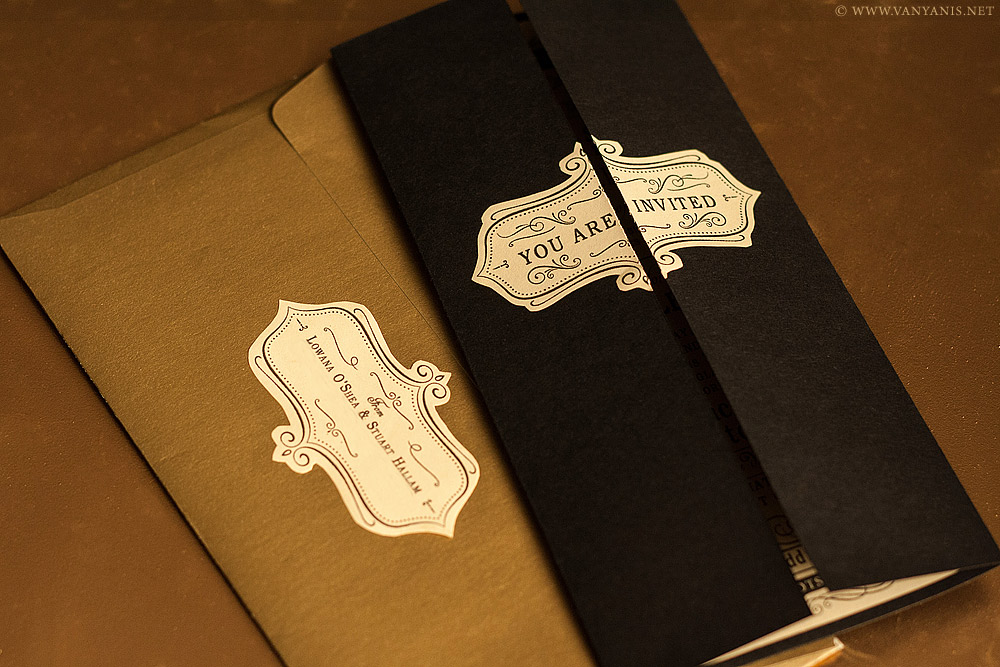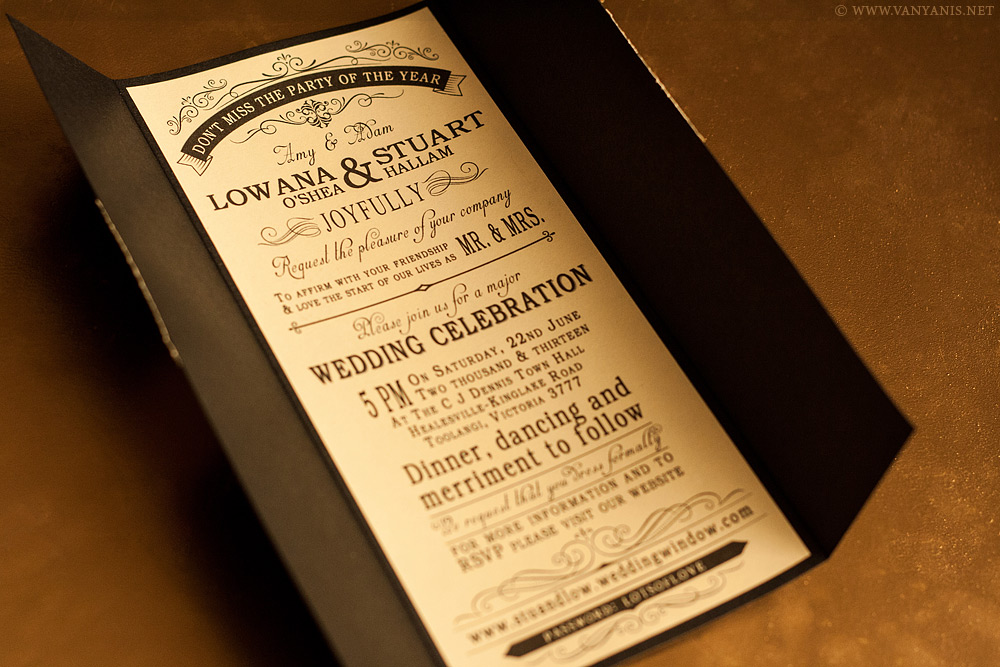 Grumbling aside, I did enjoy the process. It felt like wrapping gifts to post to our guests and I like to think that they'll make a lovely keepsake of the event, for those who are sentimental. If you have the time, but not the cash, then DIY invitations are the way to go. Ours ended up costing $110AUD in total, excluding postage costs and I ended up having enough paper and cardboard left over to make my own 'Thank You' cards as well. I ended up selecting simple paper and cardboard, opting for more elaborate text and illustrations as a way to help keep costs down. I would have loved embossed writing or really beautiful paper, but I decided that doing something within a budget was more important and I don't regret that at all. The end result turned out beautifully and more expensive paper really wouldn't have made that much of a difference.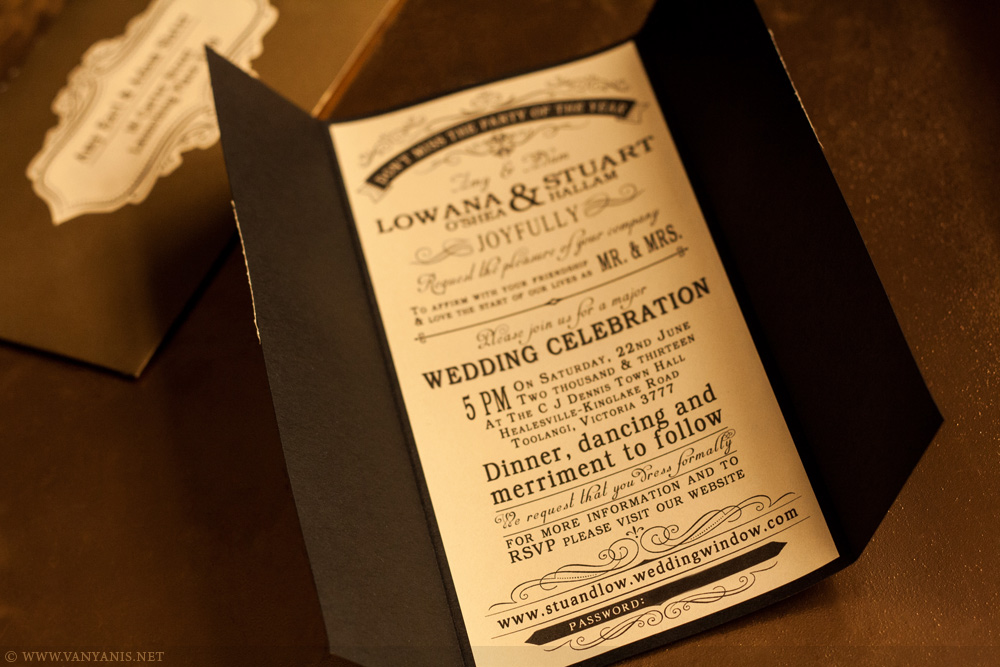 To make similar invitations you will need:
100 Sheets of A4 cream paper (regular printing quality)
100 Sheets of A4 black cardboard
2 Large glue sticks
Double sided sticky tape
Stanley knife or equivalent
Cutting mat
Photoshop
Wedding Fonts (I used free ones)
iStock illustrations (I purchased this pack)
Printer with black ink
Scissors
DL Envelopes
Thank you card envelopes
Lots of patience, and people to help you!
Ruler with grid (patchwork ruler or similar)
I started by searching the internet for ideas, just like you are now. I used a Pinterest board to collate them all together, and got ideas for invitation wording from ones I found online. I sort of mashed together a few ideas of wording and design, and after starting my own ended up with something unique. You're most welcome to use the wording from my invitations for your own wedding if you like what I ended up with. We opted for a less traditional invitation as the "brides parents wish to invite you to the marriage of bride and groom, son of grooms parents" blabla felt waaay too old and stuffy for us. As our wedding was mostly paid for by us we felt that we should do the inviting. But choose wording that suits the two of you, and by all means, the way we did it is not the only, or best way. It was just the best way for us!

After designing the invitation we had to decide on our guest list. Let me tell you that it was one of the hardest things to do out of the whole wedding. Our initial list had 150 on it and we needed to get it down to 100, as that's all we could afford and all the venue could hold. Putting people on the list was easy, it was deciding who not to invite which was difficult. We ended up with 'A', 'B' and 'C' lists. We sent the invitations out four months before the wedding and set an early RSVP date. Our idea was that if people on the A list couldn't make it, we'd invite people on the B list and so on. At the end of the day, we chose friends and family who we had a relationship with and knew that in a few to ten years time would still be friends, and would make the effort to catch up. It felt harsh being so strict with it, but we had a budget and really couldn't afford to invite everyone. Your family may put pressure on your to invite your long-lost cousins or aunts and uncles, but we just invited the family we were closest to. After all, we paid.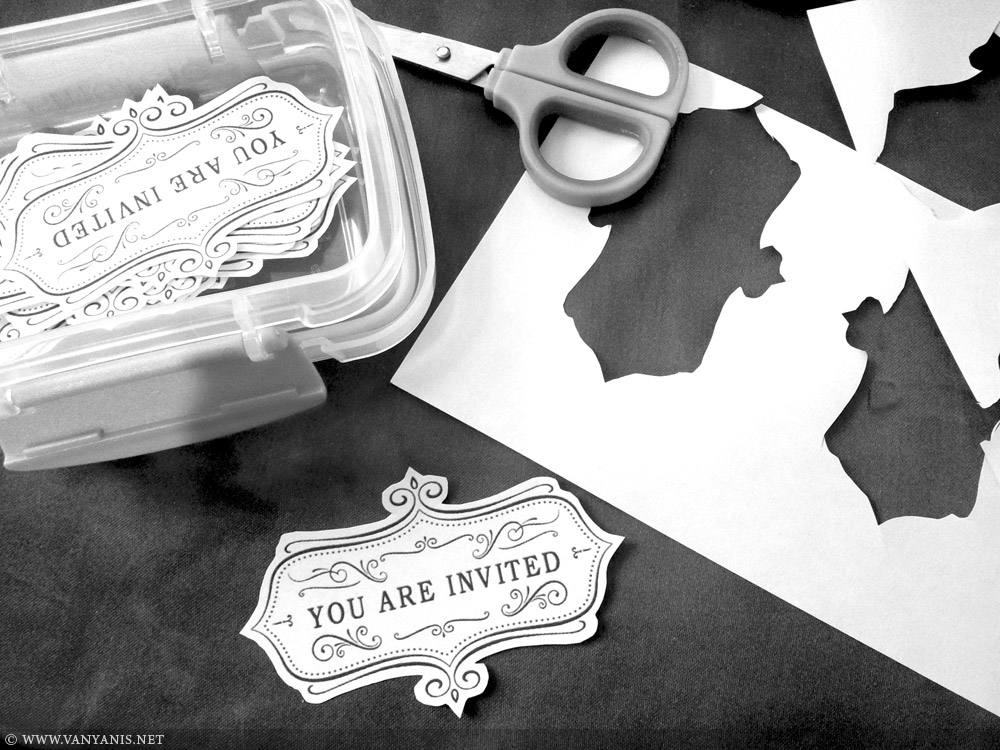 I created individual files for each guest and printed off invitations for everyone, with their names printed on the invite. I also did this for the address labels and it all took way longer than I expected. To save time you could always just leave the name spots blank and hand write it in afterwards, but I wanted the text to be consistent and felt it was worth the extra effort. My handwriting isn't the best and at least when you print it you know that its right before you print. Handwriting names can lead to lots of wasted invitations due to misspelling and means more work.
After printing out everything I needed, I set to work cutting the black cardboard to size at two thirds of an A4 piece of paper. I also trimmed the individual invitations down to slightly smaller than a third of an A4 sheet. I used the grid ruler, cutting mat and Stanley knife for these steps.
Once I'd cut out all the black cardboard I had to draw a line in to able to fold the flaps of the invitations. You could use a ballpoint pen that has run out of ink or something similar. Being a seamstress and having lots of haberdashery tools available I used the wrong side of an unpicker to mark the lines. By 'drawing' the fold line you'll get a lovely neat fold with the cardboard in a straight line. I drew these fold lines one quarter of the way in on either side of my cut cardboard. Once I'd drawn the fold lines on all pieces of cardboard I folded them all and ran a ruler over the crease to really get a crisp fold.
Tip: slip a ruler underneath the seal and then use the blade to make the cuts. This will prevent you from cutting the invitation inside, and also makes them easier to open for your guests!
I then used copious amounts of glue to stick to invitation to the cardboard. I got help from my fiancé, mum and bridesmaid Amy to cut out the address labels and invitation seals. I learnt the hard way that glue-stick glue will not stick paper to metallic envelopes, so we had to attach the labels using double-sided tape. If you don't have metallic envelopes you could just use the glue sticks for this step.

Cutting out the address labels
 
L: First attempt at attaching labels to the metallic gold envelopes (note: glue doesn't work on metallic paper!)
R: Applying double-sided sticky tape to the labels and reattaching to the envelopes (this worked perfectly)
After addressing all the envelopes (twice!) we grouped the invitations and envelopes into sets (by this stage I'd roped Amy (one of my maids of honour) into helping me finish them off). I sealed the invitation with the "You are invited" labels and, using a Stanley knife and ruler cut the seal so it would open easily. Once they were sealed they went straight into their matching envelopes and Amy (who had kindly re-addressed all the envelopes with the double-sided tape) put on the stamps.
I narrowly dodged a bullet with the stamps. Australia Post do make 'wedding' stamps for twice the price of a normal one. All their other stamps where of Australian 'icons' – John Farnham and Kylie Minogue… Aarrgh! I know it was just a stamp, but how annoying to have to put a celebrity on an invitation! As Valentine's Day was just a week away when I bought the stamps, the lovely lady at the post office was able to supply me with some simple Valentine's themed stamps, which were much more appropriate for a wedding invitation and didn't cost any extra. 🙂

 
L: ALL the finished invitations. R: An exhausted Amy.
And that's it! The invitations were sent and we could breathe a sigh of relief. It's one of the major parts of organizing a wedding – getting the invitations sent. We sent ours four and a half months before the date because we thought a lot of people would want to find accommodation nearby as it was over an hour's drive away from the city.
 
Ready to post!
With the leftover black cardboard and cream paper I was able to make all the signs I need for the wedding as well as the 'Thank You' cards so it worked out really cost efficient in the end.
Thanks for reading and I hope you found this helpful!
Xx
Lowana.