It's been a bit quiet on the blogging front of late, mainly because I had a wedding to plan (and attend) and that took up every spare minute of my time (and then some!). It's been one of the most exciting things to ever happen to me, the only other thing that came close was spending a year in Europe when I was eighteen, but I digress… You'll have to brace yourselves, as there will be numerous wedding related posts coming soon!
Today's post is of a more personal nature, about my Hen's event. Originally I didn't want to do one at all – visions of cheap veils, "bride-to-be" sashes and bar hopping ran through my mind and I just didn't want that sort of celebration. Now, don't get me wrong, there's nothing wrong with doing things that way, I just had a lot on my plate. What with making-all-the-things (clothing and decorations) for the wedding, I felt I couldn't spare the time (recovery time to be specific) on yet another wedding related thing.
Enter awesome bridesmaids, Erika and Amy. They rose magnificently to the occasion and we went out to a local winery for dinner to make plans. They came up with the idea of a High Tea, which was perfect! An afternoon of fine dining and pretty clothes sounded wonderful. A girl could not wish for better friends and I've been so blessed with their help and friendship. I left the rest to them and a few weeks later we were all ready to dine in style!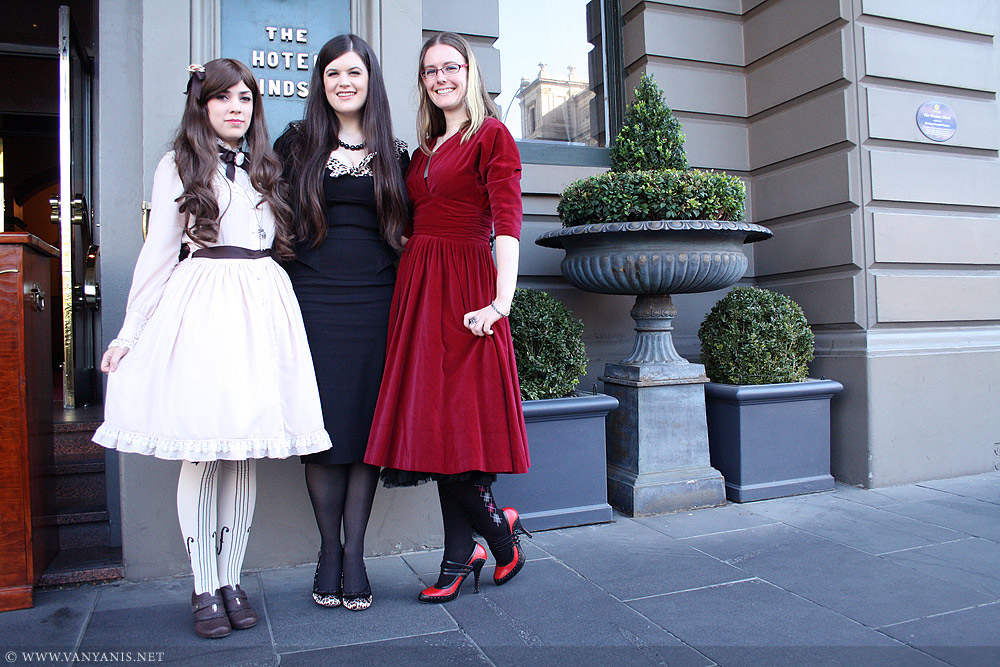 Me and my bridesmaids: Amy and Erika, after our High Tea.
You may recognize my dear friends from photos around my site as both have modelled for Vanyanís in the past and are excellent brand ambassadors for me. I called them my 'maids of honour' as I value them equally and don't like to pick favourites!
Amy (pictured above in the lighter dress) and I met by chance when we were 16, and after starting our friendship as pen pals we became the best of friends. She was my first poster girl (model) for Vanyanís, is a beautiful pianist and writes the most wonderful blog posts. I'm honoured to call her my friend. Erika (pictured above in the red dress) has been a wonderful influence and inspiration in my life ever since I met her when I was a young and impressionable 17 year old. We've travelled Europe together, got ourselves into all sorts of crazy situations and I'm so thankful to her because it's really her fault that Stu (my husband) and I met in the first place! (As a side note, Erika's gorgeous red shoes are available here.)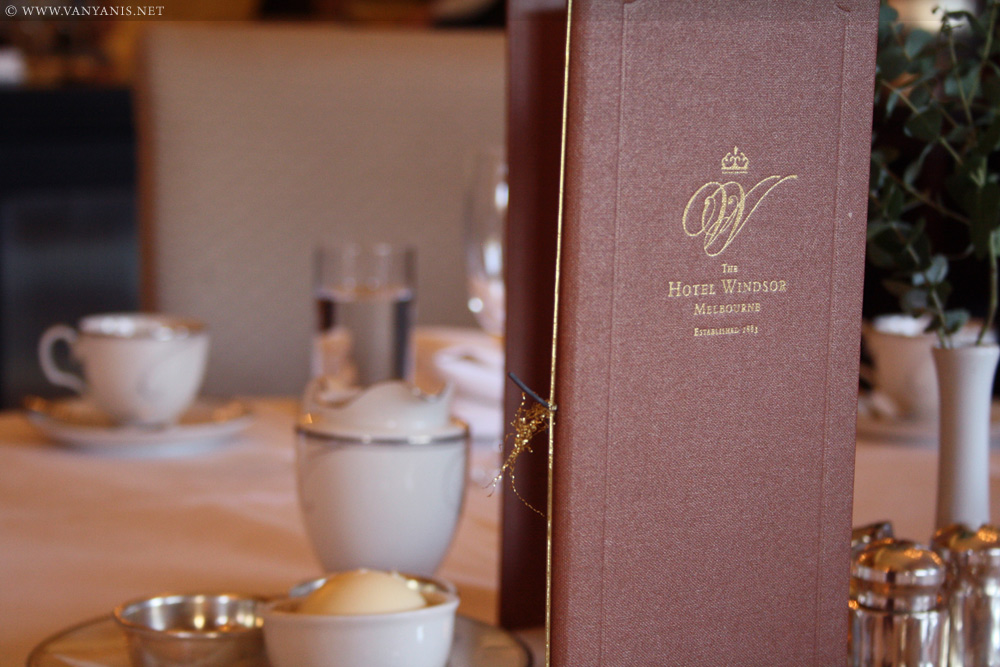 We had High Tea at The Hotel Windsor in Melbourne on a Thursday afternoon. About a year prior I had taken my mum to afternoon tea there for Mothers day and I had high expectations for our Hens event. The Hotel Windsor in Melbourne has been serving traditional afternoon tea since 1883 and is such a luxurious location. It made it the perfect place to celebrate as the theme for my vintage wedding was Victorian, circa late 19th Century. I was joined by eight of my girlfriends and everyone dressed up and looked absolutely wonderful! We were by far the best dressed – all the other patrons didn't seem to make an effort or follow the dress code so we did get a few stares!
The food was divine and it was no trouble for them to cater for all our food requirements which made the process of organizing it easier on my bridesmaids. I did notice however that the service was different to the year prior and it no longer included a bottomless glass of Champagne, but had changed to a single glass of Australian sparkling wine. This was a bit disappointing as I had hoped to celebrate a little and remembered the delicious wine fondly. Obviously they have made some cuts to their costs but have not passed these on to the patrons. Aside from that it was a lovely afternoon and the staff were really helpful and even took some photos for us.

From left to right: Emmelie, Talie, me, Georgina, Dani, Alice, Amy and Erika
Left: Talie and I | Centre: Dani, me and Georgina | Right: Alice and I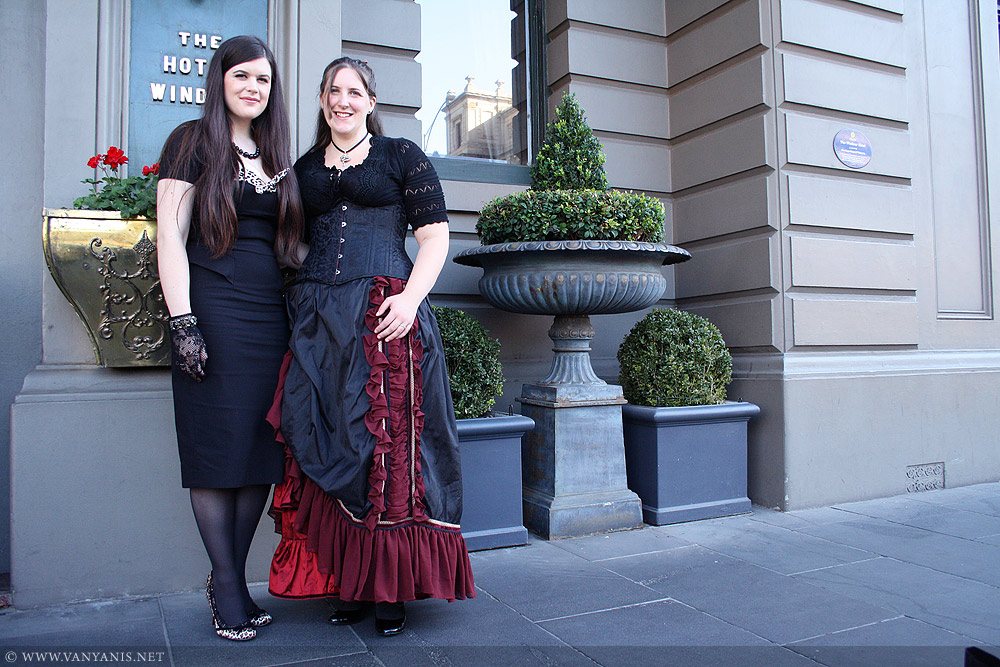 Emmelie and I – we've been friends for over 20 years! She's wearing a fabulous brocade underbust that I made her a few years ago.
All in all it was a fabulous day out and I almost wish we had done more! As this is more of a personal post I thought I'd give you a rundown of my outfit of the day! The dress I bought from a boutique in Healesville called The Pin Up Room. It's the Mademoiselle dress by Doll Deluxe and it's one of the most comfortable dresses I own! The fabric is stretchy but nice and thick so holds you in! I accessorized with the Harriet Gloves and the Veronica Baroque bracelet (both available in my shop, just follow the links). As the girls and I did quite a bit of walking I treated myself and bought a pair of Leopard flats and heels. I wore the flats while we were exploring fabric shops looking for bridesmaid fabric and I wore the heels to the high tea. Both pairs matched my dress perfectly and I didn't end up with sore feet or back by the end of the day. Since I figure a few of my readers may be interested, I've created a special package in my online shop where you can get both pairs of shoes at a discounted price. You can check out the offer here.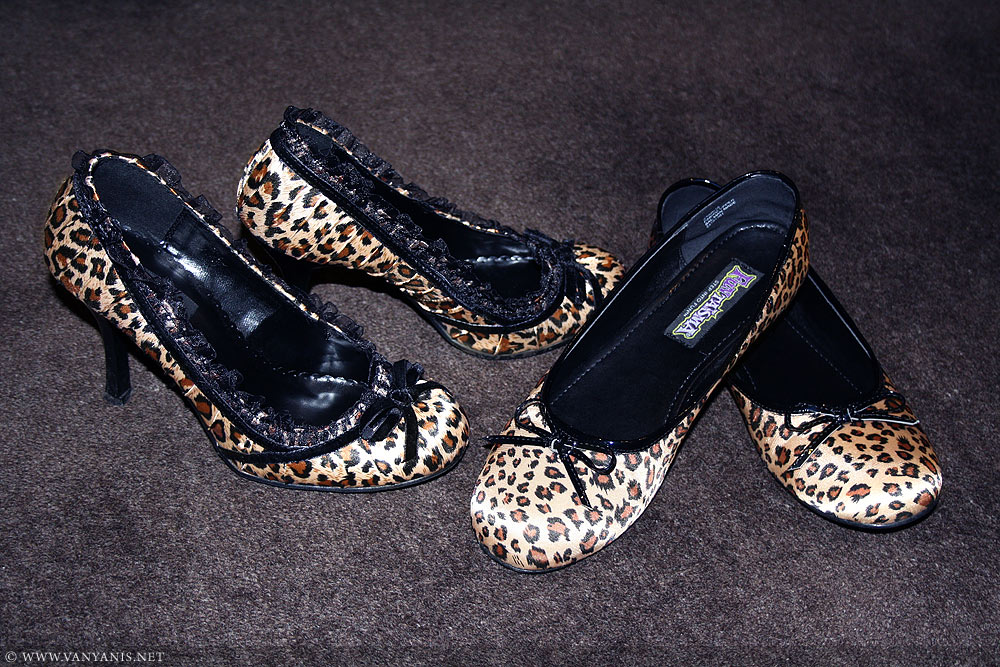 Special Offer: Leopard heels and flats
As always, thanks so much for reading and feel free to subscribe below if you'd like to be kept updated when I post new blog entries.
Xx
Lowana