I've been a huge fan of Kiss Me Deadly ('Elegant lingerie for Femme Fatales') for a long, long time. Their lingerie and swimwear are flattering, practical and classy. As a rather large busted woman (I'm a 10G) I unfortunately don't fit into their range of bra sizes (they're a small brand and due to several reasons can only make a set range of sizes [if you're interested, read the explanation here]). I do however own several amazing six-strap suspender belts (which I one day hope to stock in my shop) that I'm luckily able to pair with my corsetry or basic black bras. I completely understand their reasons for their size range and support them 100%, but if like me, you fall out of the "normal" range of sizes it can be heartbreaking when you find something you LOVE but know won't fit.
Luckily, I'm rather skilled at using a sewing machine 😉
L: Before, the XL top was too small. R: After, no spillage!
L: Before, much too short. R: A

fter, proper coverage!
As anyone who knows me will know, I absolutely detest alterations of any kind and avoid them at all costs (if you're curious you can read more about why here). But because I fell in love with their Black Kitten Bikini set (it's about as tropical as this Goth-girl is willing to go) against better judgement I placed my order. When I ordered it I knew it would probably be too small in the bust (and I was correct). However, I had a honeymoon in Thailand to plan for and there was no way I wasn't going to rock that bikini set. So, I set to making a few alterations (ugh, I even hate the word) to make it fit whilst still being true to their original design. I also wanted to enter their 'Deadly Mermaids' competition so there was another reason for making it fit.
To enter the competition I had to "dream up what [my] deadly mermaid would do once she had legs" and take a photo of myself in one of their swimsuits. I think that my deadly mermaid would become a siren of the land, rather than the sea, but would yearn for her home and one day hope to switch back. As we all know mermaids are supposed to be the ultimate femme fatales and I think she'd continue to be so either on the land or in the sea.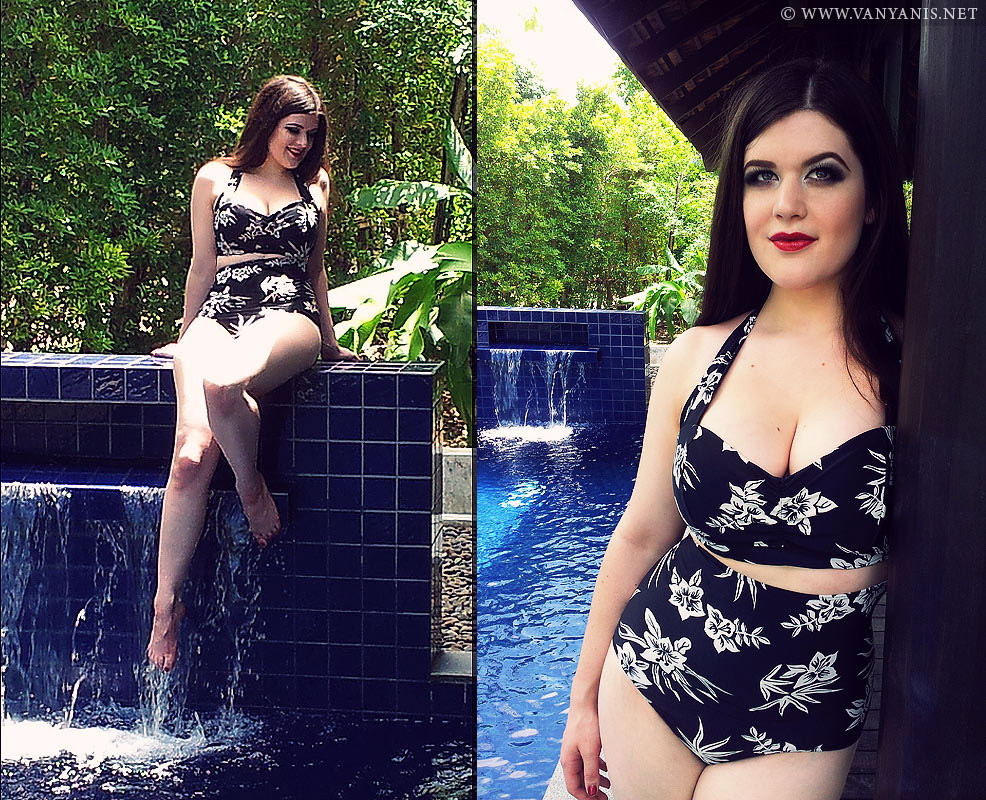 My entry for the 'Deadly Mermaid' competition. Taken on a phone camera whilst on my honeymoon in Phuket, Thailand!
D.I.Y Bikini Alterations for Big Busted Women
Since this isn't a service that I offer I thought I'd make a short little DIY tutorial for any big busted ladies who want to make halter-neck bikini tops fit. (Disclaimer: any attempts are undertaken at your own risk/skill and I take no responsibility for how well your project turns out.) The KMD Kitten Bikini range is excellent for this as they come with really long ties so there's heaps of extra material.
You'll need: a bra that fits (one you don't mind losing as it'll be attached to your bikini – I used an old one that never fit perfectly so I was happy enough to cut it up), dressmaking scissors, Gütermann polyester thread (or similar quality thread), pins and either a mirror or an assistant.
Step one: Cut the bra straps where they attach at the back, put the bra on and tie the straps around your neck making sure it's supportive and comfortable. Put the bikini top on over the bra and place the neckline where you want it to sit. Tie the straps and use some pins to mark on one pair of straps where the excess fabric is. As the bikini top needs more fabric in order to adequately cover your bust, you have to decide whether to shorten the neck straps or the back straps. As I have long hair down to my waist and rarely wear it up, shortening the neck straps was the obvious choice for me.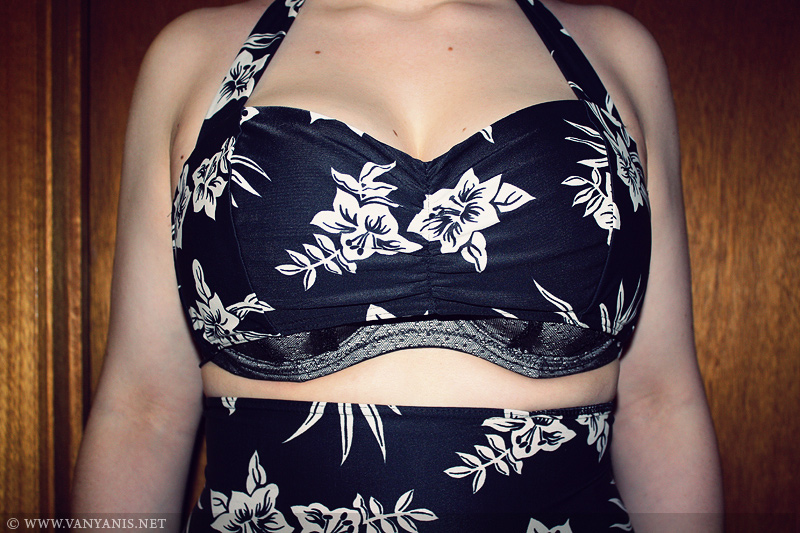 Step two: Take the bikini off and shorten the straps. You might want to untie the knot first to make sure you cut them the same length. Fold in the raw edges and top stitch closed to prevent fraying. You now have extra fabric to add to the top!

L: Before R: After
Step three: Put the bikini on over your bra, and place it where you'd like it to sit finished. I pinned the bikini to the bra underneath to ensure that it didn't move around. I used one of the salvaged scraps to place horizontally under my bust, covering the bra. I pinned the fabric under the bikini top and folded the other edge under the bra. Use LOTS of pins to hold it all in place.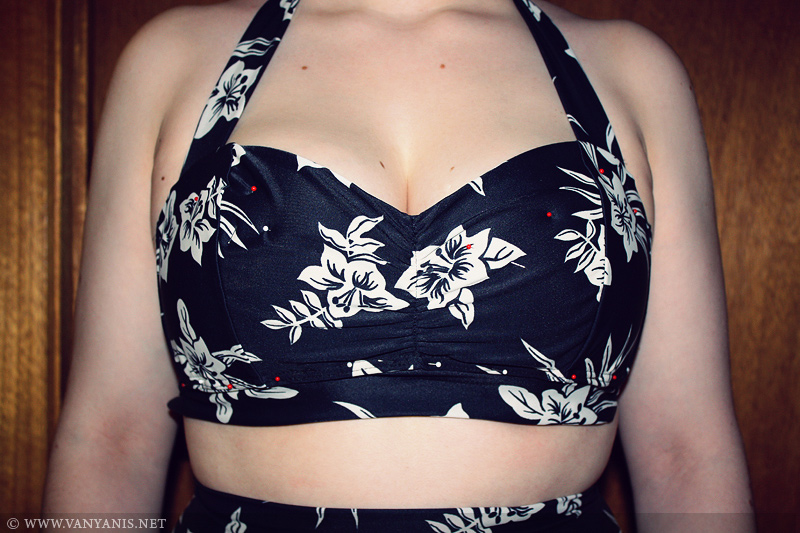 Already starting to look like it fits
Step four: Take off the bikini/bra and topstitch the additional fabric in place. I followed the existing seams that were already on the bikini so as not to wreck the design or create a "messy" look and then added a seam around the new edge to hold it all in place. Be careful when you stitch around the underwire of your bra as if you hit it with the needle you'll break it and those suckers can be dangerous when you do.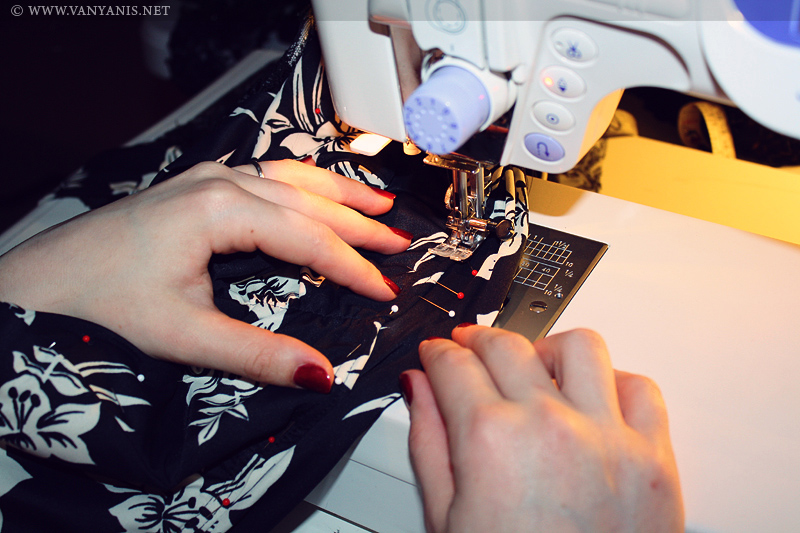 Step five: Put the bikini back on, and cut the remaining fabric in half. You'll be placing it on the outside of the neck-straps at the front and will most likely end up with an insert of material in a triangle shape. Once again, pin the extra fabric underneath the original bikini and use lots of pins to hold it in place. Repeat step four.
Step six: Put the bikini on and do up the bra at the back. Tie the back straps on over the bra and pin them in place around the sides to hide the bra. I stopped about two inches either side of the bra's hook-and-eyes. Stitch in place, and you're done!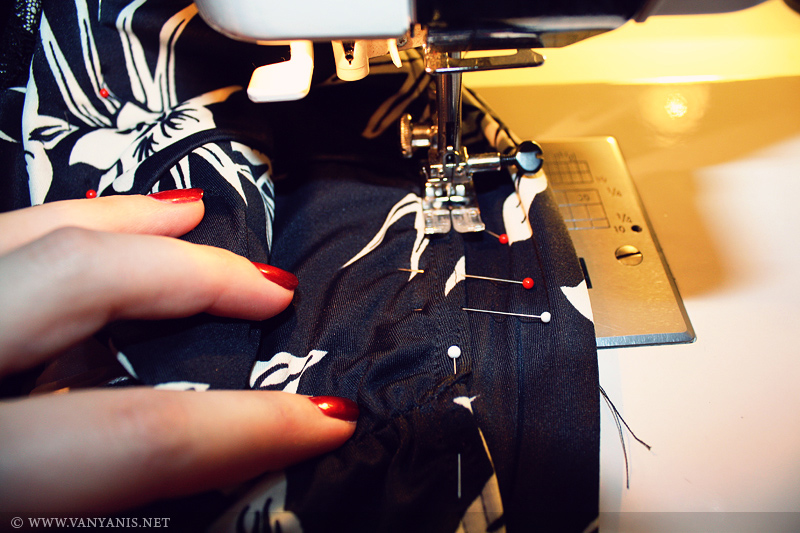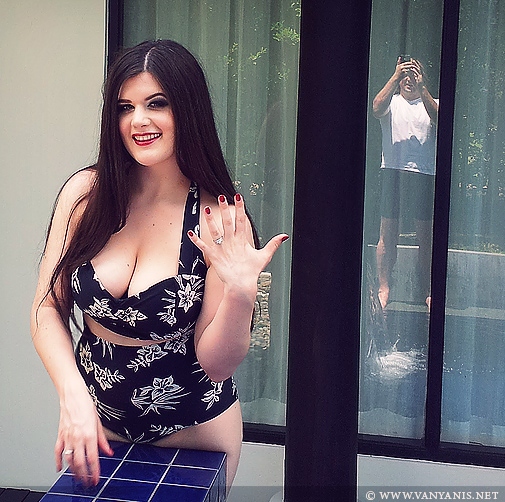 Excitedly showing off my new bling 🙂 (please excuse the poor photo quality)
I hope this has been of some help to you larger busted women! If you have any questions please feel free to contact me and I'll see if I can help you further. I'm away on my honeymoon presently but when I'm back I'll be busy preparing all the wedding blog posts as I know you're all hanging to see the outfits and event – keep checking back or subscribe below and we'll send you an email when we add new posts!
Xx
Lowana
UPDATE 26/09/2013 – I'm delighted to announce that we came runner up in the Deadly Mermaids Competition!