Advanced Corsetry Course: July 24-27th, 2019 (4 days)
Book your place in this Advanced Corsetry Class and learn how to make your own steel-boned genuine underbust corset. The focus of this class is to learn how to work with 'fashion fabrics' as well as a more in-depth look at refining corset fit. At the end of this corsetry course you'll have a custom fitted corset (made with the fashion fabric of your choice) and personalised Vanyanís pattern to keep. You'll gain the confidence, knowledge and inspiration to build on your success and make more corsets in different fabrics on your own. Receive expert guidance from an industry professional in a fun, warm environment. All shapes, sizes and ages welcome!
Dates: Wednesday 24th –  Saturday 27th July 2019 (4 days)
Times: 9:30am – 6:00pm each day (32 hours of tuition)
Location: Vanyanís studio, Healesville, Victoria, Australia
For accommodation and travel advice, please click here.
Price includes: all materials, Vanyanis corset pattern, morning and afternoon refreshments
You will need to supply your own 'fashion fabric' and matching thread
Experience: you must already have experience making corsets and have previously attended at least one other Vanyanís corsetry course.
Small class size: 2-4 attendees
Payment in full must be received prior to course commencement
Prior to class you will need to complete some pre-course work. You will be sent a kit with fabric and instructions to sew a corset toile which you will need to bring to class
IMPORTANT: For all course details, student requirements and skill level, a list of what to bring and what to wear, please click here. (coming soon!)
Out of stock
Add to Wishlist

Category: Classes
Tags: advancedcorsetmakingcoursebyvanyanis, corset, corset class, corset class australia, corset course, corset course australia, corsetmaking, corsetry, fashion student, learn to sew, melbourne, sewing, vanyanis, vanyanisschoolofcouture, yarra valley

For your chance to be featured, use #AdvancedCorsetMakingCoursebyVanyanis or #VanyanisSchoolofCouture on Instagram.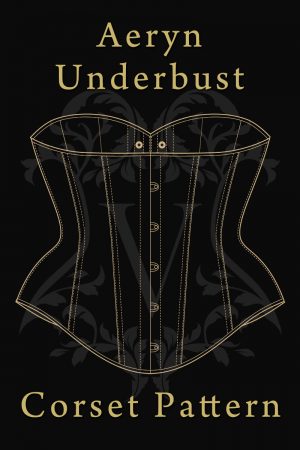 Patterns, School Shop
The Vanyanís Aeryn underbust pattern is available exclusively for Vanyanís and Royal Black corset making students. This underbust pattern was developed for the Vanyanís Beginner's Corsetry Course, and has proven to be a huge success with all who've tried it. It has a curvy silhouette with a lovely sweetheart shape at the upper back. The back panels have been drafted to create a smooth silhouette and eliminate any "back fat" or "overspill". This pattern creates a comfortable corset with a dramatic shape.
The corset pattern has six panels (per side) and is patterned to lace up closed on the wearers body (if you prefer a 2" lacing gap, simply select one size smaller). The pattern has been created to be as user friendly as possible. Seam allowances are clearly marked on all panels as well as a helpful letter system across of the top of the panel pieces (to help you sew the panels together correctly). We recommend sewing a toile (mock-up) to check and adjust the fit, before commencing your final project.
Available in corset sizes 18" to 44" it can fit natural waists of 20" to 50". To work out which size you'll need, please refer to the size chart located in the tabs below. This pattern is sold in "packs" of three sizes. Sewing instructions are not included. This pattern is licensed for personal use only (please refer to the tabs below for full terms of use).
Once purchased, the pattern pack will be immediately emailed to you as a PDF in both A3 and A4 formats, so you can print it out and get started with your corset straight away. (The A4 version will need to be taped together after printing). Tip: make sure you print the file at "100%", not "shrink to fit". There is a printed scale measurement on each page so you can check that it has printed correctly.
The files will be sent from sales@vanyanis.com so make sure you add this email to your address book so your patterns don't end up in the 'spam' folder!
Please use #VanyanisAerynCorsetPattern when posting your projects on Instagram, as we'd love to see your creations!
$

12.00