Clover Open Sided Adjustable Thimble
We discovered these amazing thimbles a few years ago and now can't manage any hand sewing without them!  In our opinion, these Clover Open Sided Adjustable Thimbles are an essential tool for your hand sewing. Because they are open sided, they allow your finger to "breathe" (it's so annoying when your fingers get 'clammy' whilst hand sewing) and if you prefer to keep your fingernails long, these thimbles don't get in the way of that. Using a thimble can help to prevent your hands getting tired when doing a lot of beading or hand sewing (it certainly has made a positive difference to how long we can sit hand sewing). At Vanyanís we only stock sewing supplies that we use in our atelier and can personally recommend.
Available in adjustable sizes 'small' and 'medium.
1 thimble per packet.
Made in Japan.
Using quality tools really does make a difference in your productivity and enjoyment of sewing. If you don't already sew with a thimble, set yourself the challenge of learning to work with one as once you've mastered that skill you'll find a it makes hand sewing sew (ha!) much easier. Until we tried these, we'd never enjoyed using a thimble before. It took a couple of sessions to get used to it, but then it became an integral part of our process. Why not give it try and see what a difference these thimbles can make to your work.
Add to Wishlist


For your chance to be featured, use #VanyanisSewingSupplies on Instagram.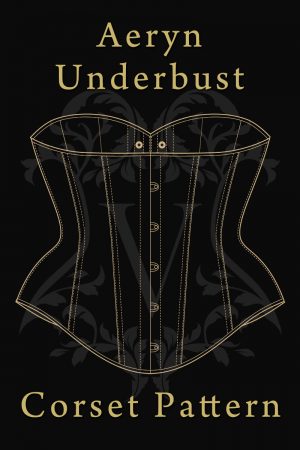 Patterns, School Shop
The Vanyanís Aeryn underbust pattern is available exclusively for Vanyanís and Royal Black corset making students. This underbust pattern was developed for the Vanyanís Beginner's Corsetry Course, and has proven to be a huge success with all who've tried it. It has a curvy silhouette with a lovely sweetheart shape at the upper back. The back panels have been drafted to create a smooth silhouette and eliminate any "back fat" or "overspill". This pattern creates a comfortable corset with a dramatic shape.
The corset pattern has six panels (per side) and is patterned to lace up closed on the wearers body (if you prefer a 2" lacing gap, simply select one size smaller). The pattern has been created to be as user friendly as possible. Seam allowances are clearly marked on all panels as well as a helpful letter system across of the top of the panel pieces (to help you sew the panels together correctly). We recommend sewing a toile (mock-up) to check and adjust the fit, before commencing your final project.
Available in corset sizes 18" to 44" it can fit natural waists of 20" to 50". To work out which size you'll need, please refer to the size chart located in the tabs below. This pattern is sold in "packs" of three sizes. Sewing instructions are not included. This pattern is licensed for personal use only (please refer to the tabs below for full terms of use).
Once purchased, the pattern pack will be immediately emailed to you as a PDF in both A3 and A4 formats, so you can print it out and get started with your corset straight away. (The A4 version will need to be taped together after printing). Tip: make sure you print the file at "100%", not "shrink to fit". There is a printed scale measurement on each page so you can check that it has printed correctly.
The files will be sent from sales@vanyanis.com so make sure you add this email to your address book so your patterns don't end up in the 'spam' folder!
Please use #VanyanisAerynCorsetPattern when posting your projects on Instagram, as we'd love to see your creations!
$

12.00