Corset Pattern Drafting Course: June 28-30th, 2019 (3 days)
Book your place in this Corset Pattern Drafting Class and learn how to draft your own overbust corset pattern, completely from scratch! You'll learn what measurements to take for accurate corsetry, and then using those measurements draft a pattern. You'll make a toile to test your pattern and learn about corset fit and how and where to apply changes to your toile. After the fitting, you'll learn how to accurately transfer those changes to your pattern. The focus of this class is to learn how to create your own corset patterns from measurements, and fit them beautifully. At the end of this pattern drafting course you'll have a personalised overbust corset pattern to keep and the knowledge of how to do it independently. You'll gain the confidence, knowledge and inspiration to build on your success and make more patterns in different styles on your own. Receive expert guidance from an industry professional in a fun, warm environment. All shapes, sizes and ages welcome!
Dates: Friday 28th – Sunday 30th May 2019 (3 days)
Times: 9:30am – 5:30pm each day (24 hours of tuition)
Location: Vanyanís studio, Healesville, Victoria, Australia
For accommodation and travel advice, please click here.
Price includes: all materials, morning and afternoon refreshments
Experience: you must already have experience making corsets and have previously attended at least one other Vanyanís corsetry course. The exception to this is if you have quite a bit of experience with working with patterns and pattern drafting.
Small class size: 2-3 attendees
Payment in full must be received prior to course commencement
Depending on the pace at which you work, there may be a small amount of "homework".
IMPORTANT: For all course details, student requirements and skill level, a list of what to bring and what to wear, please click here. (coming soon!)
Out of stock
Add to Wishlist

Category: Classes
Tags: corset, corset class, corset class australia, corset course, corset course australia, corsetmaking, corsetry, fashion student, learn to sew, melbourne, sewing, vanyanis, VanyanisPatternDrafting, vanyanisschoolofcouture, yarra valley

For your chance to be featured, use #VanyanisPatternDrafting or #VanyanisSchoolofCouture on Instagram.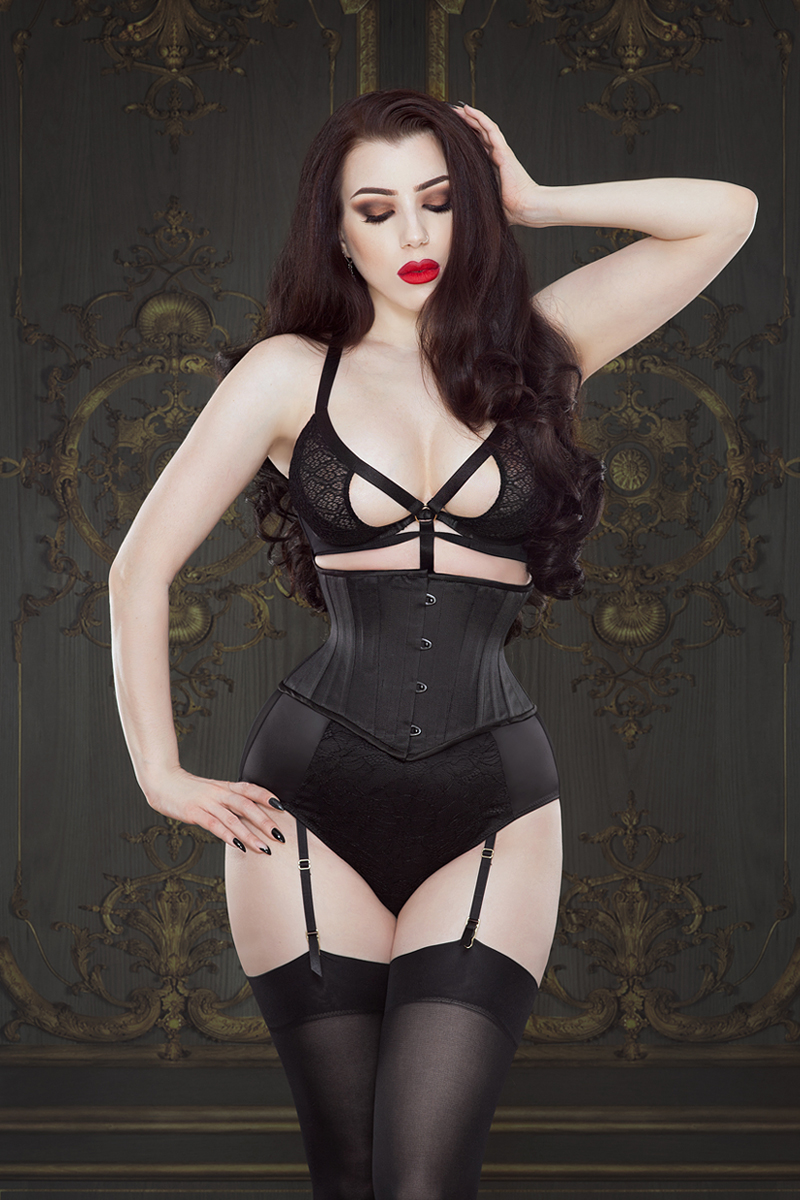 Corsets, Ready to Wear
The Andrea Waist Cincher is a timeless design from our ready-to-wear corset collection. Featuring a luxurious black satin fabric (the same used in our Ebonique Skirts) this cincher has been carefully cut and sewn to best accentuate your curves. The corset laces up with a soft satin ribbon and can be styled as underwear or outerwear (the choice is yours!). This short little corset is made to show off your assets while providing a comfortable waist reduction. It features a pointed front and two cute points at the back. Each cincher comes in a beautiful branded box, perfect for gifting to yourself or a loved one.
One of the trademark features of a Vanyanís corset is the sleek silhouette and smooth, wrinkle-free finish on the fabric. The Andrea Waist Cincher is made with the best materials we could find (including a European coutil strength layer, German steel black busk and the most luxurious satin ribbon lacing). It has 30 spiral and flat steel bones, but still feels 'light' to wear as the quality fabrics provide strength and support without being bulky. (For those that love details, check out the 'Corset Details' tab below for all specifications on this corset.)
The level of care and attention-to-detail that has gone into this making range has resulted in an exceptional waist cincher that will make you feel incredible.
$

595.00