Ornate Embroidery Scissors
Who doesn't love ornate embroidery scissors?! As you may have worked out by now, at Vanyanís we are slightly obsessed with all things black and gold, so when a student bought her embroidery scissors to class we had to find out where she got them from so we could have a pair of our own…. and then other students started asking and the next thing we knew we had to get them in due to overwhelming demand! These embroidery scissors are perfect for cutting out lace appliqué, trimming threads and all sorts of fine sewing work. They have a super fine tip and are an excellent sturdy little pair of scissors.
Scissors measure 110mm / 4¼"
Blade measures 33mm / 1 ¼"
Brand: Xlassé
Made in China.
At Vanyanís we only stock sewing supplies that we use in our atelier and can personally recommend.
10 in stock (can be backordered)
Add to Wishlist


For your chance to be featured, use #VanyanisSewingSupplies on Instagram.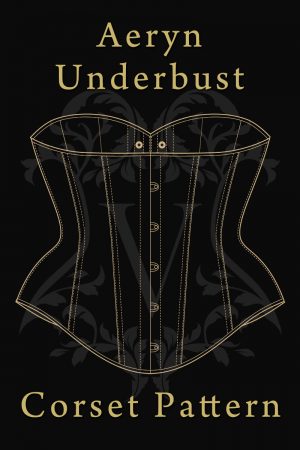 Patterns, School Shop
The Vanyanís Aeryn underbust pattern is available exclusively for Vanyanís and Royal Black corset making students. This underbust pattern was developed for the Vanyanís Beginner's Corsetry Course, and has proven to be a huge success with all who've tried it. It has a curvy silhouette with a lovely sweetheart shape at the upper back. The back panels have been drafted to create a smooth silhouette and eliminate any "back fat" or "overspill". This pattern creates a comfortable corset with a dramatic shape.
The corset pattern has six panels (per side) and is patterned to lace up closed on the wearers body (if you prefer a 2" lacing gap, simply select one size smaller). The pattern has been created to be as user friendly as possible. Seam allowances are clearly marked on all panels as well as a helpful letter system across of the top of the panel pieces (to help you sew the panels together correctly). We recommend sewing a toile (mock-up) to check and adjust the fit, before commencing your final project.
Available in corset sizes 18" to 44" it can fit natural waists of 20" to 50". To work out which size you'll need, please refer to the size chart located in the tabs below. This pattern is sold in "packs" of three sizes. Sewing instructions are not included. This pattern is licensed for personal use only (please refer to the tabs below for full terms of use).
Once purchased, the pattern pack will be immediately emailed to you as a PDF in both A3 and A4 formats, so you can print it out and get started with your corset straight away. (The A4 version will need to be taped together after printing). Tip: make sure you print the file at "100%", not "shrink to fit". There is a printed scale measurement on each page so you can check that it has printed correctly.
The files will be sent from sales@vanyanis.com so make sure you add this email to your address book so your patterns don't end up in the 'spam' folder!
Please use #VanyanisAerynCorsetPattern when posting your projects on Instagram, as we'd love to see your creations!
$

12.00