Sewing Day: Sunday 4th August, 2019
Do you love sewing?! Perhaps you have a sewing project you need help with? Are you having trouble fitting that dress to your shape? Not sure how to achieve the desired result or know where to start? Want to know how to get a more professional finish? Or maybe you just need an excuse to get out of the house and make time for yourself to do what you love, in a dedicated sewing studio with like-minded people (let's be honest, life does have a habit of getting in the way and sometimes we need an 'event' or deadline to get us doing what we wanted to do anyway).
Come and join in our brand new Sewing Day and get all the help and support you need from Lowana O'Shea as you work on your individual projects. This 'Sewing Day' is intended to be fun, casual and full of the shared enjoyment of sewing. Bring along anything you're working on (or wanting to start) and give yourself the excuse to get some serious work done on it.
Date: Sunday 4th August 2019
Time: 10am – 5pm day (7 hours of sewing!)
Location: Vanyanís studio, Healesville, Victoria, Australia
Price includes: tuition, use of our studio tools, venue hire and endless tea & coffee (and biscuits!)
Price does not include: materials, machine hire, lunch
Bring: your sewing project, sewing machine (if needed), sewing kit & lunch
Small class size: 3-4 attendees
Payment in full must be received prior to class commencement
Receive expert guidance from an industry professional in a fun, warm environment. All shapes, sizes, ages and experience levels are welcome!
4 in stock
Add to Wishlist

Category: Classes
Tags: fashion, fashion student, healesville, learn to sew, melbourne, sewing, sewing class, sewing day, sewing group, vanyanis, yarra valley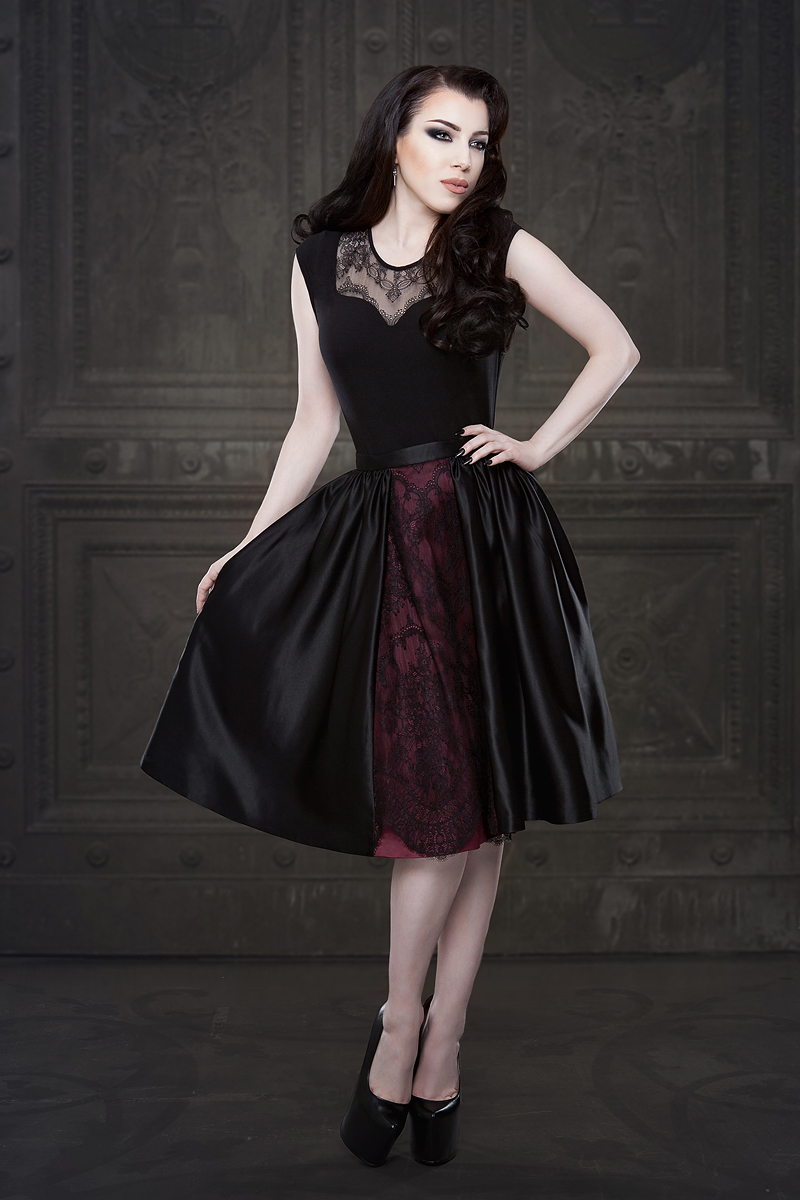 Ready to Wear, Skirts
At Vanyanís, we believe that elegance goes hand in hand with comfort and utility. This is why our decadent satin skirt has two generously deep hidden pockets - freeing you of the need for a clutch should you choose.
Featuring an exquisite panel of Leavers Lace over a burgundy satin panel, this skirt is the height of luxury and we've loved bringing a couture feel to this garment. The skirt is fully lined in cupro (a hypoallergenic, anti-static fabric made from the silky fibres of the cotton plant) which feels incredibly soft against your skin. The featured lace is a match to our Sweetheart Tops.
The skirt is cleverly cut to accentuate your waist and hips, without adding 'bulk' at the front. The luxurious black satin is gathered at the back and sides, joining the flat front. The hemline is generous and you instantly want to swish about when you wear it. Why not wear a petticoat underneath for a vintage feel?
As Coco Chanel once said, "Simplicity is the keynote of all true elegance".
(To ensure the long life of this garment, please see the 'Fabric & Care' tab below for all care instructions.)
$

389.00