Sewing Day: Sunday 6th October, 2019
Do you love sewing?! Perhaps you have a sewing project you need help with? Are you having trouble fitting that dress to your shape? Not sure how to achieve the desired result or know where to start? Want to know how to get a more professional finish? Or maybe you just need an excuse to get out of the house and make time for yourself to do what you love, in a dedicated sewing studio with like-minded people (let's be honest, life does have a habit of getting in the way and sometimes we need an 'event' or deadline to get us doing what we wanted to do anyway).
Come and join in our brand new Sewing Day and get all the help and support you need from Lowana O'Shea as you work on your individual projects. This 'Sewing Day' is intended to be fun, casual and full of the shared enjoyment of sewing. Bring along anything you're working on (or wanting to start) and give yourself the excuse to get some serious work done on it.
Date: Sunday 6th October 2019
Time: 10am – 5pm day (7 hours of sewing!)
Location: Vanyanís studio, Healesville, Victoria, Australia
Price includes: tuition, use of our studio tools, venue hire and endless tea & coffee (and refreshments)
Price does not include: materials, machine hire, lunch
Bring: your sewing project, sewing machine (if needed), sewing kit & lunch
Small class size: 3-4 attendees
Payment in full must be received prior to class commencement
Receive expert guidance from an industry professional in a fun, warm environment. All shapes, sizes, ages and experience levels are welcome!
2 in stock
Add to Wishlist

Category: Classes
Tags: fashion, fashion student, healesville, learn to sew, melbourne, sewing, sewing class, sewing day, sewing group, vanyanis, yarra valley

For your chance to be featured, use #VanyanisSchoolofCouture on Instagram.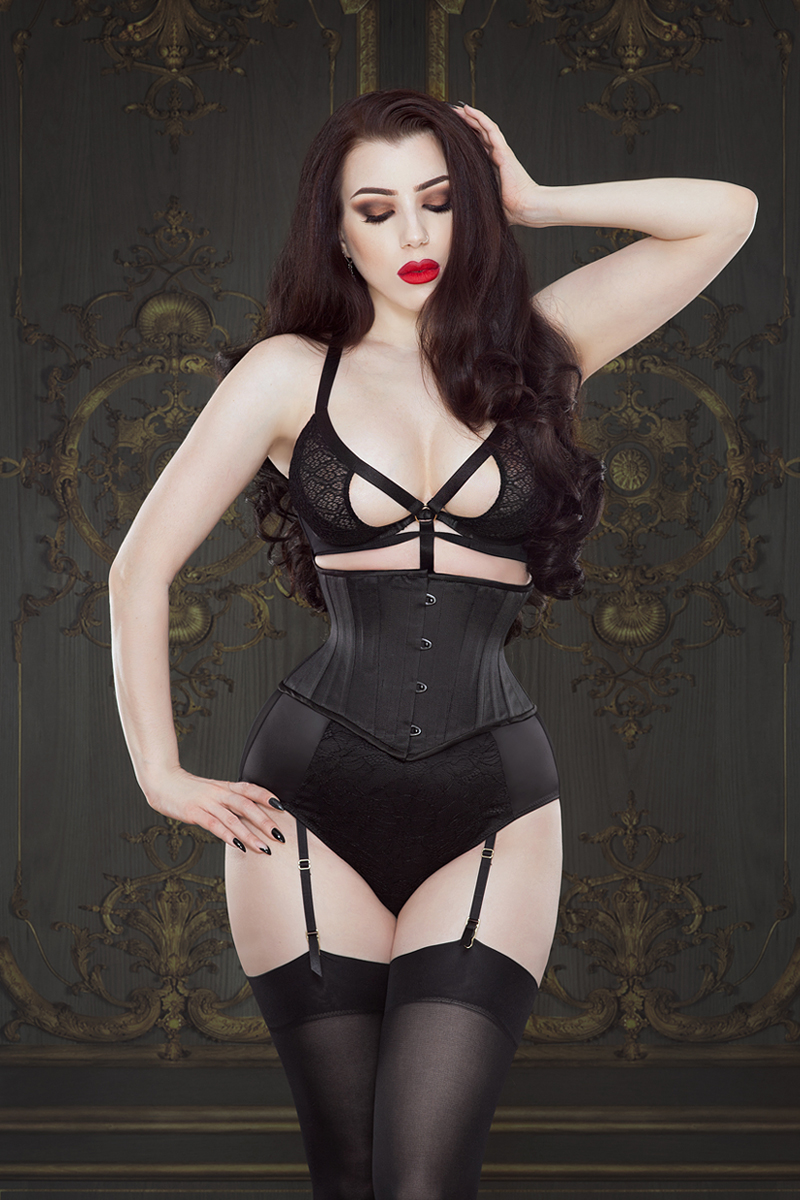 Corsets, Ready to Wear
The Andrea Waist Cincher is a timeless design from our ready-to-wear corset collection. Featuring a luxurious black satin fabric (the same used in our Ebonique Skirts) this cincher has been carefully cut and sewn to best accentuate your curves. The corset laces up with a soft satin ribbon and can be styled as underwear or outerwear (the choice is yours!). This short little corset is made to show off your assets while providing a comfortable waist reduction. It features a pointed front and two cute points at the back. Each cincher comes in a beautiful branded box, perfect for gifting to yourself or a loved one.
One of the trademark features of a Vanyanís corset is the sleek silhouette and smooth, wrinkle-free finish on the fabric. The Andrea Waist Cincher is made with the best materials we could find (including a European coutil strength layer, German steel black busk and the most luxurious satin ribbon lacing). It has 30 spiral and flat steel bones, but still feels 'light' to wear as the quality fabrics provide strength and support without being bulky. (For those that love details, check out the 'Corset Details' tab below for all specifications on this corset.)
The level of care and attention-to-detail that has gone into this making range has resulted in an exceptional waist cincher that will make you feel incredible.
$

595.00