Tiny Gold Embroidery Scissors
At Vanyanís we do a lot of very delicate sewing and for particularly fiddly projects that requires very sharp, tiny scissors. We love these gold embroidery scissors for cutting out lace appliqué, trimming threads and all sorts of fine sewing work. They are lightweight, have a sharp fine point and are the perfect compact size for controlled and precise cutting of detailed work. They are made from stainless steel.
Scissors measure 60mm / 2½"
Blade measures 19mm / ¾"
Brand: Triumph
Made in China.
At Vanyanís we only stock sewing supplies that we use in our atelier and can personally recommend.
4 in stock (can be backordered)
Category: Sewing Supplies
Tags: compactscissors, embroideryscissors, goldscissors, haberdashery, scissors, sewing, sewingsupplies, tinyscissors, triumph, triumphscissors, vanyanissewingsupplies
This error message is only visible to WordPress admins
Error: API requests are being delayed. New posts will not be retrieved for at least 5 minutes.
There may be an issue with the Instagram access token that you are using. Your server might also be unable to connect to Instagram at this time.
Click here to troubleshoot.
For your chance to be featured, use #VanyanisSewingSupplies on Instagram.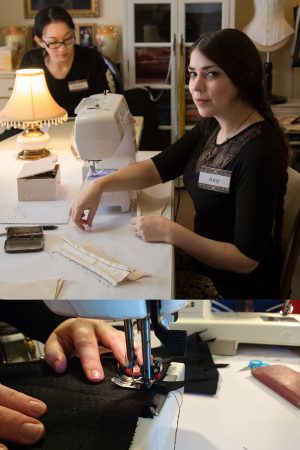 Classes
Do you love sewing?! Perhaps you have a sewing project you need help with? Are you having trouble fitting that dress to your shape? Not sure how to achieve the desired result or know where to start? Want to know how to get a more professional finish? Or maybe you just need an excuse to get out of the house and make time for yourself to do what you love, in a dedicated sewing studio with like-minded people (let's be honest, life does have a habit of getting in the way and sometimes we need an 'event' or deadline to get us doing what we wanted to do anyway).
Come and join in our Sewing Day and get all the help and support you need from Lowana O'Shea as you work on your individual projects. This 'Sewing Day' is intended to be fun, casual and full of the shared enjoyment of sewing. Bring along anything you're working on (or wanting to start) and give yourself the excuse to get some serious work done on it. Want to see what we get up too? Click here.
Date: Sunday 23rd February 2020
Time: 10am - 5pm day (7 hours of sewing!)
Location: Vanyanís studio, Healesville, Victoria, Australia
Price includes: tuition, use of our studio tools, venue hire and endless tea & coffee (and delicious refreshments)
Price does not include: materials, machine hire, or lunch (but we do tend to "over cater" the refreshments)
Bring: your sewing project, sewing machine (if needed), sewing kit & lunch
Small class size: 3-4 attendees
Payment in full must be received prior to class commencement
Receive expert guidance from an industry professional in a fun, warm environment. All shapes, sizes, ages and experience levels are welcome!
$

125