Vanyanís Luxury Tote
This, we firmly believe, is the tote to end all totes! Luscious, robust, and embroidered with our gorgeous gold corset monogram, this black bag truly marries elegance and beauty to strength and durability. Made from a hard-wearing black satin fused to cotton and lined in a soft satin, this bag is super-strong and sewn with small stitches. It truly is made to last.
Perfect to team with your Ebonique wardrobe, our Vanyanís bag can be used in place of a handbag, to carry a small laptop or tablet to work, a pair of life-saving flat shoes to your nights out dancing in our ready-to-wear range, or a selection of hardbacks so that your ride to work can be transformed into a morning escape into other worlds…
We cannot wait to hear how you will use your very own Vanyanís Luxury Tote!
49 in stock
Add to Wishlist

SKU:

VMTOTE-LUX
Categories: Gift Vouchers & Merch, Gift Vouchers & Merch
Tags: bag, blackandgold, blackbag, blacktote, corsetbag, embroidery, luxurytote, satinbag, satintote, tote, vanyanis, vanyanisluxurytote, vanyanismerch

For your chance to be featured, use #VanyanisLuxuryTote or #VanyanisMerch on Instagram.
Embroidery: Gold thread with a subtle sheen (on one side of bag only)
Size: Bag measures approximately 34cm wide x 39cm height. The handles each measure approximately 64cm x 3.5cm.
Fabric: Satin: 100% Polyester (outer and lining). Outer layer is fused to 100% cotton.
Care: For best longevity, we recommend dry cleaning. Or, when necessary, spot cleaning with a damp cloth. Please take care not to catch embroidery on sharp surfaces (such as jewellery). Do not bleach. Do not tumble dry. Warm iron with pressing cloth.
At Vanyanís, we believe in slow fashion – high quality, versatile pieces made to last – not fast fads to be discarded in a few months. Rather than a passing trend, we focus on fashion as an investment; a Vanyanís wardrobe is a collection of timeless favourites made with quality and ethics at the fore, because we pride ourselves on paying a living wage.
Designed in the Yarra Valley, Australia.
Made in Bangkok, Thailand.
For more information about our ethical manufacturing process, click here.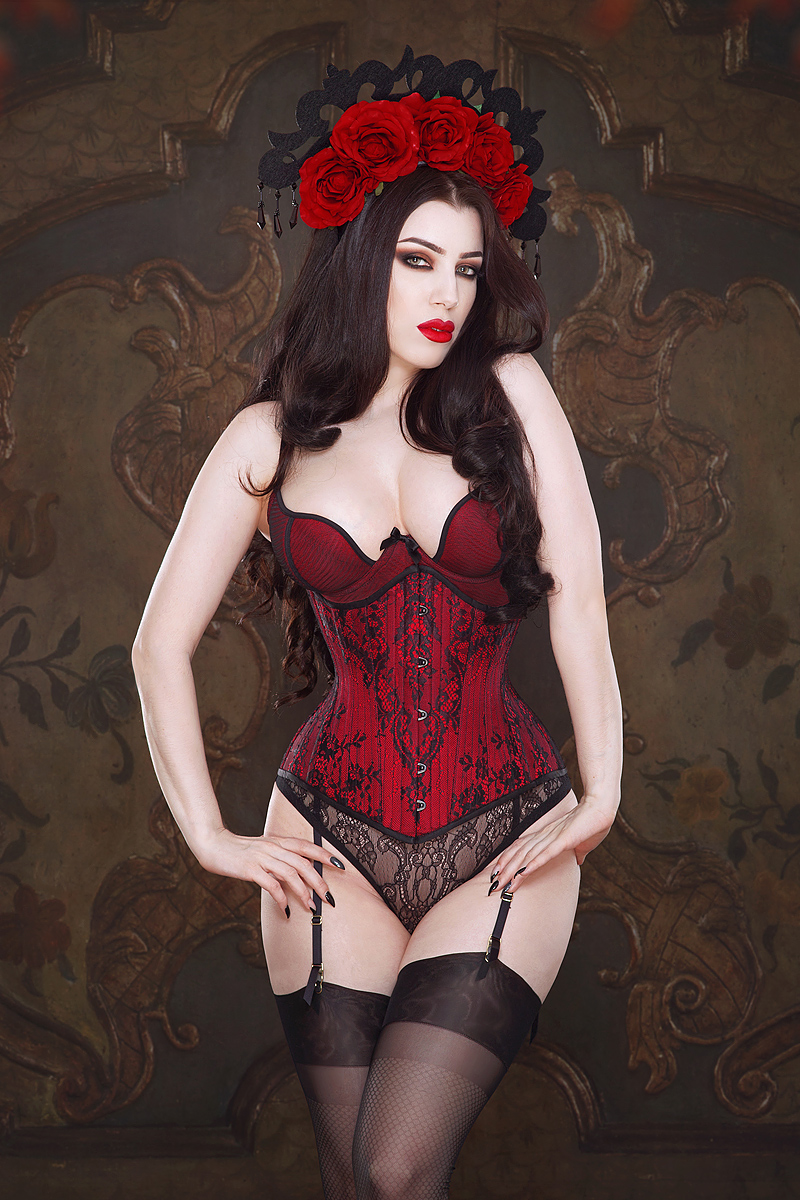 Corsets, Ready to Wear
The Ruby Underbust Corset is a luxurious, limited edition design from our first ready-to-wear corset collection. Featuring exquisite black lace that has been carefully cut and sewn to best accentuate your curves. The lace is laid over a deep red satin and the corset is bound with a decadent silk duchess binding and laces up with a soft satin ribbon.
One of the trademark features of a Vanyanís corset is the sleek silhouette and smooth, wrinkle-free finish on the fabric. The Ruby Corset is made with the best materials we could find (including a European coutil strength layer, German steel black busk and the most luxurious satin ribbon lacing). It has 30 spiral and flat steel bones, but still feels 'light' to wear as the quality fabrics provide strength and support without being bulky. (For those that love details, check out the 'Corset Details' tab below for all specifications on this corset.)
The Ruby Corset is cut to frame your bust and features a high back for a smooth silhouette. The corset comes with a structured modesty panel that is easily removable without having to unlace the corset (we used snaps!). Each corset comes in a beautiful branded box, perfect for gifting to yourself or a loved one. Click here to view a video showcasing the details.
The level of care and attention-to-detail that has gone into this making collection has resulted in an exceptional corset that will make you feel incredible.
$

795.00