Vanyanís Luxury Tote
This, we firmly believe, is the tote to end all totes! Luscious, robust, and embroidered with our gorgeous gold corset monogram, this black bag truly marries elegance and beauty to strength and durability. Made from a hard-wearing black satin fused to cotton and lined in a soft satin, this bag is super-strong and sewn with small stitches. It truly is made to last.
Perfect to team with your Ebonique wardrobe, our Vanyanís bag can be used in place of a handbag, to carry a small laptop or tablet to work, a pair of life-saving flat shoes to your nights out dancing in our ready-to-wear range, or a selection of hardbacks so that your ride to work can be transformed into a morning escape into other worlds…
We cannot wait to hear how you will use your very own Vanyanís Luxury Tote!
49 in stock
Add to Wishlist

SKU:

VMTOTE-LUX
Categories: Gift Vouchers & Merch, Gift Vouchers & Merch
Tags: bag, blackandgold, blackbag, blacktote, corsetbag, embroidery, luxurytote, satinbag, satintote, tote, vanyanis, vanyanisluxurytote, vanyanismerch

For your chance to be featured, use #VanyanisLuxuryTote or #VanyanisMerch on Instagram.
Embroidery: Gold thread with a subtle sheen (on one side of bag only)
Size: Bag measures approximately 34cm wide x 39cm height. The handles each measure approximately 64cm x 3.5cm.
Fabric: Satin: 100% Polyester (outer and lining). Outer layer is fused to 100% cotton.
Care: For best longevity, we recommend dry cleaning. Or, when necessary, spot cleaning with a damp cloth. Please take care not to catch embroidery on sharp surfaces (such as jewellery). Do not bleach. Do not tumble dry. Warm iron with pressing cloth.
At Vanyanís, we believe in slow fashion – high quality, versatile pieces made to last – not fast fads to be discarded in a few months. Rather than a passing trend, we focus on fashion as an investment; a Vanyanís wardrobe is a collection of timeless favourites made with quality and ethics at the fore, because we pride ourselves on paying a living wage.
Designed in the Yarra Valley, Australia.
Made in Bangkok, Thailand.
For more information about our ethical manufacturing process, click here.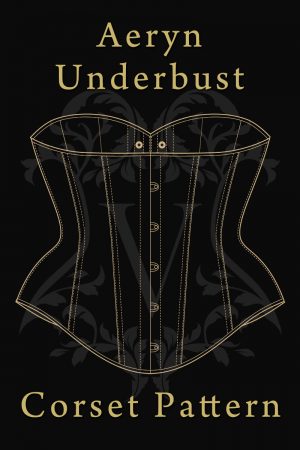 Patterns, School Shop
The Vanyanís Aeryn underbust pattern is available exclusively for Vanyanís and Royal Black corset making students. This underbust pattern was developed for the Vanyanís Beginner's Corsetry Course, and has proven to be a huge success with all who've tried it. It has a curvy silhouette with a lovely sweetheart shape at the upper back. The back panels have been drafted to create a smooth silhouette and eliminate any "back fat" or "overspill". This pattern creates a comfortable corset with a dramatic shape.
The corset pattern has six panels (per side) and is patterned to lace up closed on the wearers body (if you prefer a 2" lacing gap, simply select one size smaller). The pattern has been created to be as user friendly as possible. Seam allowances are clearly marked on all panels as well as a helpful letter system across of the top of the panel pieces (to help you sew the panels together correctly). We recommend sewing a toile (mock-up) to check and adjust the fit, before commencing your final project.
Available in corset sizes 18" to 44" it can fit natural waists of 20" to 50". To work out which size you'll need, please refer to the size chart located in the tabs below. This pattern is sold in "packs" of three sizes. Sewing instructions are not included. This pattern is licensed for personal use only (please refer to the tabs below for full terms of use).
Once purchased, the pattern pack will be immediately emailed to you as a PDF in both A3 and A4 formats, so you can print it out and get started with your corset straight away. (The A4 version will need to be taped together after printing). Tip: make sure you print the file at "100%", not "shrink to fit". There is a printed scale measurement on each page so you can check that it has printed correctly.
The files will be sent from sales@vanyanis.com so make sure you add this email to your address book so your patterns don't end up in the 'spam' folder!
Please use #VanyanisAerynCorsetPattern when posting your projects on Instagram, as we'd love to see your creations!
$

12.00