One of the best things about specializing in custom-made wedding dresses is that I get to be a part of some gorgeous and unique weddings and I also get to meet some beautiful people along the way. It really is a journey and I get to know my brides very well, hearing all about their plans as they unfold, and learning about them as people. Making Rochelle's wedding gown has been one of my favourite commissions so far – everything worked out so perfectly from start to finish that the whole experience was just lovely (and for me it was "work")!
Rochelle contacted me at the start of the year, asking if I'd be able to make her wedding gown for her November 2012 wedding. As I soon found out, Rochelle is a lovely alternative girl with a fondness for Norwegian death metal, an aversion to white meringue wedding gowns, and lives in Perth, Western Australia. Normally living in another state (I work in Melbourne, Victoria) would deter some brides, but not Rochelle. She was all set to fly out to Melbourne for fittings and was so enthused to get me to make her gown that she wasn't going to let a little thing like 3,000 kilometres stand in her way!
As well as being a self-employed fashion designer, I also work as a Flight Attendant, flying domestically around Australia. I occasionally get to stay overnight in various cities for work, and as Rochelle had contacted me with plenty of time before her big day we were able to meet for most of the fittings in Perth. It was a bit unusual to make a dress this way (the dress should have its own frequent flyer membership!) but was a lot of fun to do something different.
Rochelle had sent me through some lovely photos of corsets and skirts she liked but was still a bit unsure of what she was after. We met for a coffee and went over some ideas. The best way to develop a concept is to pinpoint specific things a client wants and focus on those. Rochelle wanted a black and blue outfit made out of a corset and skirt. After our catch-up we nearly had the design finished and I sent Rochelle off with some homework – to go try on a few wedding dresses to work out what type of skirt she felt the best in (she was torn between A-line or fishtail). Apparently it was a bit of an 'experience', as she had to deal with some pushy saleswomen and try on lots of white dresses (which was a little out of her comfort zone), but it's all part of being a bride, and I'm happy to say I'm much more laid back when dealing with my customers 😉
The good thing about trying on dresses was that Rochelle got to see what different skirts looked and felt like. This is really important as you absolutely must feel comfortable on your wedding day and seeing things in person can sometimes change your mind about a design (it's better to know for sure at the start, rather than change your mind once the gown has been custom-made). She decided on a fishtail-cut skirt, so I got to work sketching and sent off the design for approval.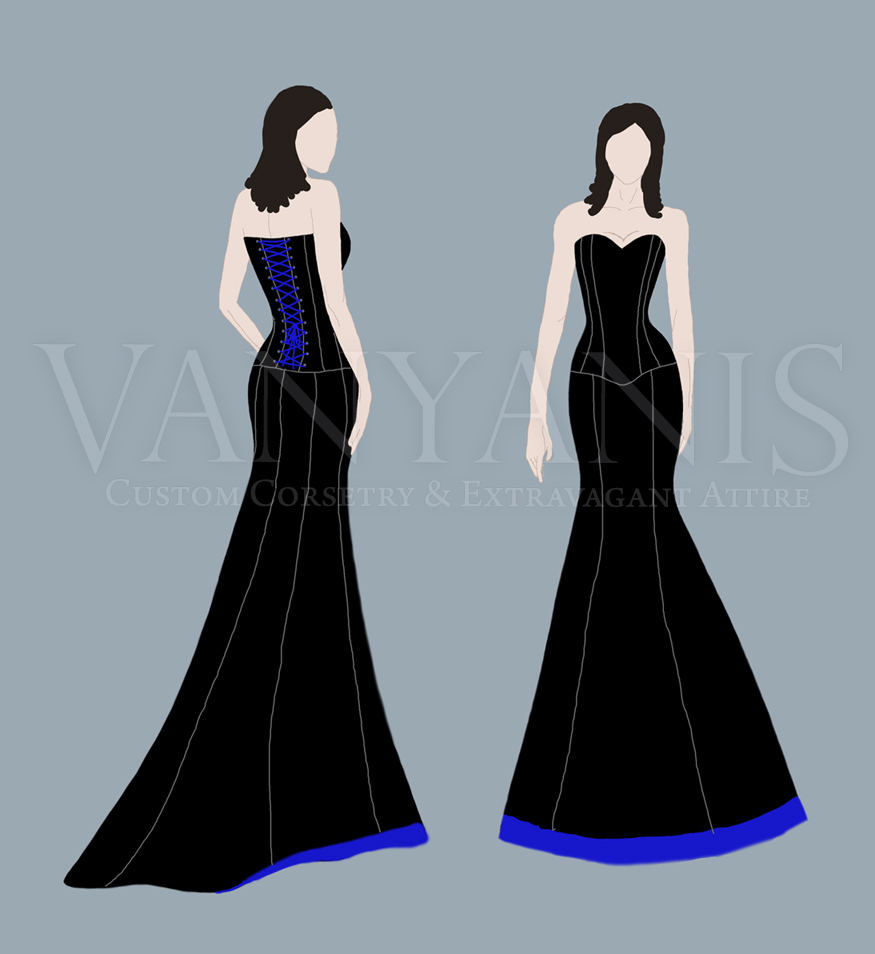 Illustration of the two piece ensemble
I received this back from Rochelle:
"Wow Lowana that is just what I want!! I was having trouble picturing the dress in my head but you have nailed it! 🙂 I definitely like the way you have drawn the trim. I don't think I would have it [the blue tulle] visible all the way around. I love the shape! I love everything! Thank you so much for everything, I'm really excited!"
It was so thrilling to have been able to identify exactly what she wanted! 🙂
Rochelle flew out to Melbourne and we had a great day fabric shopping, dining out at Melbourne's best French Creperie, visiting the Koko Black Chocolate shop, and having loads of fun. She'd never been to Melbourne before so it was great to spend the day with her, and see it all again with fresh eyes. We even managed to find all the fabric we needed at the second shop we went to, deciding on some luscious black silk satin and vibrant blue tulle. After a full day I dropped Rochelle back at the airport, and went home and started on the patterns.
L: St. Ronan's Cider – the perfect accompaniment for any seamstress
R: Tracing out the corset pattern and adding a seam allowance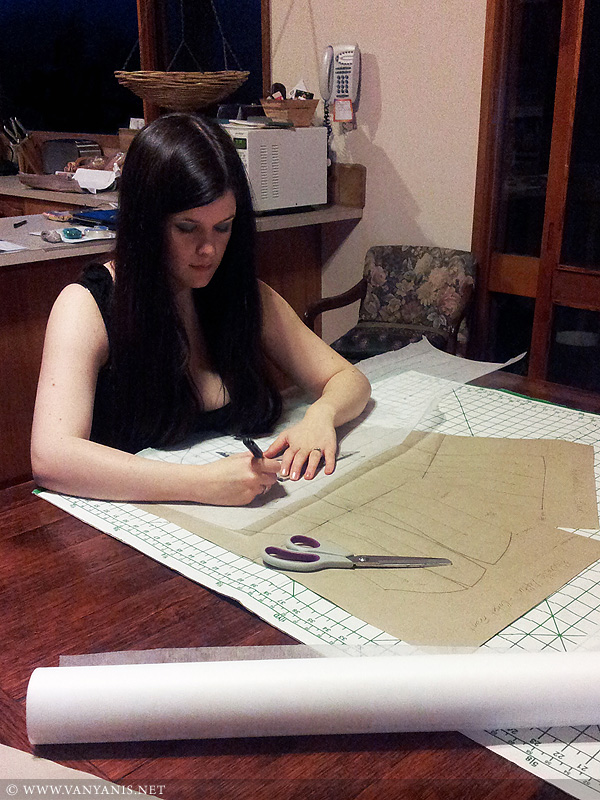 Me hard at work drafting patterns…
After completing the pattern I made up the toile (pronounced 'twarl') – a mock-up sewn in calico to check the fit and cut of the garments. For very special garments, like a wedding outfit, I'll do this twice to be 110% sure that the pattern and fit is perfect. Below is the first toile.
L: The skirt and corset… | R: Corset toile (not used in the final garment)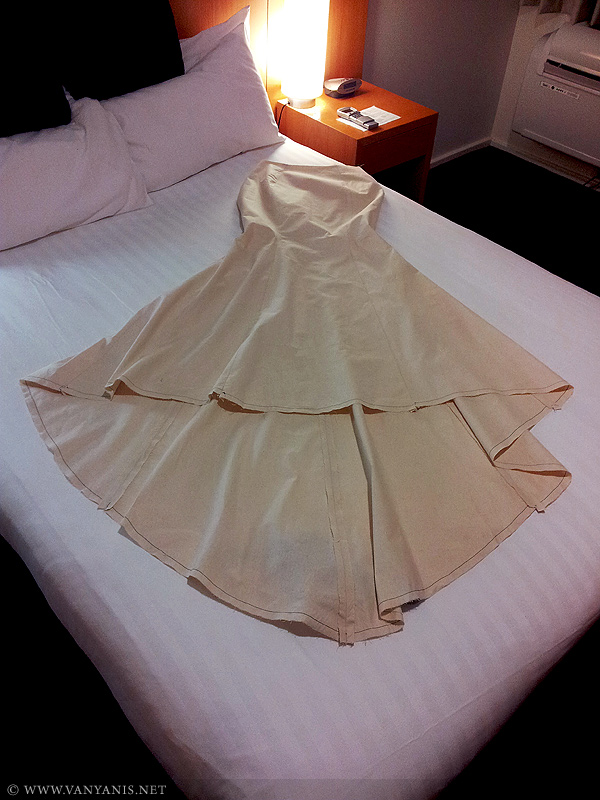 L: Back view of the skirt showing the pins and waistline alteration
M: The line drawn on the skirt is where we decided the train should finish
R: The line drawn on the hem is where the black finishes and the blue starts
After the first fitting I flew back to Melbourne (thank you, other job!) and over the following weeks made some alterations to the pattern. At the first fitting we worked out where the hem of the skirt should finish (I made the first hem extra long so we could cut it back, as it is much easier to cut away rather than add on) and made some tweaks to the fit of the skirt around the hips and to the corset panels. The best thing about sewing the toile out of calico is that I can draw all over it! This made it easy for me to show Rochelle the changes, and to check that it is exactly what she wants.
Rochelle's gown is very sleek and simple, designed to show off her gorgeous figure. As she didn't want any lace or beading on the ensemble, I suggested a gathered centre panel on the corset (something like on the Madeleine gown), to create some texture and a 'feature', without being over the top. I sewed an example into the second toile of the corset and took it on my next Perth overnight trip for fitting. I forgot to take photos of it while worn, but there were only a few tiny alterations needed anyway. Rochelle loved the gathered panel so once I got back from my trip I made the final alterations to the corset pattern and started work on the final piece (this is my favourite part of the whole process). I found a beautiful blue cotton fabric for lining the corset in. I prefer to line corsets in cotton or silk as the natural fibres let your skin breathe (whereas satin will just stick – yuck!) and feel nice and soft against your skin.
L: The second toile of the corset | R: Cutting out the corset lining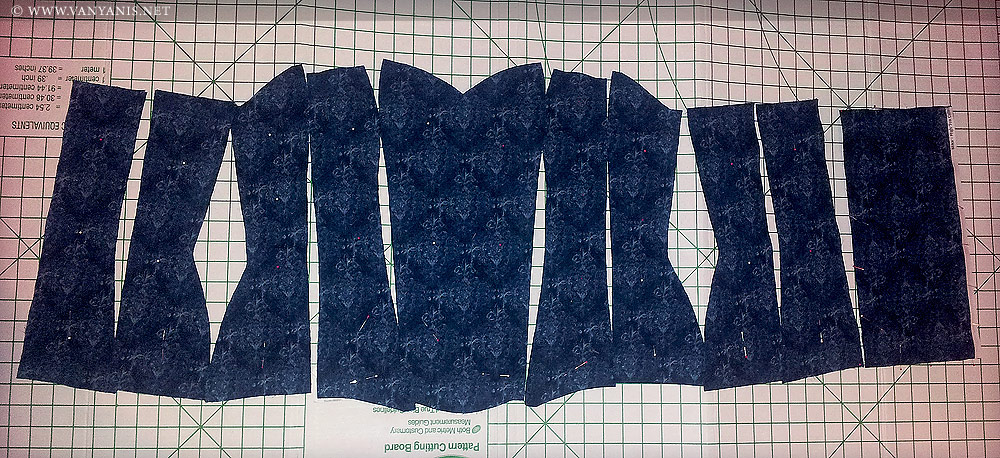 The nine panels of the corset and the modesty panel, shown here in the lining material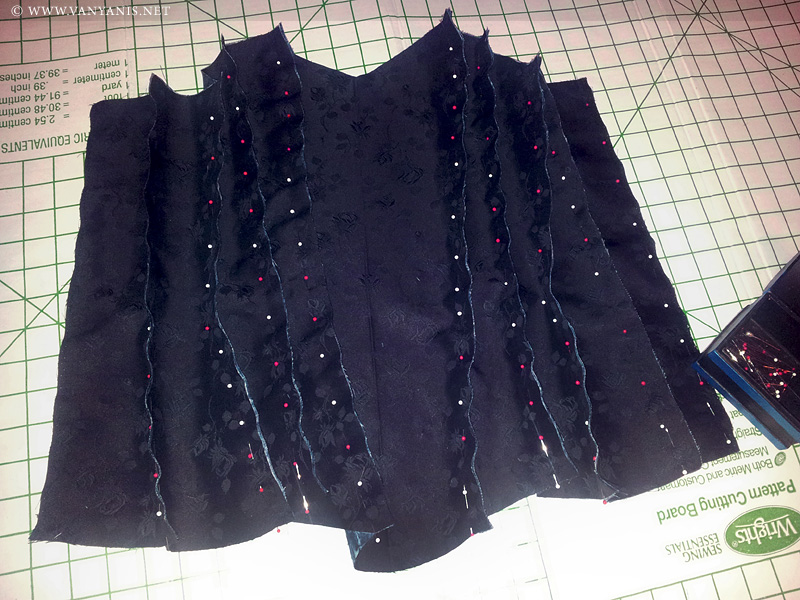 The coutil layer pinned together, ready to sew. (Coutil is a strong, closely woven cotton fabric designed especially for corsets. It's strong, doesn't stretch and isn't a thick or bulky fabric.)
L: Sewing the corset panels together (and showing off my own engagement ring 😉 )
R: Hard at work using my Janome machine at my vintage sewing table.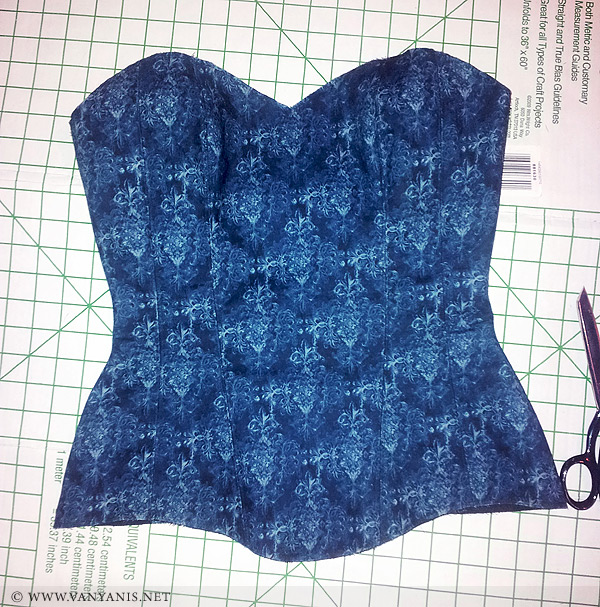 Inside of the corset (the edges haven't been finished yet)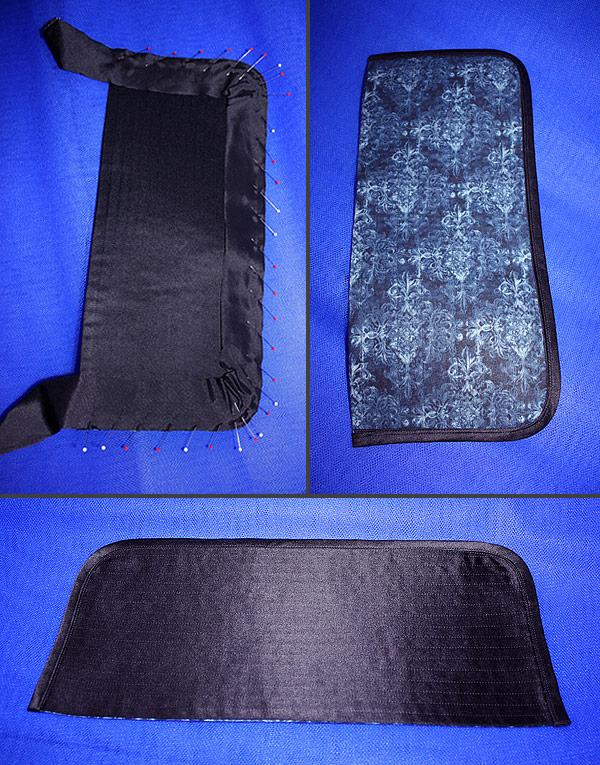 The corset modesty panel in progress and finished
L: The gathered feature front panel of the corset alongside the pattern
R: The silk layer sewn together (not yet attached to the inner layers)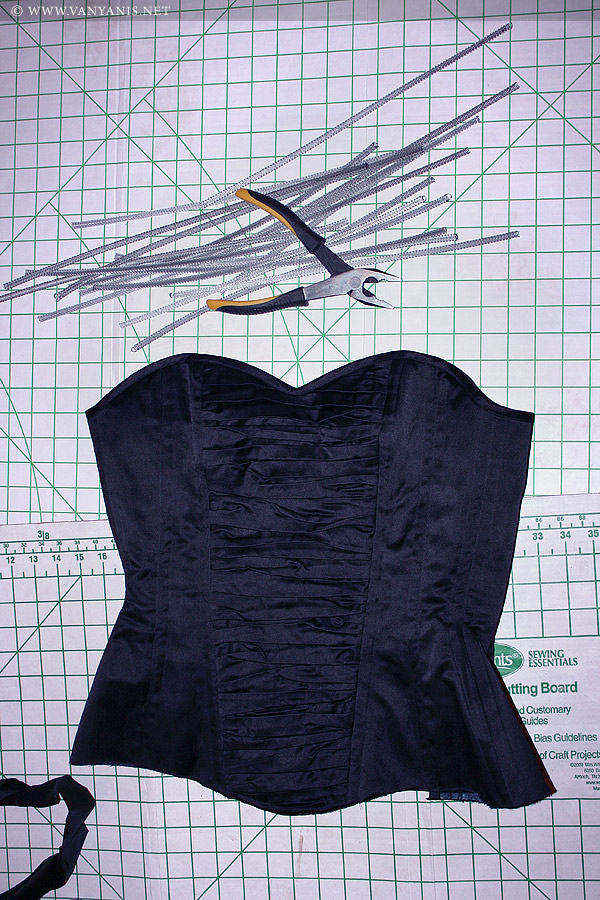 All layers sewn together with the spiral steel boning ready to be cut to size.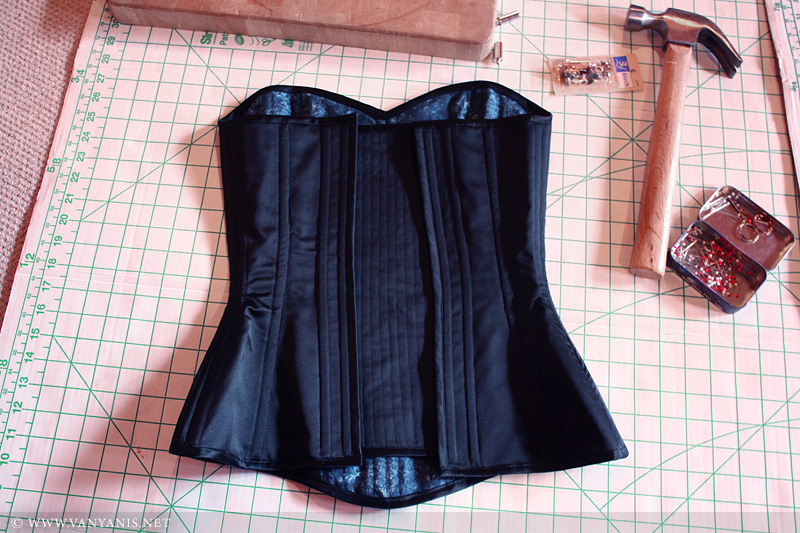 Boning inserted and edges finished. Time to apply the eyelets by hand!
Shortly after finishing Rochelle's corset I had my birthday and was given a mechanical eyelet machine! I'll have to get my man to assemble it for me (I'm not technical in that way), but it's something I've been needing for a long time. The eyelets will still have two parts, but instead of banging them in place with a hammer, I'll just have to push a pedal and the machine will do it for me! But I digress; I'll leave you here for now as there's still a lot to share with you about the journey of this gown, so keep an eye out for 'part 2'! Please subscribe (below) if you'd like to get an email when I post new blog entries, and for more on this outfit!
Thank you for reading and visiting my blog!
Xx
Lowana