Welcome to 'part two' of the journey of Rochelle's gothic wedding gown! If you're new to this blog I recommend that you read 'part one' first 🙂 I left you in the last entry with some teasing photos of the corset almost finished. In this entry I'll share with you the skirt half of the ensemble.
The second fitting with Rochelle went really well and only a few small changes were needed for the fit of the skirt. As the luscious silk fabric we selected had no stretch in it I wanted to be absolutely sure that Rochelle would be able to sit, dance and move easily in her 'fishtail' skirt, whilst still showing off her gorgeous figure. I can personally imagine nothing worse than not being able to move easily on my wedding day! Just imagine how annoying that would be, it's a good thing Rochelle had me on the case 😉 It wouldn't be a proper fashion blog without photos of cats, so prepare yourself!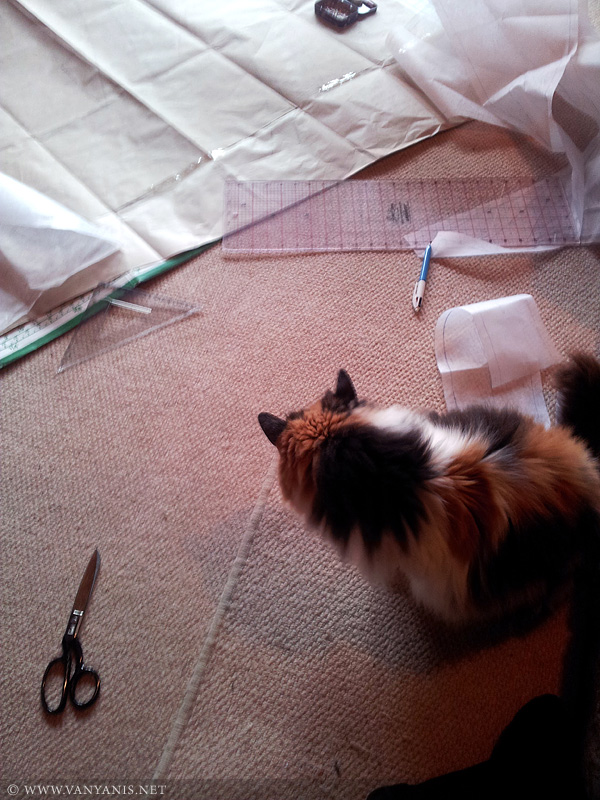 Preparing to make changes to the skirt pattern, assisted by my cat 'Rainbow'.
L: With the discarded pattern pieces I turned Rainbow into "Pattern Cat – superhero of the sewing room"
R: Unfortunately, at 21 (human) years of age Rainbow was not impressed with my efforts and gave me quite a look…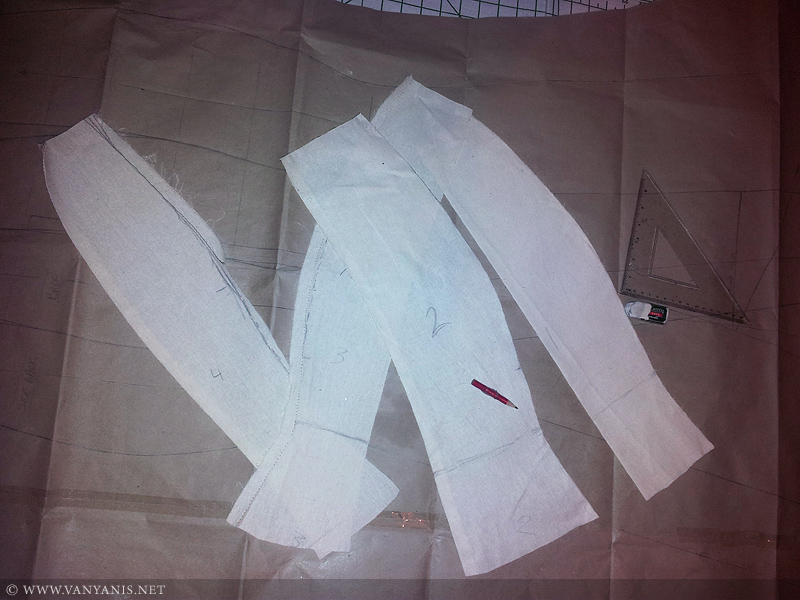 The hip section of the toile cut up to assist with changes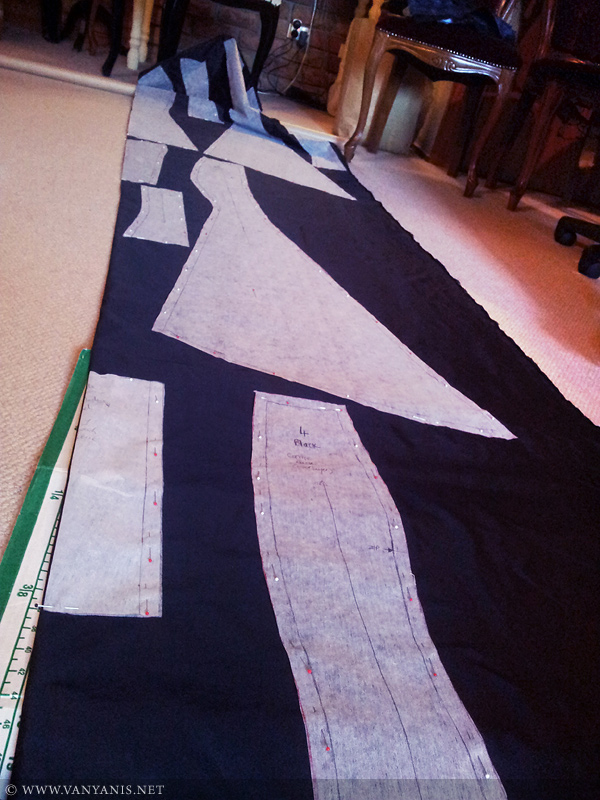 Pattern complete and pinned to the black silk, ready to be cut out!
After cutting out the skirt and carefully stitching it together (you have to be extra careful with sharp edges to make sure you don't 'pull' the delicate fabric -this means cutting and filing your nails and cuticles and removing all jewellery, plus using new sewing machine needles) it was finally taking shape. I happened to get another overnight trip to Perth with work (I'm also a flight attendant) so arranged to meet Rochelle for one last fitting, just to be sure. I snapped a few photos which you can see below.
L: Showing the train gathered up…
C: Showing the train ungathered…
R: Side view showing off her lovely curves…
Since Rochelle wanted a really simple, elegant ensemble I made a few suggestions to give her options. As the front of the corset was featuring a gathered panel I suggested that we have an option to gather the train of the skirt so that she'd be able to dance at the wedding easily, without tripping over the train. I did some sneaky sewing so there is no evidence from the outside of the skirt that there are ribbons and casing, enabling it to be gathered up. I have a friend who works for a wedding reception venue and she has had several brides tell her to CUT OFF the trains of their wedding gowns so that they can dance *shudder*. I dread the thought of such an end befalling one of my creations so I thought I had better come up with some clever ideas to prevent that from ever happening!
After this last fitting it was back to the sewing studio to cut out the royal blue lining and to work on all the finishing touches. We picked a few different shades of blue tulle for underneath the skirt and lined it in a luxurious stretch satin (it's so soft and comfortable). Even though the inside of a gown is rarely seen, I think the inside should always look as good as the outside!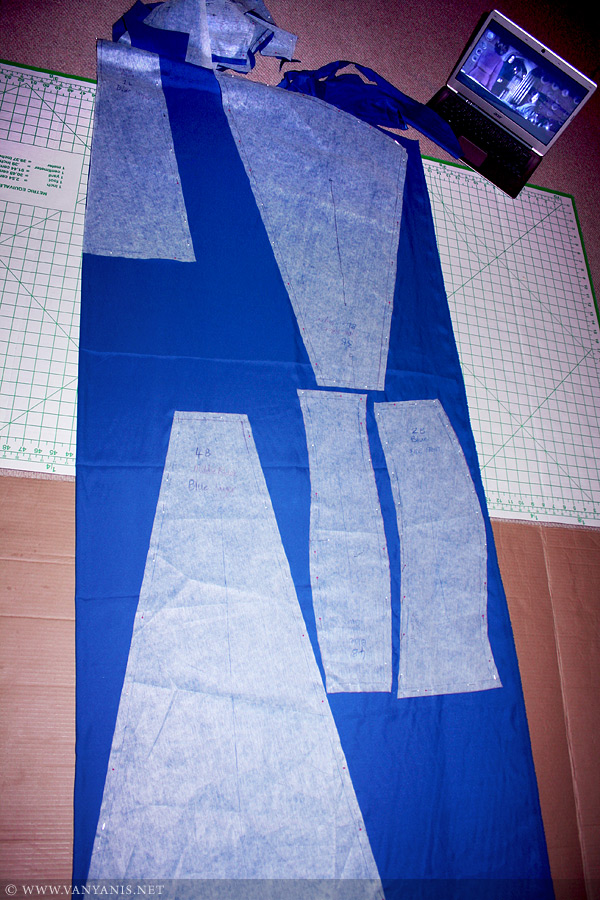 Watching Harry Potter and cutting out the lining (yes, I'm a fan!)
L: The lining sewn together next to the tulle ready to be cut and gathered.
R: The lining with the tulle sewn to the lower half of the skirt.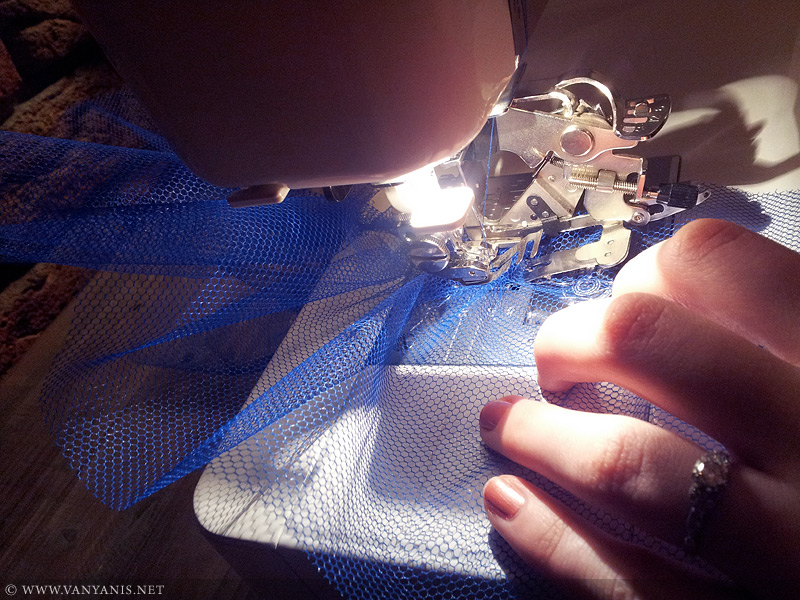 Gathering the tulle with my 'ruffler' foot (best invention ever).
After making all the finishing touches to the skirt and corset, it was time to get started on the tie and pocket-chief. Rochelle's fiancé Dan had chosen a black suit and they wanted their wedding outfits to match so they decided to get me to make a tie set in a matching royal blue satin. This was my first time making a tie, and I was super excited to start work on it as I'd been wanting to make one for ages! As I discovered, the pattern was easy to make and the tie easy to sew, but it did take quite a bit of time (there's lots of steps and hand sewing is involved) and required a lot of attention to detail.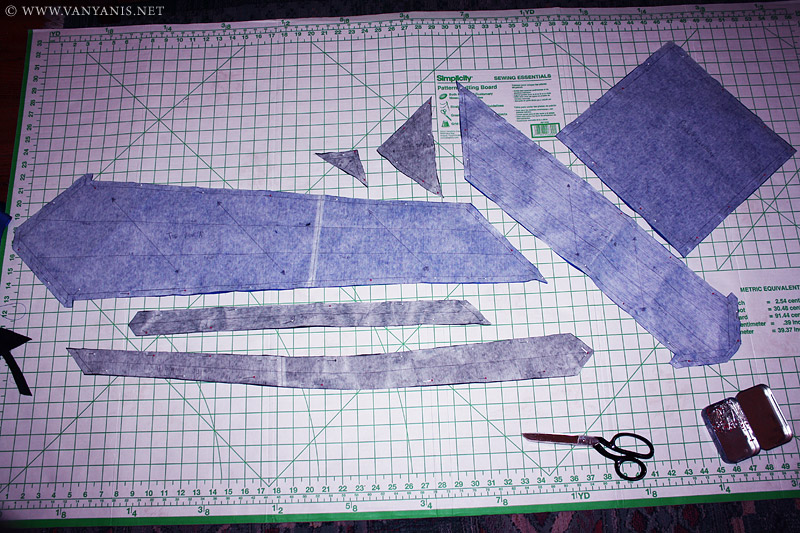 Tie pattern pieces cut out and ready to start sewing.
I used the same black silk as Rochelles gown to line the two ends of the tie.
Lots of pins, then ready to finish by hand.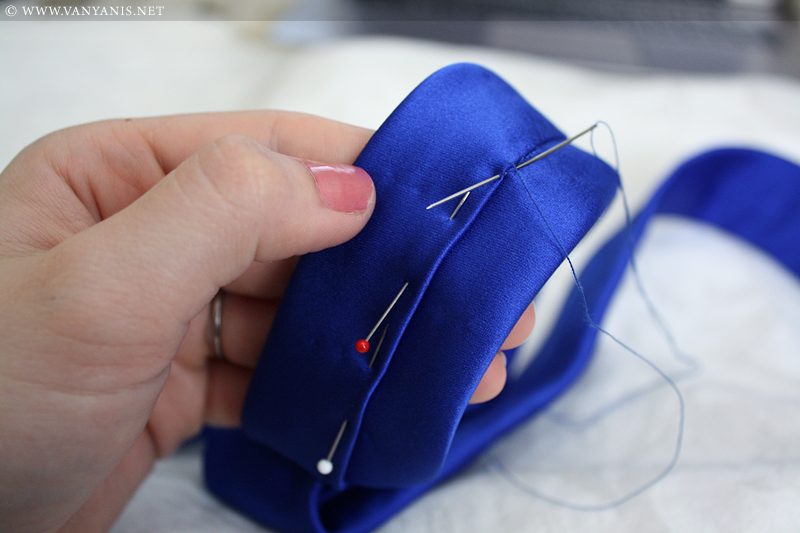 57 Inches of hand sewing!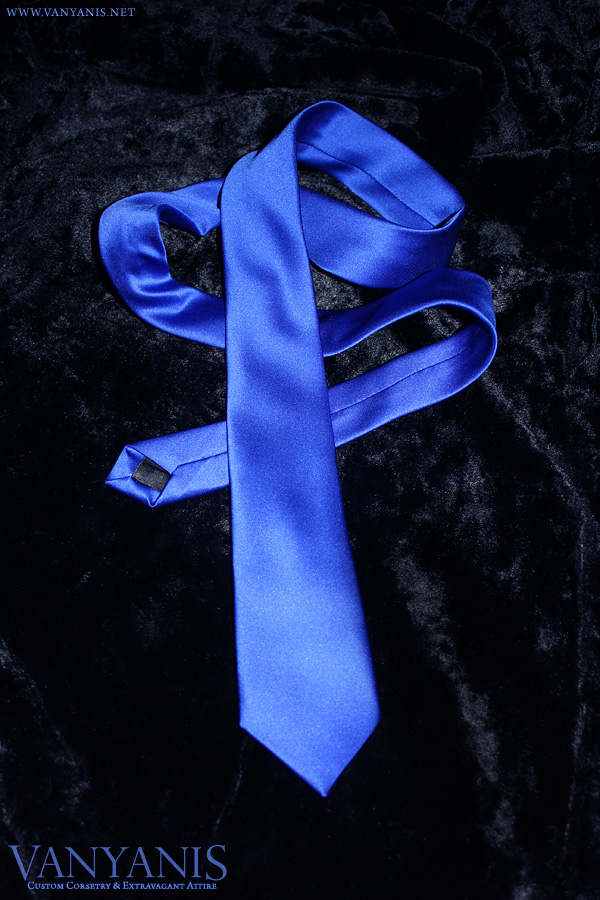 Let me present the finished tie!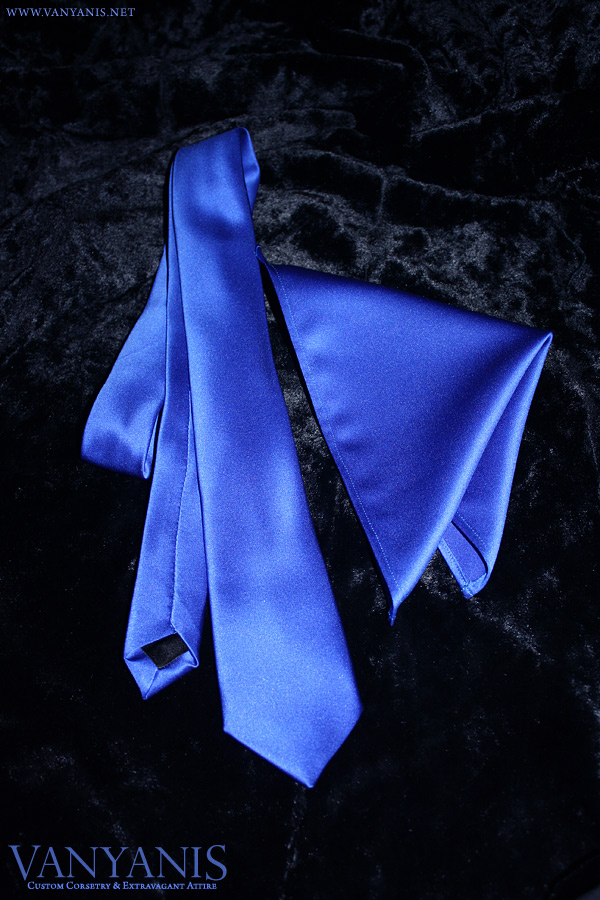 I'm so happy with this matching set!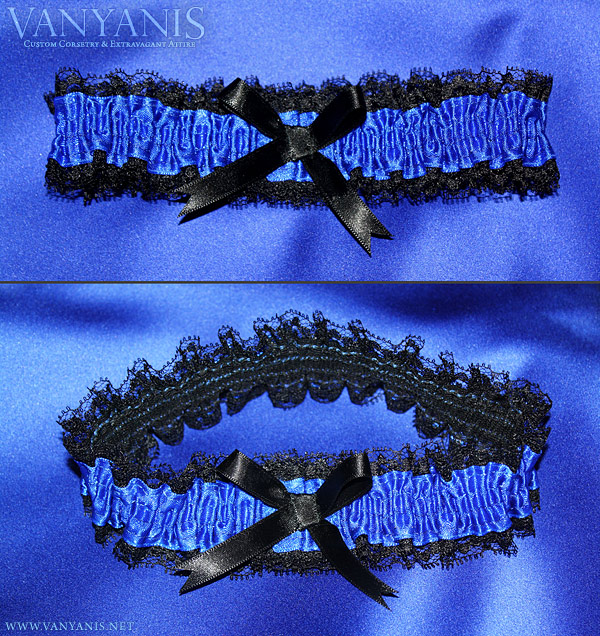 I also made a black and blue garter as a surprise present for Rochelle.
And the wedding garments were completed and ready to wear! Rochelle flew all the way over to Melbourne to collect her gown and have one final fitting. It was certainly a big day for Rochelle as she flew three hours each way, and spent two hours in a car to and from the airport! But it was fun to spend another day with her and so thrilling to see her in the finished ensemble. I snapped a few photos of her in the finished ensemble, but you'll have to wait til the next instalment to see them (yes, I know I'm a tease). Feel free to subscribe (below) to receive email updates when I add new blog entries. I'll post the next entry soon so you can all see how amazing she looks in her gown and see some photos from her wedding day!
Have a very Merry Christmas and a Happy New Year, and stay safe!
Xx
Lowana