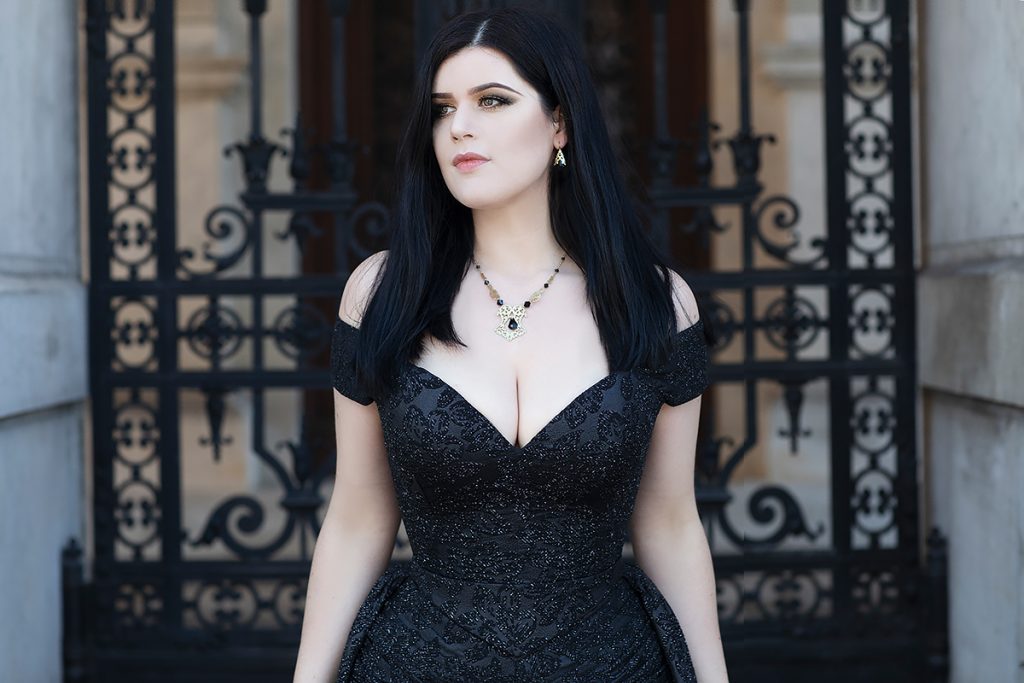 Welcome to Vanyanís
At Vanyanís, we believe in slow fashion – high quality, versatile pieces made to last – not fast fads to be discarded in a few months.   Rather than a passing trend, we focus on fashion as an investment; a Vanyanís wardrobe is a collection of timeless favourites made with quality and ethics at the fore, because we pride ourselves on paying a living wage.
Our couture designs are patterned for each individual client, allowing us to complement and enhance your own personal beauty.  For our ready to wear collections, we have expertly developed our patterns to create garments that make you look, and feel, your very best.
We love to make our clients feel beautiful. Whatever your size or shape, whatever the occasion, well-fitting clothing empowers you to put your best foot forward and inspires confidence. Clothing is an important expression of self, and it's a privilege to be a part of that with you.
Want to make your own corsets and improve your sewing skills? Let us show you how at the Vanyanís School of Couture.
There's no such thing as a "wrong body", just a wrong fit.
All bodies are beautiful.
Vanyanís is a luxury designer label whose distinctive style features luxurious fabrics and exquisite embellishment, bringing you fashion for all occasions through our ready to wear collections and couture services. We bring you unique designs, from corsetry and bridal wear to coordinating separates for day and evening, all made from quality fabrics, expertly sewn to last. Vanyanís couture is hand made by Lowana. Our ready-to-wear clothing  and corsetry collections are ethically made in Bangkok, Thailand and our lingerie collaboration collection with
Karolina Laskowska
was made in Norway.
Established in 2008 and founded in Australia, Vanyanís is a company owned and operated by Lowana O'Shea. Highlights of the Vanyanís journey so far include attending the Oxford Conference of Corsetry, exhibiting in fashion shows throughout Australia and photographing our designs in exquisite European locations. Launching our exclusive
Engraved Busks
enabled corsetières across the word to recapture this lost historical feature in their corsetry (and even has been used by renowned corsetière Mr Pearl in a piece for Dita Von Teese. Working closely with our bridal clients, it has been an honour and privilege to design and create one-of-a-kind couture gowns that  celebrate each unique bride. Each of these experiences have left their mark on our work, honing the Vanyanís aesthetic and pushing us to ever higher levels of elegance in our designs.
Our work has been featured in international magazines and calendars, establishing Vanyanís as a couture brand to watch and leading to its founder, Lowana O'Shea, sharing her knowledge and skills through her work as a mentor and writer for members of
Foundations Revealed
. Lowana has spent the past six years establishing Australia and New Zealand's finest
corsetry classes
at the Vanyanís School of Couture, teaching true, steel-boned corsetry and couture dressmaking techniques. Her students travel from around the world to attend classes and study privately with Lowana (coming from as far as Italy, America and Macau). As well as being a generous teacher, Lowana offers design and consultation services for other companies looking for corsetry or ready-to-wear collections for their own labels.

Perhaps you long for a corset extravagantly embellished with fine lace and Swarovski crystals, or maybe you're in need of an elegant gown for a wedding or other special occasion – Vanyanís can turn these dreams into reality.
We currently offer Corsetry classes for beginners, intermediate and advanced levels. We also teach Couture Embellishment as well as Private One-to-One Tuition. If you have any specific requests do get in touch, as we love tailoring courses to accommodate your learning.
Our belief in slow fashion extends to our ready to wear collection, made up of high quality, versatile pieces designed to last.  Our ready to wear collection features highly wearable pieces you can mix and match.
"Anyone interested in corsets should try this." "I felt good. It was very challenging, but a nice environment" "My Favourite part of the class was Lowana's teaching – her knowledge, tips and encouragement." (Visit Tara's YouTube channel for a three-part

vlog

series about the course: Making a Corset: 

Day 1

,

Day 2

,

Day 3

)

Tara Moss

Author, human rights advocate and host of the Sewing Vintage with Tara Moss series

Elinor Lloyd-Philipps

TheNylonSwish.com

Lowana is patient and kind and a great problem solver, and teacher. I can't wait to come back for the next learning experience!

Student

Beginner's Corsetry Course

Wonderful teaching atmosphere – I come away feeling very proud of myself!

Student

Beginner's Corsetry Course

"The most valuable thing I learnt was that everything can be fixed; there's no such thing as perfection." "Lowana O'Shea has a never-ending supply of patience."

Sharelyn

Beginner's Corsetry Course

The teacher was very informative, passionate and easy to understand. She took us, step by step, through each stage, and assisted each student, one-on-one.

Student

Beginner's Corsetry Course