Sylvan 'Bouquet' Bralet – SECONDS
Sylvan 'Bouquet' Bralet – SECONDS
Designed as the perfect piece of transitional lingerie to outerwear, this bralet is meant to be seen! The sophisticated green lace offers an exquisite addition to a low cut neckline. The intricate scalloped edge of this lace frames the neckline, with plush elastic trimming the underarms and underband. The satin strap wraparound-band and shoulder straps are fully adjustable with luxe gold plated components, fastening with a hook at the front underbust. The bralet is finished with a satin bow and a handsewn green Swarovski crystal bead. Two darts offer gentle lift to the bustline. For fuller bust customers seeking more support, this is a fantastic style to layer over your regular bra.
This bralet is sized by dress size rather than bra size. For the best fit, please check your bust measurement against the size chart located in the tabs below. The band of this bralet is very adjustable to suit a range of ribcage sizes. Please refer to the tabs below for care instructions and fabric content for this bralet.
Due to the limited nature of the lace used for this garment, this style cannot be restocked. Only 32 pieces were made in total across the seven sizes (8-20). Of those 32 pieces, one piece ended up here as a "second", with the remaining 31 pieces turning out as "regular" stock.
What happened? To cut down on dye and water waste, Karolina piece dyed partially stitched garments (rather than the full length of fabric). During this process one of the 'Bouquet' Bralets got snagged. Rather then sending this "imperfect" garment to landfill, we felt it was more sustainable to repair it and offer it at a discount (because we know some clients aren't bothered by small faults/repairs).
How noticeable is the "imperfection"? It has been repaired so expertly that the repair is nearly invisible and not very noticeable when worn. Please refer to the product photos to see photos of the repair. Please note: as this Bralet is  sold as a "second" at a heavily reduced rate, all sales are final and returns or exchanges are not possible.
This error message is only visible to WordPress admins
Error: No posts found.
For your chance to be featured, use #KLVxSylvan on Instagram.
This bralet is relatively unstructured and offers light support and lift to the bust. It is sized by dress size rather than bra size. The lace used for this bralet is not stretchy, so if you are between sizes and have a fuller bust, go up a size. If you are between sizes and have a smaller bust, go down a size. The band of this bralet is very adjustable to suit a range of ribcage sizes.
To assist you in assessing the fit of these garments and how they may fit your own figure, you will find some information about the models measurements and the garment sizes they are wearing alongside fit notes in our Lookbooks (
click here
).
For the best fit, please check your bust measurement against the size chart below. For help and instructions on how to take your measurements,
click here
.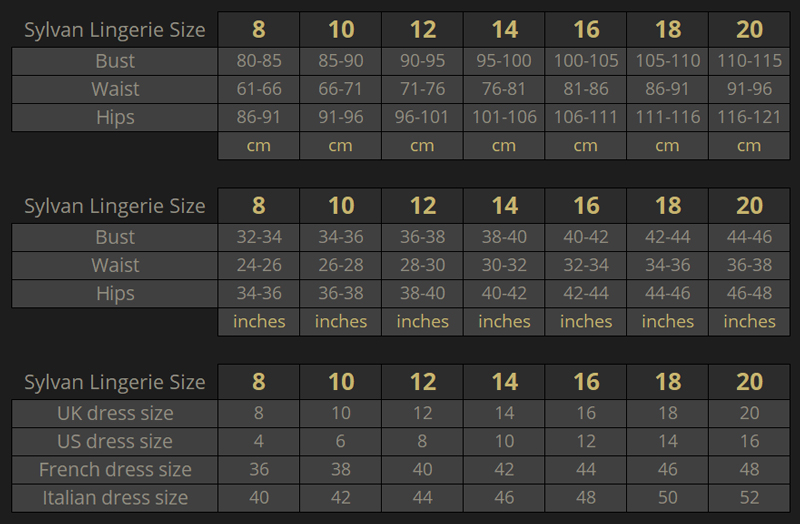 Fabric Content
Lace: 100% nylon
Strapping: 90% nylon, 10% elastane
Care Instructions
For best results we recommend hand washing gently in lukewarm water and laying flat to dry.
The Sylvan lingerie collection is the second collaboration between independent designers Karolina Laskowska and Vanyanís. Inspired by our love of exquisite materials and passion for minimizing waste from the fashion industry, this collection features a stunning range of 'deadstock' bridal lace that we dyed an enchanting shade of green. (Please note: the "in person" colour may appear different to what is displayed on your screen. Every effort has been made to ensure the colour displayed in the product photography is as accurate as possible.) This fifteen piece collection is finished with satin bows, hand sewn Swarovski crystals and gold plated hardware. Each piece of lingerie is expertly crafted entirely by hand, with the lace carefully cut to showcase the beautiful design. We believe in celebrating craftsmanship and working to create special pieces that will be treasured and loved for years.
Made by Karolina in Oslo, Norway.
For more information about this collaboration and our manufacturing process, click here.
This item ships from New Zealand.