Sylvan 'Garland' Cape
Sylvan 'Garland' Cape
A delicate capelet in an exquisite eyelash edged lace, with a decadently voluminous cut. This style is the perfect accessory for both evening wear, and to finish off your boudoir ensembles. The delicate scalloped edge has been painstakingly pattern matched across the seams. The capelet fastens at the base of the collar with a single silk loop and silk covered button at the neck.
This style is available in one size and has a very flexible fit. It's very generous in the neck and sits on the collarbone of most people.
Please refer to the tabs below for care instructions, fabric content and sizing information for this lace cape.
Due to the limited nature of the lace used for this garment, only 2 pieces were made and it cannot be restocked.
This error message is only visible to WordPress admins
Error: No posts found.
For your chance to be featured, use #KLVxSylvan on Instagram.
This style is available in one size and has a very flexible fit. It's very generous in the neck and sits on the collarbone of most people. This cape should fit across the entire standard size range of the Sylvan Collection. The maximum neck measurement for this cape is 55cm / 21.5″.
To assist you in assessing the fit of these garments and how they may fit your own figure, you will find some information about the models measurements and the garment sizes they are wearing alongside fit notes in our Lookbooks (
click here). For help and instructions on how to take your measurements, click here.

The pattern of this cape has even fitted Karolina's customers up to a size 22/24 (Bust: 115-125cm/46-50″ Waist: 91-101cm/34-40″ Hips: 116-126cm/46-50″).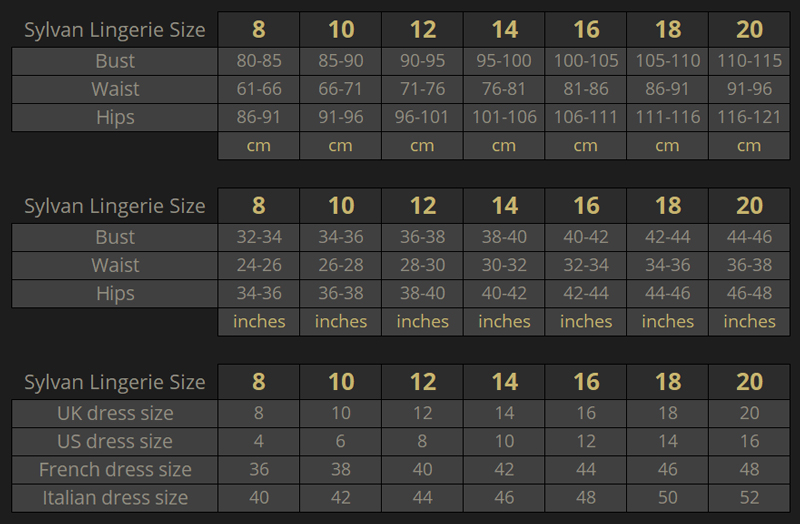 Fabric Content
Lace: 100% nylon
Strapping: 90% nylon, 10% elastane
Care Instructions
For best results we recommend hand washing gently in lukewarm water and laying flat to dry. If the lace becomes creased, you can use a steam iron on a low setting. Please ensure you cover the lace with a "pressing cloth" so that the iron does not come into direct contact with the lace. A "pressing cloth" can be piece of cotton fabric. Ironing the lace directly may cause it to melt, so do take lots of care.
The Sylvan lingerie collection is the second collaboration between independent designers Karolina Laskowska and Vanyanís. Inspired by our love of exquisite materials and passion for minimizing waste from the fashion industry, this collection features a stunning range of 'deadstock' bridal lace that we dyed an enchanting shade of green. (Please note: the "in person" colour may appear different to what is displayed on your screen. Every effort has been made to ensure the colour displayed in the product photography is as accurate as possible.) This fifteen piece collection is finished with satin bows, hand sewn Swarovski crystals and gold plated hardware. Each piece of lingerie is expertly crafted entirely by hand, with the lace carefully cut to showcase the beautiful design. We believe in celebrating craftsmanship and working to create special pieces that will be treasured and loved for years.
Made by Karolina in Oslo, Norway.
For more information about this collaboration and our manufacturing process, click here.
This item ships from New Zealand.