Vanyanís Corset Necklace
For corset lovers everywhere! With this delightful necklace you can wear part of a corset every day. It's your very own little token to symbolise your love of corsets that you can wear anytime, in any occasion whether to work or a special event. This unique necklace features one of our original Engraved Corset Busk loops, that has been handcrafted in Melbourne and transformed into an elegant pendant.
The loop has been expertly engraved with a two-tone antique black laurel design (reminiscent of Victorian corset details) and then transformed into a pendant (complete with silver loop) by a talented jeweller in the Yarra Valley. The pendant hangs on a delicate 'Figaro' sterling silver chain that adds detail, without detracting from the pendant.
Our customer Emmelie said (on receiving her necklace) "I love how it must look quite mysterious to a non-corset wearer: it's obviously a very deliberate, even utilitarian shape – but what of?! I can't wait to be asked about it."
It is beautifully presented in a black jewellery box, making it the perfect gift for yourself or a loved one. Make every day a luxury, with a Vanyanís Corset Necklace.
2 in stock (can be backordered)
For your chance to be featured, use #VanyanisCorsetNecklace on Instagram.
Colour Available: Silver with antique black engraving (a two-tone effect showing black or gold, depending on the light)
Materials: Stainless steel pendant and sterling silver chain.
Sizing: Pendant measures 1.8cm x 1.2cm. Chain measures 50cm.
Important: For back-orders, please allow up to 2 weeks for manufacture of this item. If ordering other items, please note that all items will be shipped together.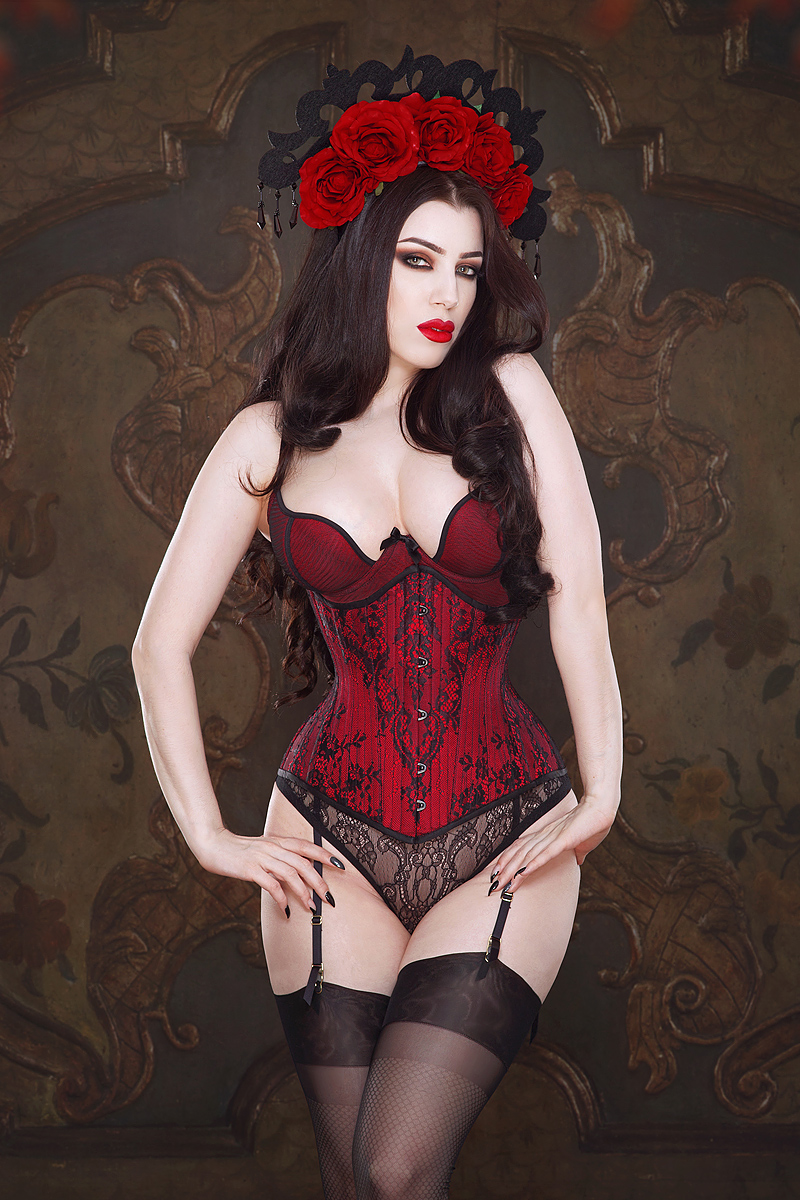 Ready to Wear, Corsets
The Ruby Underbust Corset is a luxurious, limited edition design from our first ready-to-wear corset collection. Featuring exquisite black lace that has been carefully cut and sewn to best accentuate your curves. The lace is laid over a deep red satin and the corset is bound with a decadent silk duchess binding and laces up with a soft satin ribbon.
One of the trademark features of a Vanyanís corset is the sleek silhouette and smooth, wrinkle-free finish on the fabric. The Ruby Corset is made with the best materials we could find (including a European coutil strength layer, German steel black busk and the most luxurious satin ribbon lacing). It has 30 spiral and flat steel bones, but still feels 'light' to wear as the quality fabrics provide strength and support without being bulky. (For those that love details, check out the 'Corset Details' tab below for all specifications on this corset.)
The Ruby Corset is cut to frame your bust and features a high back for a smooth silhouette. The corset comes with a structured modesty panel that is easily removable without having to unlace the corset (we used snaps!). Each corset comes in a beautiful branded box, perfect for gifting to yourself or a loved one. Click here to view a video showcasing the details.
The level of care and attention-to-detail that has gone into this making collection has resulted in an exceptional corset that will make you feel incredible.
$

795.00