It is with great delight that I present to you the complete set of amazing photos from my photo shoot with Threnody in Velvet, (also known as Morgana). I first worked with Morgana back in 2012 (and blogged about it here) so it was incredibly special being able to visit her studio and work with her in person as part of my corset pilgrimage. We've been online friends since working together so it was absolutely lovely getting to meet in person. For those not in the know, Morgana is an incredibly talented model, photographer, retoucher, and hair and makeup artist and a complete sweetheart on top of all that! Morgana is one of the most well-known and recognized corsetry models in the world, so having my work modelled by her is a real privilege.
The two corsets that she's modelling in the following photos are a mini collection; a set of opposites. Both are heavily embellished and sparkle rather magnificently.  The black and grey corset (which I've name Selene) was designed as my showpiece for the Oxford Conference of Corsetry and the ivory corset (named Serena) was an unplanned creative accident and I've fallen in love with it (you'll see why soon).
Without further ado, let me present the Selene corset and photos. I wanted to keep the styling simple but dramatic, to make sure the focus was on the corset. We used a length of draped black mesh for the 'skirt', a pair of earrings from my personal collection and a black flower crown by Sophisticated Lady Hair Accessories (which I wanted to take home!).

The first photo we released. Isn't Morgana's pose rather striking! It compliments the dramatic neckline and I think creates a beautiful image. This picture was shared by Dark Beauty Magazine and by Gothic Beauty Magazine (a real honor as both magazine's have hundreds of  thousands of followers!). If you're on tumblr you can reblog it from here.
The Selene corset is incredibly detailed and luxurious. Made from a deep charcoal silk duchess satin and overlaid with black delicate tulle. The tulle is gathered around the waistline to fade the grey to black. Over the tulle are two layers of beautiful lace creating a 'yoke' around the waistline. The finer lace is overlain with a heavier corded lace around the waistline. Layering the lace and tulle in this way helps to draw the eye to the waistline, as the waist is the darkest point (as well as the smallest). I also used this theme with the beading; using tiny glass seed beads at the bust and hips of the corset, and increasing the quantity and size of the beads as they go to the waistline. I haven't counted the beads, but as an estimation there as about two thousand which have all been hand sewn. The beads are a mix of jet black crystal, Swarovski and glass seed beads. I finished the corset with binding made of the same silk duchess covered in tulle and laced the back with soft black double-sided ribbon.
 
Left: I love this pose as it really shows off the dramatic shape of the corset. Right: This photo shows the beading continuing around to the back. The top line slopes upwards ensuring a comfortable and flattering fit. I uploaded this photo to our tumblr, here.
I wanted this piece to be tonal and detailed rather than go for contrasting fabrics and laces. I love creating details that might not be apparent at first glance but help create a beautiful overall effect. Tonal details like this draw you in and the more you look at a piece, the more you notice. For example, the busk and eyelets are a lovely matte black which causes them to almost disappear into the corset. The floating modesty panel (that protects the wearers skin from the lacing) has also been embellished with lace so as to continue the 'black' waistline and ensure continuity of design. It's the little details like that which I feel really makes my work stand out. If you love this corset and would like a print of the first picture shown in this blog post then you will find it as the 'September' image for Threnody in Velvet's 2015 calendar (her first one ever)!

The last photo from this set that showcases the rounded bust shape perfectly.
 
Some close crops to show the detail in this corset. In the picture on the right you can clearly see the layered lace and built up beadwork, whilst on the left you can get a closer look at the overall effect.
The Serena corset (the light 'twin' of Selene) came about by a happy accident. I love how sometimes creative accidents happen and I end up loving the result as much (or move) than the intended design! Serena began life as the toile (mock-up) for the Selene corset. I posted it to Morgana to test the fit of the pattern, and it fit so well that I thought it would be worthwhile practicing the sort of embellishment I had envisaged doing on the darker piece. I had constructed the corset using a single layer of small-weave herringbone coutil (an incredibly strong strength layer for corsets) and double stitched all the seams, so the construction integrity was sound and perfectly suited to be transformed into a finished corset. I covered the corset with a fine ivory bridal tulle, gathered around the waist and then cut out and placed ivory corded lace in a yoke shape around the waist. After all that had been hand stitched carefully in place the beadwork could begin. I used the tiniest, hexagon cut glass seed beads all over the corset, and as they neared the waistline the amount of beads increased, as well as the size. About 800 Swarovski crystal beads are sewn around the waistline in combination with pearl seed beads. Overall about 3,000 beads hand-sewn onto the corset and the in-life-sparkliness is truly breathtaking 🙂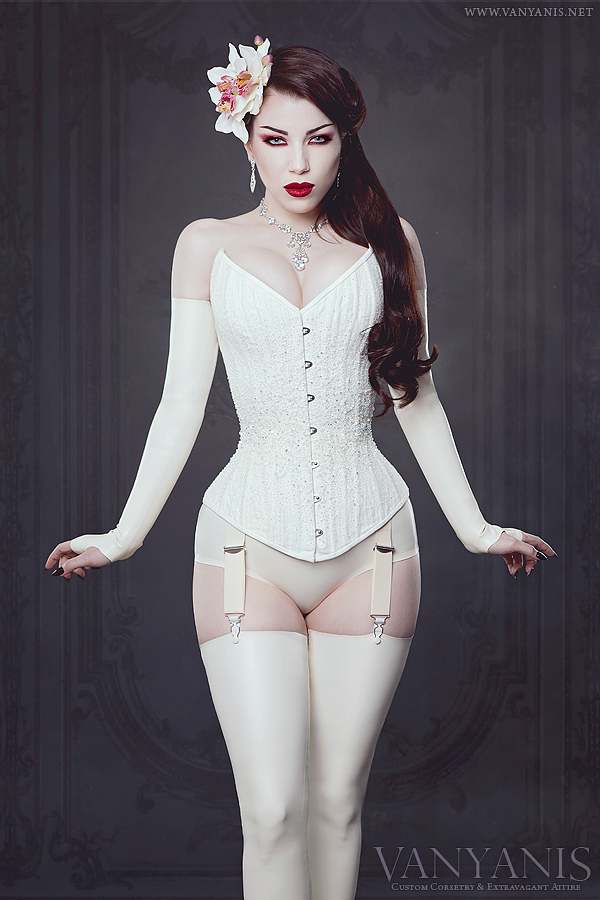 As this corset had already been photographed as a bridal gown, I thought it would be good to show it as a burlesque piece. It's styled here with some jewellery from my personal collection, a flower piece by Sophisticated Lady Hair Accessories, latex gloves and stockings by Westward Bound and latex knickers and suspenders by Lady Lucy Latex.

A close look at the beading and lace-work. Photo taken at the Oxford Conference of Corsetry by Serindë.
I'm so delighted with this whole set of photos and am thrilled to add them to my site and gallery of work. It felt so good creating these pieces  and seeing them both brought to life on such a gorgeous model is really thrilling. You can find Morgana at the following sites: Model: Threnody in Velvet (website, Facebook, instagram, tumblr, model mayhem) Photography: Iberian Black Arts (website, blog, Facebook) Hair and Makeup: Fatale Beauty (blog, Facebook).
   
Left: Morgana's selfie (photo from her Facebook page) Right: Morgana and I, post shoot and pre celebratory drinks. (Photo from Morgana's Instagram.)

Want to learn how to embellish corsets and garments like I did with the Selene and Serena pieces? Then come along to one of my classes! For more information and to book follow these links: Sunday 19th October and Saturday 22nd November. [Edit: new course dates are constantly being added. You can see what's up and coming, here.]
Thanks for stopping by and I hope you love these photos as much as I do! Please let me know in the comments below if you're interested in a blog post about the construction and development of these corsets.  If you'd like to be kept up to date as I post new blog entries you can subscribe here.
Xx
Lowana
Ps. Here's a little video of the Serena corset in motion… as incredible as the photos are you really need to see the beadwork in action! Do take a look…