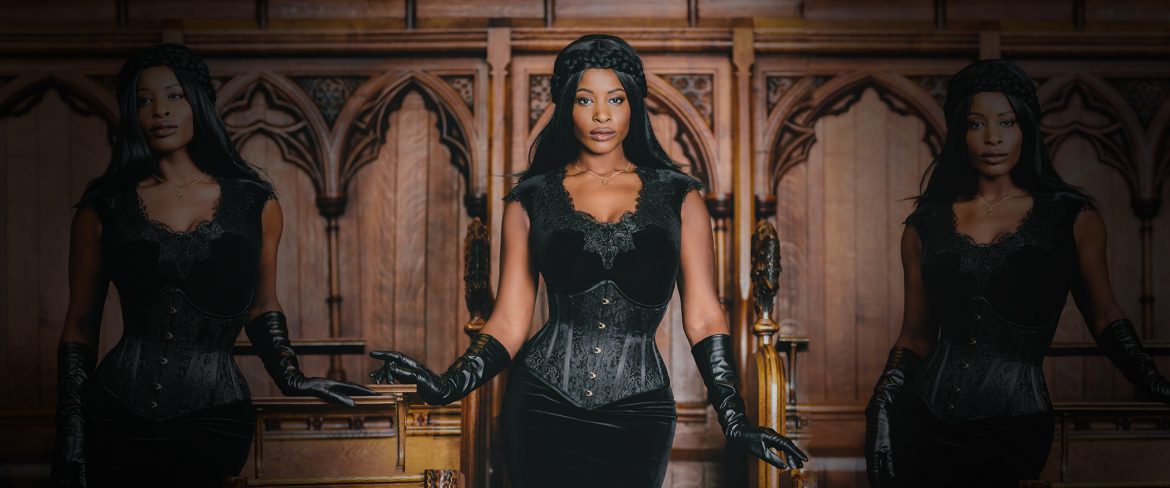 Hello dear readers! I hope this finds you all well? Today I'm delighted to share with you the set of photos from my photo shoot with gorgeous model Jess and Chris Murray Photography at the 2015 Oxford Conference of Corsetry.
It was a dream-come-true to get the opportunity to work with Jess as I've closely followed her work over the years and have often wished for the opportunity to style her in my garments. Jess regularly models for Kiss Me Deadly (lingerie for femme fatales) and it was there that I first 'discovered' her.
The Sunday photo shoot slots are just 20 minutes (plus a little time prior to get dressed) and it's an exciting rush getting everything done in that time. She was a real trooper on the day of our shoot and managed to style her hair differently for all the different corsetiere's she modeled for, so as to give us all a unique look – something I very much admire her for. I love the look she put together for my shoot <3
Prior to the 'Conference I had been working on a studio sample that just so happened to be close to Jess's measurements and I decided to design and make an entire ensemble around the underbust corset so as to have a stunning outfit for her to model. My initial thoughts were to create something with lots of gold but (as often happens with me) the design naturally developed into a glamorous black affair. I guess it's time to embrace my inner goth and stop fighting it 😉
The 'Emmeline' corset features the most exquisite French lace in metallic black that I carefully hand appliqued to each panel. This lace was actually bought at the 2014 'Conference so it was perfect to use it for the 2015 photo shoot. I cut the lace out so as to have a 'mirrored' effect on each half of the corset (also known as 'pattern matching'). You can't tell in the photos, but the lace has been invisibly hand stitched so as to be almost glued to the satin (without actually using glue!) creating a very sleek silhouette. I used a gold-plated busk that I engraved with a black laurel and combined with matching gold eyelets. I adore little details such as the engraved busk, and incorporating hints of gold gave the piece a very luxurious feel. Even the satin lacing at the back has gold aglets attached to give the perfect finishing touch.
Jess is wearing the corset over two pieces – a top and skirt, made from a soft stretch velvet. When worn with the corset it creates the illusion of a gown. I love creating separate pieces as part of an outfit as it adds a lot more versatility for the wearer; by having multiple garments making up the one outfit there is room to style each piece separately with other clothing in the wearers wardrobe and thus creating many more opportunities to wear the special garments.
The Emmeline top features the same French lace as the corset, to ensure they match. It has been carefully cut out and placed around the neckline and at the top of the cap sleeves so create a lovely scallop pattern that frames the bust. Scalloped lace is one of my favorite design features and makes me ridiculously happy whenever use it in a garment 🙂 I love how the plush velvet absorbs the light (making the fabric true black) and really highlights the lace.
The fishtail cut skirt is also made with the same plush velvet. The skirt pools into train that creates a very dramatic silhouette when the wearer moves and a flash of gold silk gives a luxurious feel to the garment. The silk dupion is overlain with matching French lace which has been expertly placed and appliqued to best display the pattern. I'm going through a bit of a black and gold phase right now, but to be honest I'm not sure if I'll ever tire of it – it's just so lush and opulent!
Chris Murray was an absolute dream to work with too. He was prompt with his edits and was ever so kind and patient when I gave him my requests (I do have a 'vision' for how I want my photo's to look and represent my brand). I highly recommend him for anyone considering shooting with him. He's the resident photographer at the Oxford Conference of Corsetry and has been working with them since the first one three years ago.
We styled the ensemble with a pair of leather gloves (Jess's own) and a special gold plated Vanyanis Corset Necklace (silver versions are available here) to match the engraved busk of the corset. The necklace features an engraved busk loop that has been expertly transformed into a pendant – a delightful little accessory for corset lovers everywhere. I recently got a lovely message from a customer who'd bought one and she said "Lovvve iit!! I love how it must look quite mysterious to a non-corset wearer; it's obviously a very deliberate, even utilitarian shape – but what of?! I can't wait to be asked about it!" 
You can find the team on the following sites:
Model: Jess Louise on Facebook | Instagram | Tumblr | YouTube
Photographer: Chris Murray on Facebook | Official website | Instagram
Couture: Vanyanis (me!) on Facebook | Official Website | Instagram | Tumblr
I thought I'd include some making-of pictures as well as some behind-the-scenes snaps from the shoot. I hope you enjoy seeing a glimpse of what went into creating the beautiful images.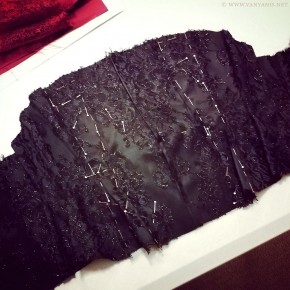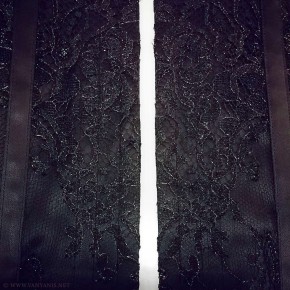 Left: Couture lace applique in progress… getting this placed perfectly required a lot of pins and a lot of patience! Right: Perfectly pattern matched lace at the centre back of the corset, before the eyelets were inserted.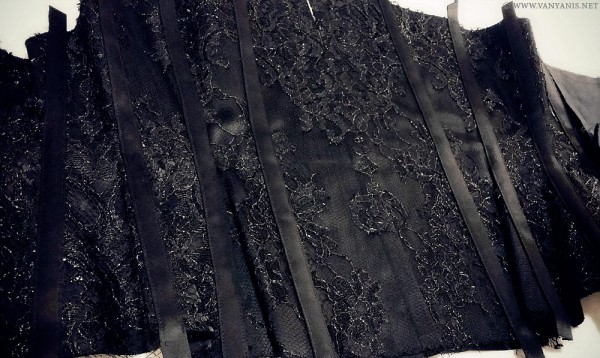 Above: Lace applique finished and boning channels sewn.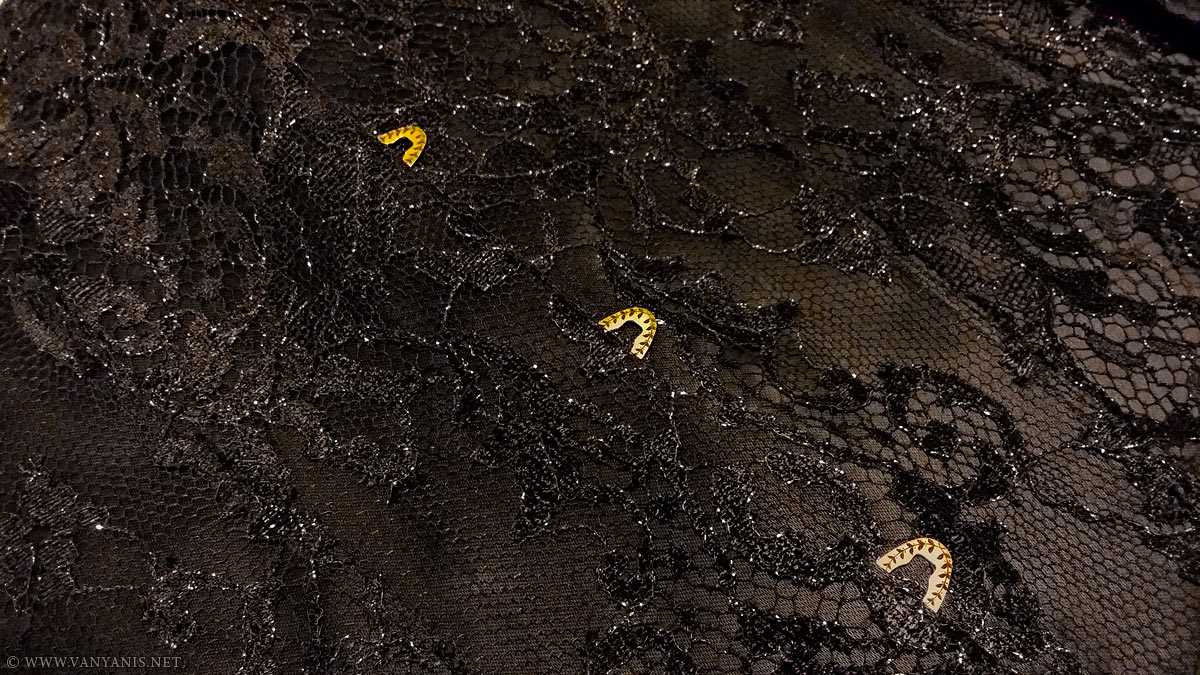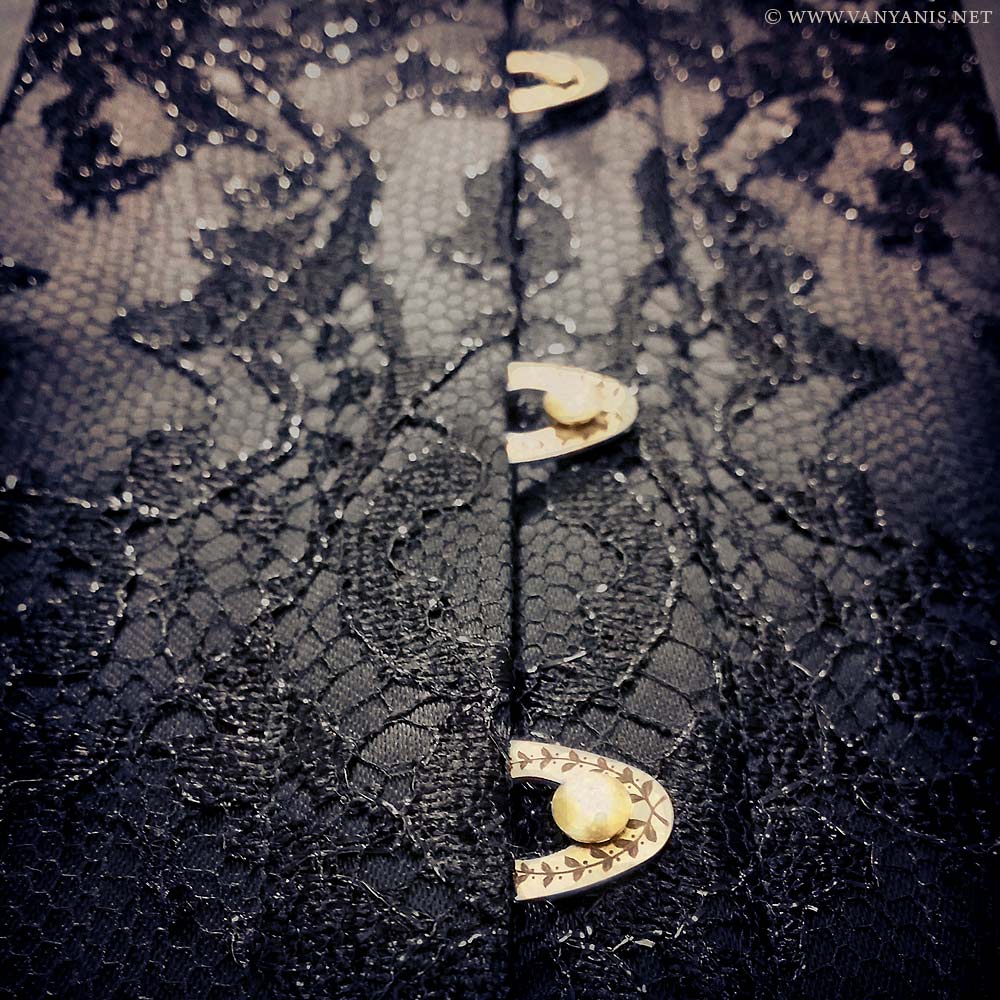 Above: engraved busk detail at the centre front (engraved silver busks are available here)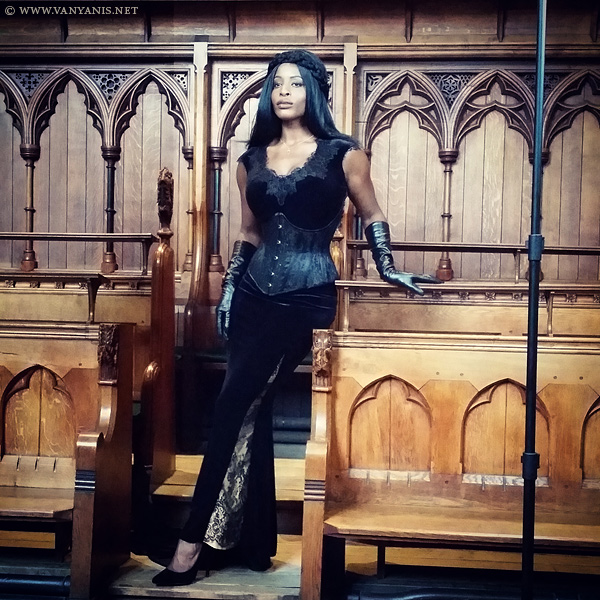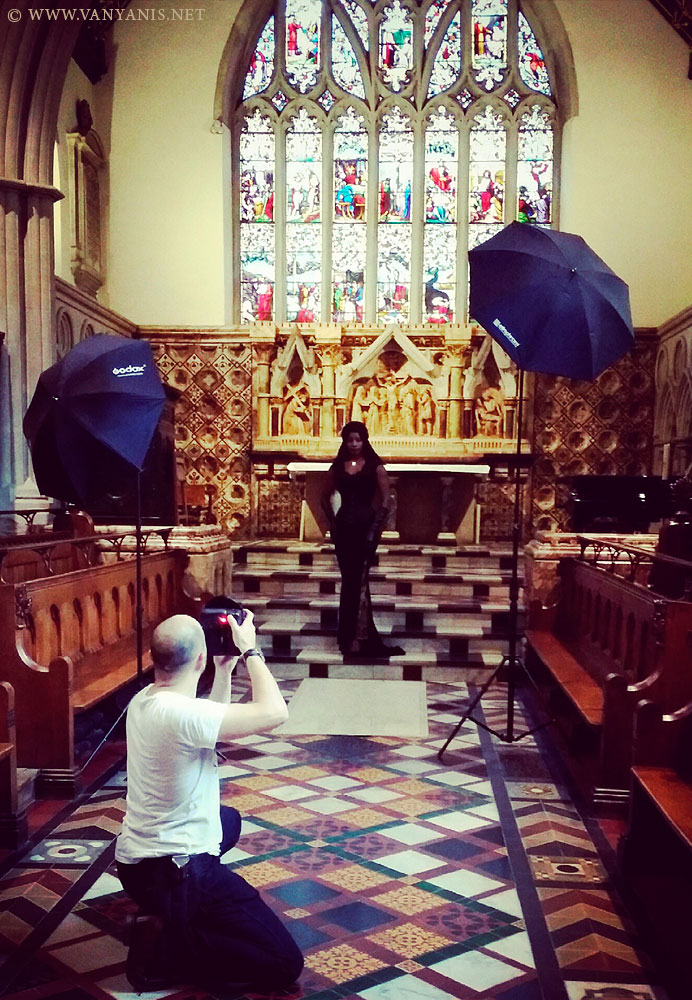 Above: Jess doing an amazing job modeling in the chapel at Jesus College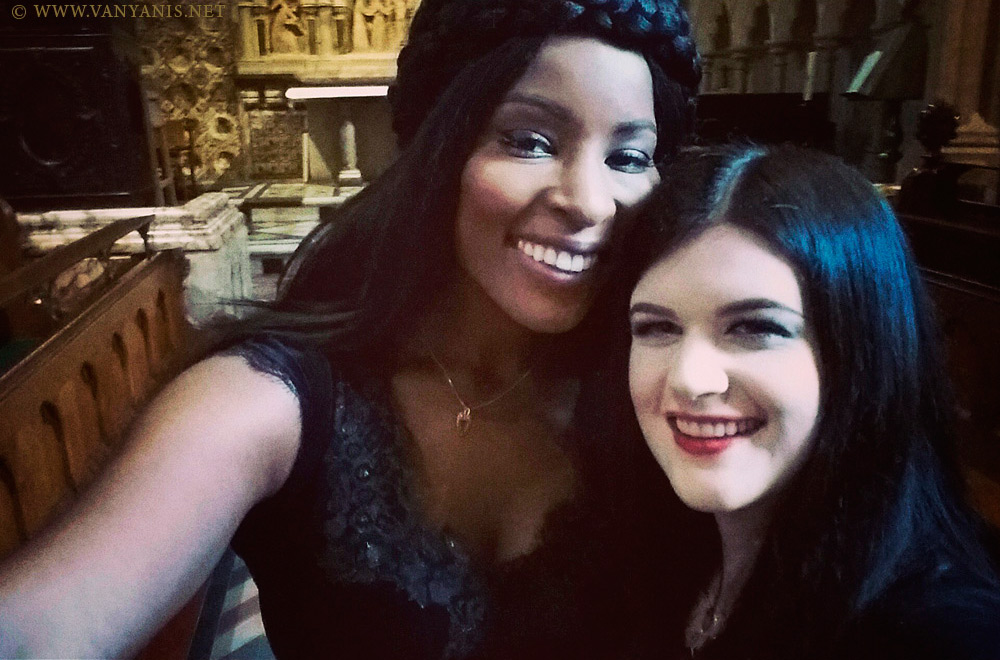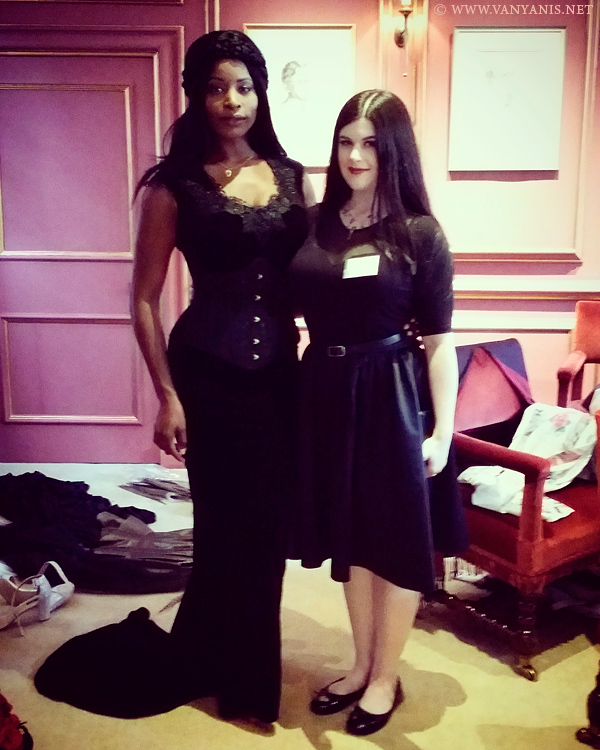 Left: #theoxfordselfie with Jess after our shoot 🙂 Right: An attempt at a more serious photo in the change room. I'm wearing my Ebonique Black Satin Skirt (with pockets!) and the Ebonique Mesh Sweetheart Top (prototype).
And there you have it. I hope you adore the professional photo's as much as I do – they're some of my favorites (ever!). Are you dreaming of an Emmeline couture corset and/or ensemble of your own? Perhaps in a different colour scheme? Do get in touch as we have a limited amount of this exquisite French lace available and it'd be a real treat to make you a bespoke outfit inspired by this one.
Xx
Lowana