Hello dear readers! I'm thrilled to present the images from my photo shoot with Morgana and Scott Chalmers at the Oxford Conference of Corsetry back in August. I've been hanging out to see the photos and it was definitely worth the wait! The whole conference was jam packed (you can read all about it in my next post) and the short photography slot was no different. We only had 20 minutes of shooting time so it was pretty fast paced. It's a good thing Morgana is such a professional and practiced model as she posed quickly and was just an absolute dream to work with. She is wearing the Selene corset which I made as my conference 'show piece'. It's a luscious grey silk, overlain with black tulle, layers of lace and thousands of hand sewn beads. We styled it with a flower crown by Liv Free, and some pretty stockings of Morgana's. Morgana and I actually teamed up and did a separate shoot after the conference which I've already written about , so do make sure you check it out if you haven't already.
Our location for the shoot was the incredible Jesus College in Oxford (where the conference was held) and I had the very hard choice of having to decide which part/s of the college I wanted photos take in! The entire college is just beautiful, with so many hidden corners and rooms that are just crying out to be used as a photo backdrop. I decided it would be lovely to take photos in the second quad outside as the gardens and lovely sandstone walls were just so dreamy and romantic. As Morgana and I had already arranged a studio shoot, I thought it would be nice to have some natural daylight photos for something different. I think the photos are wonderfully dreamy and romantic and I just love them! The daylight really shows the contrast of the lace and beadwork around the waist of the corset.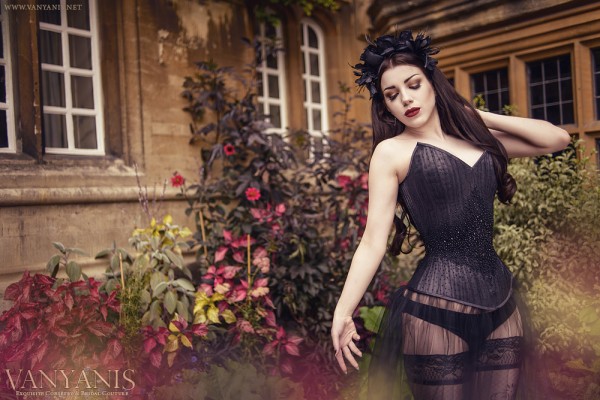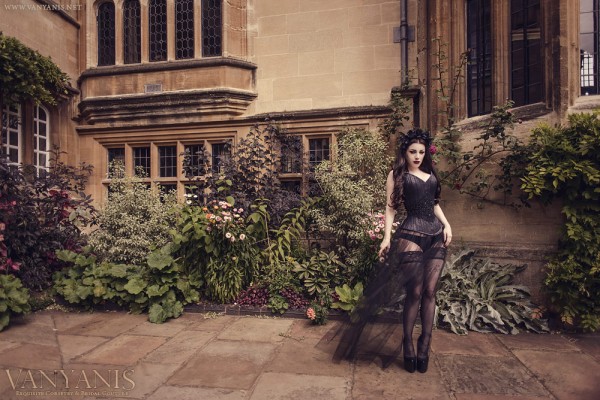 We also made time to shoot in The Fellow's Library as I'd seen some photos of other designers work from the conference in 2013 and I thought the old books and bookcases made an incredible backdrop. It was a dream-come-true to visit the library, and do a photo shoot in it! Here's a little background on the library:
"The Fellows' Library is a glorious, galleried room, built in 1676-77 as a freestanding block by the then Principal John Lloyd, and later incorporated into the College's second quad. It contains bookcases that are decorated with strapwork dating from around 1628, which were taken from a library elsewhere in the College. The Library contains around 11,000 antiquarian printed volumes acquired by the College since the beginning of the 17th century." ~ Jesus College website

Oh to be able to carefully read these books. They're so beautifully bound, and their age and fragility only make them more lovely. What a lovely contrast they make for a modern couture photo shoot!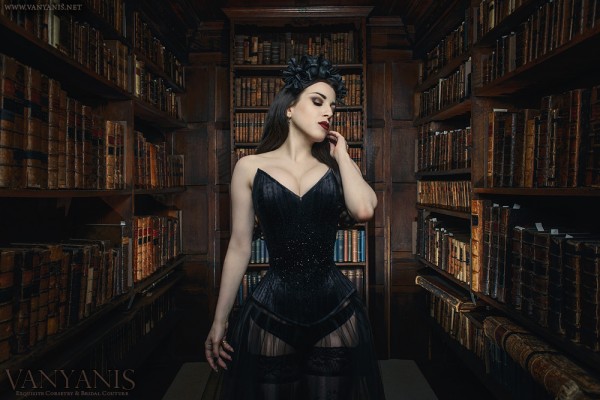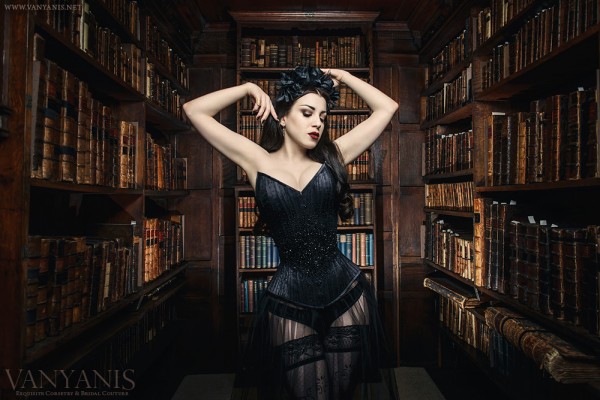 Please make sure you support the team from this shoot by visiting their sites:
Model: Threnody in Velvet (website, Facebook, instagram, tumblr, model mayhem)
Hair and Makeup: Fatale Beauty (blog, Facebook).
Photography: Scott Chalmers Photography (website, Facebook)
'Helene' Flower Crown: Creations by Liv Free (website, Facebook)
'Selene' corset and tulle skirt: Vanyanis (that's me!) (website)
Thanks for viewing, I hope you enjoyed this post! If you'd like to be updated as new posts are added, please feel welcome to join my VIP list 🙂 Wishing all my readers a very happy festive season, and hoping that 2015 is one full of joy for you all.
Xx
Lowana