Nadja Black Mesh Corset
Nadja Black Mesh Corset
The Nadja mesh underbust corset is an exquisite example of what's possible when you combine luxurious fabrics, textured embellishments and stunning craftsmanship. Made with a strong black corsetry mesh overlaid with a delicate leavers lace, this corset feels light to wear but is strong enough to withstand tight lacing so you can show off your curves. The corset is semi-sheer so incredibly easy to style over your favourite clothes (or wear as lingerie if you prefer…)
As with all Vanyanís corsets, the Nadja corsets features a sleek silhouette and a smooth wrinkle free finish on the fabric. The steel bones are encased in external bone channels, evenly spaced around the corset so that when worn, it feels like a comfortable (but firm) hug. The bone casings, binding and front and back panels feature a luscious black satin fabric (the same used in our Ebonique Skirts) that is backed by a European cotton coutil for added strength.
The front and back panels of this curvy corset feature an embroidered lace with tiny black sequins woven through it. (Please note: We decorated the corsets for the photoshoot with some Swarovski crystals on the mesh panels. These crystals are not included on the product.)
The Nadja corset is made with the best materials we could find (a German steel black busk, velvet lining and the most luxurious satin ribbon lacing). (For those that love details, check out the 'Corset Details' tab below for all specifications on this corset.)
Only 30 corsets are available, split across an extended size range (18″-44″), and we won't be re-stocking. We're thrilled with how perfectly this limited edition corset has turned out. Nadja has been a labour of love, and we hope you love this new design as much as we do.
For your chance to be featured, use #VanyanisNadjaCorset on Instagram.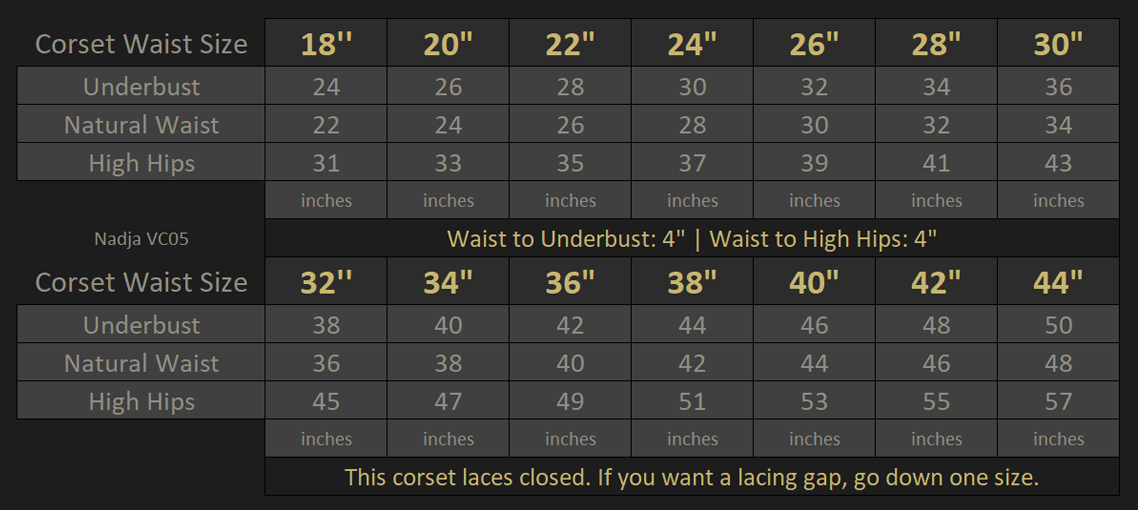 For the best fit, please check your measurements against the sizing chart above. For help and instructions on how to take your measurements,
click here
.
For the vertical measurements of this corset please check the product images above.
Corset Details
• Black German busk
• 24-40 Spiral steel and flat steel bones (depending on corset size)
• Strong black corsetry mesh on 8 panels
• Features two types of lace
• European herringbone coutil fabric used to reinforce the bone channels and front and back panels
• High thread count satin (matches our Ebonique Skirts)
• Soft velvet ribbon lining the inside of each bone channel
• Waist tape
• Front modestly placket behind the busk
• Strong and luxurious double sided satin lacing (finished with metal aglets)
• Strong, reinforced seams make this corset suitable for tightlacing
• Made using our 6 panel (12 panels total) underbust pattern in style V.C05
Fabric Content
Outer Layers and Ribbon: Polyester
Inner Strength Layer of bone casings and binding: 100% Cotton
Care Instructions
Dry clean only.
At Vanyanís, we believe in slow fashion – high quality, versatile pieces made to last – not fast fads to be discarded in a few months. Rather than a passing trend, we focus on fashion as an investment; a Vanyanís wardrobe is a collection of timeless favourites made with quality and ethics at the fore, because we pride ourselves on paying a living wage.
Designed in the Yarra Valley, Australia.
Made in Bangkok, Thailand (under the supervision of the Vanyanís corsetiere).
For more information about our ethical manufacturing process, click here.