Vanyanís Corset Jewellery Set
We put this set together for those that desire the ultimate package for our corset themed jewellery. With the delightful necklace and earrings you can wear part of a corset every day. The complete set is your very own token to symbolise your love of corsets that you can wear anytime, in any occasion whether to work or a special event. Because they are so sleek and understated, they are suitable for any occasion. The unique pendants (featured in the necklace and earrings) are made with our original Engraved Corset Busk loops, that have been handcrafted in Melbourne and transformed into the elegant jewellery you see here.
The loops have been expertly engraved with a two-tone antique black laurel design (reminiscent of Victorian corset details) and then transformed into a pendant (complete with silver loop) and earrings (with solid sterling silver hooks) by a talented jeweller in the Yarra Valley. The pendant hangs on a delicate 'Figaro' sterling silver chain that adds detail, without detracting from the pendant. Whether you wear them as a whole set, or style them with jewellery you already have – the choice is yours with these unique, handmade pieces of luxury.
We wear our set everyday and several people have asked if the pendants are love lockets, as the cut out shape is similar to a keyhole. Isn't that lovely? And our customer Emmelie said (on receiving her necklace) "I love how it must look quite mysterious to a non-corset wearer: it's obviously a very deliberate, even utilitarian shape – but what of?! I can't wait to be asked about it."
This set is beautifully presented in a black jewellery box, making it the perfect gift for yourself or a loved one. Make every day a luxury, with Vanyanis Corset Jewellery.
1 in stock (can be backordered)
Add to Wishlist

Category: Jewellery
Tags: corsetbusk, corsetjewellery, corsetnecklace, corsetobsessed, corsetpendant, engraved busk, vanyanis, vanyaniscorsetearrings, vanyaniscorsetnecklace, vanyanisengravedbusk, vanyanisjewellery
This message is only visible to admins
Please connect a business account on the Instagram Feed settings page in order to display hashtag feeds
Please see this post for more information.
For your chance to be featured, use #VanyanisJewellery or #VanyanisCorsetNecklace or #VanyanisCorsetEarrings on Instagram.
Colour Available: Silver with antique black engraving (a two-tone effect showing black or gold, depending on the light)
Materials: Stainless steel pendants with sterling silver earring hooks and chain.
Sizing: Pendants measure 1.8cm x 1.2cm.

Important: For back-orders, please allow up to 2 weeks for manufacture of this item. If ordering other items, please note that all items will be shipped together.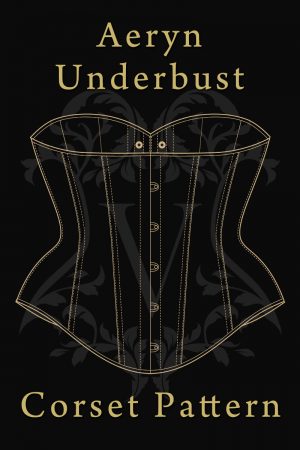 Patterns, School Shop
The Vanyanís Aeryn underbust pattern is available exclusively for Vanyanís and Royal Black corset making students. This underbust pattern was developed for the Vanyanís Beginner's Corsetry Course, and has proven to be a huge success with all who've tried it. It has a curvy silhouette with a lovely sweetheart shape at the upper back. The back panels have been drafted to create a smooth silhouette and eliminate any "back fat" or "overspill". This pattern creates a comfortable corset with a dramatic shape.
The corset pattern has six panels (per side) and is patterned to lace up closed on the wearers body (if you prefer a 2" lacing gap, simply select one size smaller). The pattern has been created to be as user friendly as possible. Seam allowances are clearly marked on all panels as well as a helpful letter system across of the top of the panel pieces (to help you sew the panels together correctly). We recommend sewing a toile (mock-up) to check and adjust the fit, before commencing your final project.
Available in corset sizes 18" to 44" it can fit natural waists of 20" to 50". To work out which size you'll need, please refer to the size chart located in the tabs below. This pattern is sold in "packs" of three sizes. Sewing instructions are not included. This pattern is licensed for personal use only (please refer to the tabs below for full terms of use).
Once purchased, the pattern pack will be immediately emailed to you as a PDF in both A3 and A4 formats, so you can print it out and get started with your corset straight away. (The A4 version will need to be taped together after printing). Tip: make sure you print the file at "100%", not "shrink to fit". There is a printed scale measurement on each page so you can check that it has printed correctly.
The files will be sent from sales@vanyanis.com so make sure you add this email to your address book so your patterns don't end up in the 'spam' folder!
Please use #VanyanisAerynCorsetPattern when posting your projects on Instagram, as we'd love to see your creations!
$

12.00