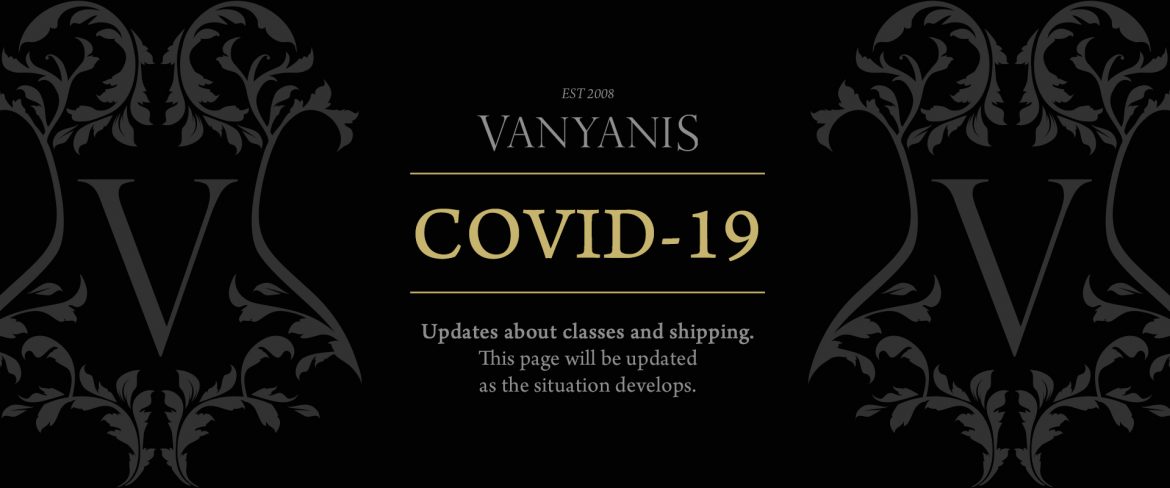 During this difficult time, I hope you are finding a few quiet moments to relax during this stressful time. Wherever you are in the world, I hope you and your loved ones are safe. It seems these days all I can do is read the news in horror, watching as the situation unfolds. My friends and family are all over the world and some are in worse situations than others. Thank goodness for the internet and technology, allowing us to connect and remain in contact with each other. This is a time when we all need to look after each other and practice kindness.
I wanted to take this opportunity to give you an update about how Covid 19 is affecting things at Vanyanís. This post is both personal and professional, because small business is like that and my life is heavily entwined with my business. To me Vanyanís is not just a "job". It is my passion, my livelihood and I could not imagine doing anything else. Covid-19 is affecting businesses everywhere and these are strange, uncertain times.
Recently I moved to New Zealand to be with my partner Brett. I've kept the studio in Healesville (Australia) as it's a beautiful space and is in my home town (near my mum!). My plan was to fly back to Australia for a week or two (once a month) to run my classes and meet my bespoke clients for fittings. My incredible assistants Julianne and Joan look after the studio while I'm away, and take care of shipping store orders. It's a different way of doing things, but the beauty of being self employed is that you can be adaptable and find ways to fit your work around your life. Unfortunately, none of us could have predicted the pandemic that is currently sweeping the globe, and flying between locations isn't currently possible.
I have prepared some information below about how Covid-19 is affecting classes and shipping. Each section will be updated as the situation develops.
Australian Corsetry Classes and Sewing Days
Due to travel restrictions put in place by the Australian and New Zealand governments due to the Covid-19 pandemic, all Australian classes have unfortunately been postponed. Classes will be rescheduled for later in the year, when (hopefully) the worst is over and travel is allowed without quarantine restrictions.
On top of the travel restrictions it is also currently impossible to run classes as all "non essential businesses" are required to close to help stop the spread of Covid-19. When it is safe to travel internationally again I will reschedule the classes.
Wellington Corsetry Classes
Here in New Zealand we have just entered a four week mandatory self isolation lock down. The Prime Minister moved the entire country to level 4 and everyone is at home isolating. All non essential businesses are closed, but essential services (pharmacies and supermarkets etc) remain open.
Obviously that means our classes in Wellington are postponed until Wellington is back at a level 1 or 2. No one knows when exactly that will be, but hopefully at the end of April we will get some more clarity on the situation. I have postponed the April and May classes and all students have been contacted personally. I am looking forward to the situation improving so that I can reunite with my students and Mary (who runs Nancy's Stitch Studio where I teach from).
[Update 3-June-2020] I'm delighted to announce that as New Zealand has moved to Level 2, the classes that had to be postponed have been rescheduled. I am looking forward to welcoming my students (safely) into our classroom over the coming weeks. All students have been emailed with the new dates.
Want to book into a class but feel uncertain?
Whilst nothing is certain during these times, it is most likely that classes scheduled for later in 2020 will go ahead. If for any reason classes need to be postponed due to further Covid-19 restrictions, then they will be rescheduled so that no one misses out. If you are unwell you will be able to transfer your ticket. Please feel confident to book in and know that you will get to learn with me and your ticket will not be wasted.
Refer-a-friend and save $50 each off any 2020 corset making course! To be eligible for the discount simply enter the name of your referring friend in the comment section at checkout. Discounts will be manually refunded after you both book eligible orders. Upcoming classes can be found here.
If you want to try your hand at making a corset on your own at home then please consider the Vanyanís Aeryn Underbust Corset Pattern which is available here as a digital download so you can print it out at home. Use code "STAYSAFE" to save 15% (valid until 30-June-2020).
Online Learning
Whilst we may not be able to meet in person, we can meet online! If you're stuck with a project at home and need some guidance, I am happy to offer private tuition via video. Please email me at info@vanyanis.com to discuss your needs. Be sure to include what you want to learn/what you need help with.
I don't have the right camera equipment to run a structured online course at this stage, but I am taking this opportunity to work on some tutorials and corset patterns which will be available for purchase and download via my shop. At the top of my writing list are: How To Take Measurements For Corsets and Perfect Busk Insertion. If you have any suggestions for tutorials you'd like me to create, please leave a comment for me below.
When Classes Resume…
I will update students via email with the new rescheduled course dates as the situation changes. If students are unable to attend the new date than a credit will be offered to use within 12months from email. My priority is staying well, and keeping my students safe and well too.
When we are able to resume classes, I will be putting some additional safety measures in place. Students will be spaced further apart. All surfaces will be disinfected prior to class, and every student will be required to wipe down their own tools. If tools need to be shared, then they will be disinfected between use.
Feeling unwell? Stay at home!
If you are feeling even slightly unwell, please let me know and do not come to a class. I will be happy to transfer your ticket to a future date (valid for 12 months) so you don't miss out. We all have to work together to stay safe and well. This is not the usual way refunds/cancellations work but in light of Covid-19 I feel that the health and wellbeing of everyone is the most important thing, so I will do my part to be adaptable to the situation.
Online Shop & Shipping
Any orders placed over the website can and will still be shipped. My priority is the safety and well being of my staff and customers and I want you to know that every care is being taken by my assistants to practice social distancing and maintain safe hygiene practices. The studio is not open to the public, and all orders are being carefully wrapped with clean hands on clean surfaces.
Because all travel is limited, shipping will likely take longer than usual because there are less planes flying around the world. I'll be sure to communicate with anyone who places orders and let you know the status of your shipment. Please be patient if it takes us an extra day or two to get your order in the post. At this stage the post offices are still open, but queues are long, and slow. We're all doing our best.
You can use code "STAYWELL" to save 30% off our ready-to-wear clothing collection and corsets. Simply enter the code at checkout to redeem the discount.
[Update 3-June-2020] Any orders placed this week will be shipped mid June. This is due to leave taken by staff .
What's coming next at Vanyanis
The long awaited Skadi Jewellery collaboration and the lingerie collection with Karolina Laskowska will be coming very soon. There's nothing like a lock in to ensure all the photos get edited 😉
I'll also be publishing tutorials over the coming weeks and months, so make sure you join the Vanyanis VIP list here to ensure you don't miss any important announcements.
All businesses are hurting right now but we are all in this together. If an upcoming event has been cancelled due to Covid-19 and you won't be able to visit the stall of the business you love, please consider supporting them in the form of online orders. Most small businesses are operated by one person (or a very small team) so if you are in the fortunate position to be able to place an order, then please do so. If you can't order something, then share their work. It all helps. We're all in this together.
I want to give a shout out to the incredible Mary of Nancy's Stitch Studio (Wellington) who has kindly let me borrow a Bernina sewing machine for the duration of the lockdown here in New Zealand. Us small businesses need to stick together.
Most countries seem to be encouraging or mandating self isolation. How are you planning on spending the coming weeks? Do you have lots of sewing projects to keep you busy? Will you be working from home at all, or just have the time to yourself?
Remember, it is ok to not be at your most productive during this times. We all have grand plans for the things we want to achieve during isolation but we have to remember to be kind to ourselves and let ourselves just "be". We are living through a pandemic and we have to remember to just do what we can to get through these days. What are some self care things you're doing for yourself?
I'd love to hear from you so leave a comment below and tell me what you're up too 🙂
Stay safe and stay at home (if you can).
Warmest Regards,
Lowana