I'm so excited that I can finally reveal these wonderful photos of the gorgeous Aeryn Walker, looking like a total babe styled in my corset and accessories. These photos were taken in a cocktail bar in Melbourne, and the whole shoot was loads of fun. We had a great team of excited and talented people (links at the end of the post) and it was so nice working with everyone. The purpose of the shoot was to get some photos of garments and accessories I hadn't managed to shoot yet, so I felt fairly relaxed  in the lead-up to it (as there were no last minute deadlines to meet). We shot several looks that day (I've already blogged about Emmelie's corsets here) and have yet to reveal Erika's photos, so this post is all about Aeryn!
I styled Aeryn in one of my own personal corsets – a single layer floral coutil piece that I made myself a couple of years ago to wear under a cocktail dress for my engagement party (and it had had a lot of wear by the time we got around to shooting it). It's actually designed as an undergarment, not an outerwear corset, hence the boudoir styling! As a rather busty woman, strapless bras are a definite no, and so, I created this corset to wear under dresses that are off-the-shoulder or strapless. It's the perfect solution for busty gals! (On that note, do get in touch if this sort of corset interests you.)

Photography © Mark Anthony Boyle
Aeryn and I have been working together for years (doesn't she make my clothes look amazing?!) and she's pretty close to being my body double, which makes showcasing my own personal garments so much easier as they fit her really well, considering they were made for myself! It's always much more relaxing to style and direct a model, instead of trying to be model/director/stylist all at once (which I used to do when I was still starting out). We first met at an expo back in 2008 when I launched my label, and we've been friends ever since 🙂 I'm also taking this opportunity to brag about Aeryn, as she just starred in HBO's Game of Thrones (season 4 episode 4)! This is such an exciting time for her and I'm so proud of her living her dreams. I just hope she doesn't forget about little old me when she's super famous… not that she would – someone will have to make her red carpet worthy gowns 😉
 
  
If you're on tumblr and would like to reblog the above photos, you can do so from here.

Photography © Mark Anthony Boyle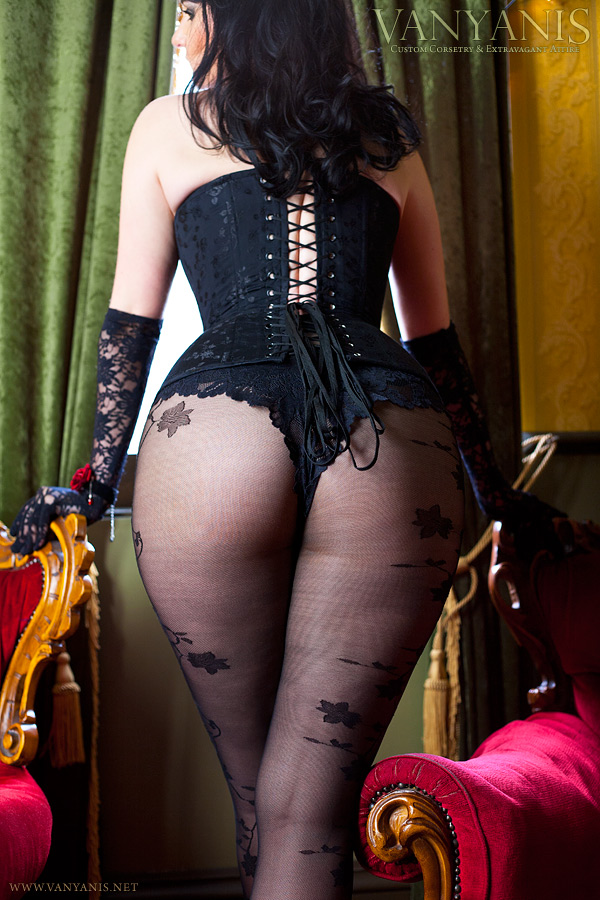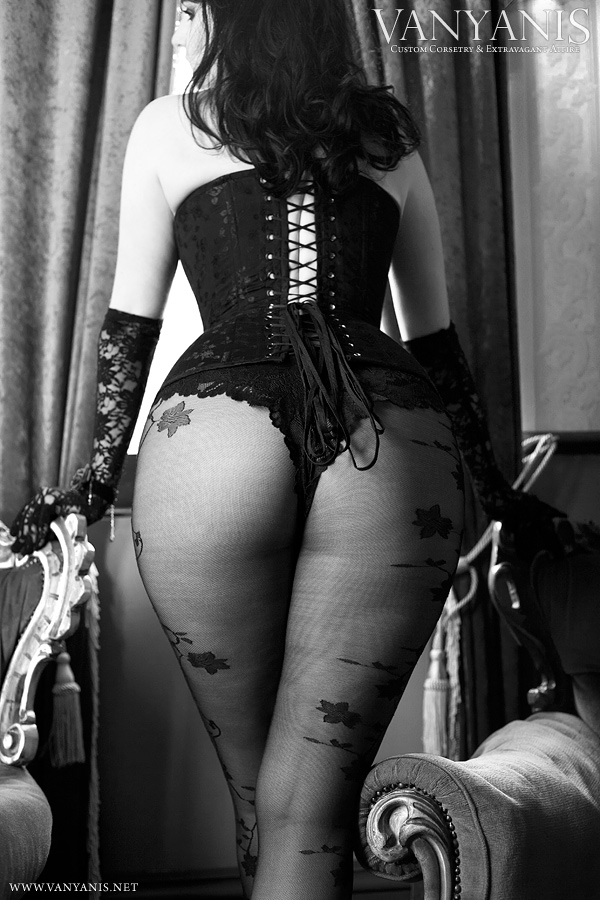 Middle and Right: I couldn't decide whether I prefer the colour or black and white version of this picture best, so I put both up. Feel free to leave a comment below with your favourite! Photography © Mark Anthony Boyle

After our time was up at the venue, we returned to Erika's apartment (who had graciously allowed us to take it over for shoot preparation – hair and make up takes time, people!) and we decided to put up a sheet and do a little 'boudoir' type shoot, just for fun! Below are my favourite shots from this shoot-within-a-shoot. 🙂
 
Left: If you're on tumblr you can reblog the photo from here. Those amazing patent heels are available here. Right: Looking like a cheeky pin-up gal in the gorgeous Grace floral sheer stockings. Photography © Mark Anthony Boyle
 
Left: This pic was an 'in-between-poses' one, but it's one of my favourites from the shoot – it's cheeky and fun! Right: Check out that waist! That's all Aeryn and the corset and some very clever posing! Black lace gloves available here. Photography © Mark Anthony Boyle
Please give some love to all the wonderful, talented people involved in this photoshoot and go and check out their sites and social media. If there are any pictures you want to share on your favourite social media, please make sure you credit the following people (where I've posted pictures on tumblr, I've linked to them below the respective image – please reblog from there rather than reposting, thank you).
Photography © Mark Anthony Boyle  |  Editing: Lowana O'Shea
Model: Aeryn Walker: website (18+ NSFW), facebook, tumblr, twitter
Hair and makeup: Emma Curry and Julie Giuricin  |  Location: Back Bar
Styling: Lowana O'Shea  |  Corset: Vanyanis  |  Accessories: Vanyanis shop
If you're interested in getting a fabulous corset (like the one Aeryn modelled – or even something totally different) to wear as shapewear or outerwear, please consider supporting the 'A Gift for Lucy Corsetry' indiegogo campaign. Lucy of Lucy's Corsetry (also known as Bishonenrancher) is one of the most prominent members of the worldwide corsetry community. Her Youtube channel contains hundreds of reviews, case studies, corset making and educational videos regarding corsetry. As a corset maker I've found her videos immensely helpful in educating my clients on the proper care and wear of corsets. I've been assisting Christine (of Ariadne's Thread) with the organizing of the campaign and I've also donated some gift vouchers to the worthy cause. If you'd like to save 5-10% off a custom corset, do check out the link below and get yourself a voucher (limited number available).
As always, thank you so much for reading and taking an interest in my work. I hope you enjoyed the photos, did you have a favourite? For those wanting to be kept updated with new blog posts and all things Vanyanis, you can sign up here. Did any of my readers spot Aeryn in the latest episode of Game of Thrones? I look forward to sharing the next instalment with you all soon!
Xx
Lowana