It's been very busy in my studio of late, so please excuse my absence from the blog! A couple of weeks ago I did a huge photo shoot to update my portfolio with my latest creations and this post is part one (of six). Six of my clients were kind enough to become models for the day, and we had two make up artists, a hair stylist, two photographers and a caterer (thanks Mum!) for the shoot. I'm happy to present the first set of photos, featuring the beautiful Ingrid, with photography by Mark Boyle.
Ingrid and I initially met back when I was still working in hospitality (we met over a wine tasting). Through our conversation I discovered that Ingrid needed a wedding gown and I of course offered my services. 🙂 A friendship was born and I was privileged to create her special 1940's inspired red wedding dress (you can see pictures of it here). That was three years ago now, and I was very excited to hear from Ingrid again as she had a couple of special garments she wanted made. I am so lucky to have such wonderful clients and friends.

Ingrid modelling her custom oriental brocade corset.
This overbust corset is made with some very special oriental burgundy silk brocade, with dragons woven through the pattern. Ingrid found this luxurious fabric whilst travelling in China and she decided she wanted something special made with it as a memento of her trip (I think this is the best idea ever for travel souvenirs, don't you agree?!). The corset is made from a six-panel pattern, features a lovely black busk and matching two-part eyelets and has (approximately – I forgot to count) 30 spiral and flat steel bones. I made matching bias binding for this special corset and the back modesty panel and busk placket are also made from the same silk. It's lined in a black damask soft cotton, and laces up the back with double-sided black satin ribbon. We wanted this piece to be all about the fabric – simple design and understated details (such as the black busk [instead of a silver or gold one which would have stood out]) to feature the fabric as much as possible. Instead of 'pattern-matching' the dragon pattern Ingrid chose an asymmetric pattern placement to create an 'organic' feel with the fabric. I kept the cut of the hips and bust nice and sleek to suit Ingrid's personal style. It was a lot of fun to create this piece and I feel so special that Ingrid chose me to carefully create her special memento.


Left: black satin ribbon closes the corset. Right: the last photo of the shoot, taken outside the venue as the sun was setting. This is one of my favourites from this series as the natural light really shows off the decadence of the fabric and Ingrid looks so sultry!
The coat that I made for Ingrid was such a delight to put together. It's quite simple in design, with lovely clean lines and made of a super soft mulberry wool, and lined in a fabulous fabric. The lining is so complex – it has little pin-prick spots woven through it, and the fabric is made up of green and pink threads, which causes it to change colour depending on which angle you look at it. The light also plays a part in determining the colour you see when you look at the lining, and its this, combined with the little spots (reminiscent of stars) that reminds me of the Northern Lights (or 'Aurora Borealis').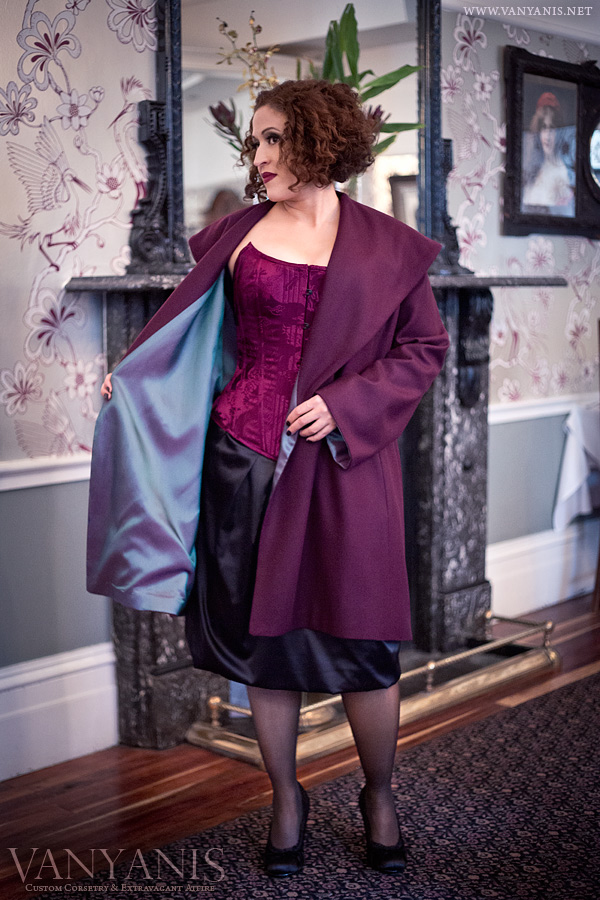 The lovely wide collar and lapels can be turned up a bit should the weather prove especially chilly, and the cross over cut at the front allows the coat to be worn as tight or as lose as you wish. The belt is also lined in the same Aurora Borealis lining which creates a flash of colour as you move about in the coat. Two invisible pockets are set into the princess seams at the front, and the gently flared sleeves allow you to wear as many layers as you wish underneath, or tuck your hands up your sleeves. I just love how versatile the design of this coat is and I'm rather tempted to make one for myself (in black of course and lined in red 😉 ).

Left: Close up showing the lovely wide collar and the attached belt. Right: Full length view proving that it does indeed have pockets (they're invisible unless they're in use). Ingrid's lovely shoes are available from my shop.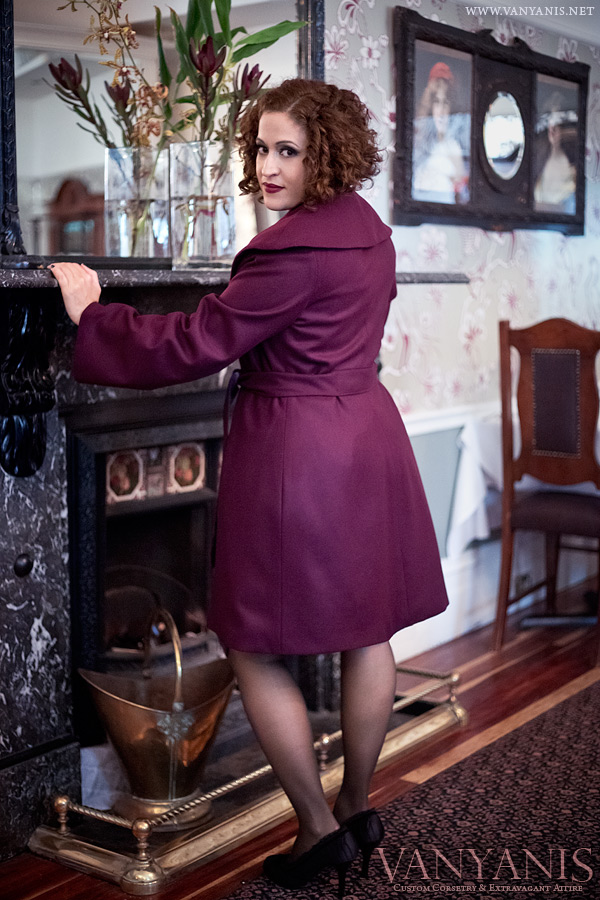 I'd like to give special mention to my wonderful team for this photo shoot. Please follow their links and check out their other work – they are all incredibly talented and it was such a pleasure working with them.
Photography © Mark Anthony Boyle  |  Editing: Lowana O'Shea Model: Ingrid Hering  |  Hair styling: Jessica Taylor of Gorejess Designs Make up: Elise Vincent (assisted by Nancy Khallouf)  |  Location: Yarra Glen Grand Hotel Corset and Coat: Vanyanís  |  Styling: Lowana O'Shea  |  Ingrid's shoes: Vanyanís shop 
Below are a few pictures I took of Ingrid's garments (just on my phone so please excuse the grainy-ness of the photos). I thought it would be fun to share a couple of 'in progress' / behind-the-scenes type shots.
 
Left: The inside of the coat. In this quick phone snap the lining is a different colour compared to what it looked like at the photo shoot venue. You can see all the little spots, and also the neat seams where the lining and wool meet. Right: This is something I like to do on corsets that feature a busk: instead of leaving the fabric gaping open behind the loop of the busk, I hand stitch it closed. This creates a smoother and more 'polished' finish overall.
 
The  finished corset laid out on my work table.

Left: Lining and 'closed' modesty panel to protect the skin from the laces. Right: The attached modesty panel folded back, showing the neat finish of the two-part eyelets. The modesty panel is supported with spiral steel boning

Close up of the black busk and stitching detail.
There'll be five more blog features from this photo shoot coming up so make sure you sign up to my mailing list (by becoming a VIP) so that you get an email as new posts are released. I sent out the first VIP newsletter a couple of weeks ago with a very special offer for members (you can 'preview' the email here to get a feel for the type of letters I send out). As always, thank you so much for reading and taking an interest in my blog.
What garment would you get made especially for you as a travel souvenir? Leave a comment down below as I'd love to hear your ideas!
Xx
Lowana