Vanyanís Corset Jewellery Set
We put this set together for those that desire the ultimate package for our corset themed jewellery. With the delightful necklace and earrings you can wear part of a corset every day. The complete set is your very own token to symbolise your love of corsets that you can wear anytime, in any occasion whether to work or a special event. Because they are so sleek and understated, they are suitable for any occasion. The unique pendants (featured in the necklace and earrings) are made with our original Engraved Corset Busk loops, that have been handcrafted in Melbourne and transformed into the elegant jewellery you see here.
The loops have been expertly engraved with a two-tone antique black laurel design (reminiscent of Victorian corset details) and then transformed into a pendant (complete with silver loop) and earrings (with solid sterling silver hooks) by a talented jeweller in the Yarra Valley. The pendant hangs on a delicate 'Figaro' sterling silver chain that adds detail, without detracting from the pendant. Whether you wear them as a whole set, or style them with jewellery you already have – the choice is yours with these unique, handmade pieces of luxury.
We wear our set everyday and several people have asked if the pendants are love lockets, as the cut out shape is similar to a keyhole. Isn't that lovely? And our customer Emmelie said (on receiving her necklace) "I love how it must look quite mysterious to a non-corset wearer: it's obviously a very deliberate, even utilitarian shape – but what of?! I can't wait to be asked about it."
This set is beautifully presented in a black jewellery box, making it the perfect gift for yourself or a loved one. Make every day a luxury, with Vanyanis Corset Jewellery.
1 in stock (can be backordered)
Add to Wishlist

Category: Jewellery
Tags: corsetbusk, corsetjewellery, corsetnecklace, corsetobsessed, corsetpendant, engraved busk, vanyanis, vanyaniscorsetearrings, vanyaniscorsetnecklace, vanyanisengravedbusk, vanyanisjewellery
For your chance to be featured, use #VanyanisJewellery or #VanyanisCorsetNecklace or #VanyanisCorsetEarrings on Instagram.
Colour Available: Silver with antique black engraving (a two-tone effect showing black or gold, depending on the light)
Materials: Stainless steel pendants with sterling silver earring hooks and chain.
Sizing: Pendants measure 1.8cm x 1.2cm.

Important: For back-orders, please allow up to 2 weeks for manufacture of this item. If ordering other items, please note that all items will be shipped together.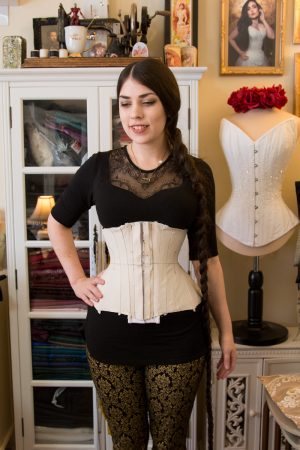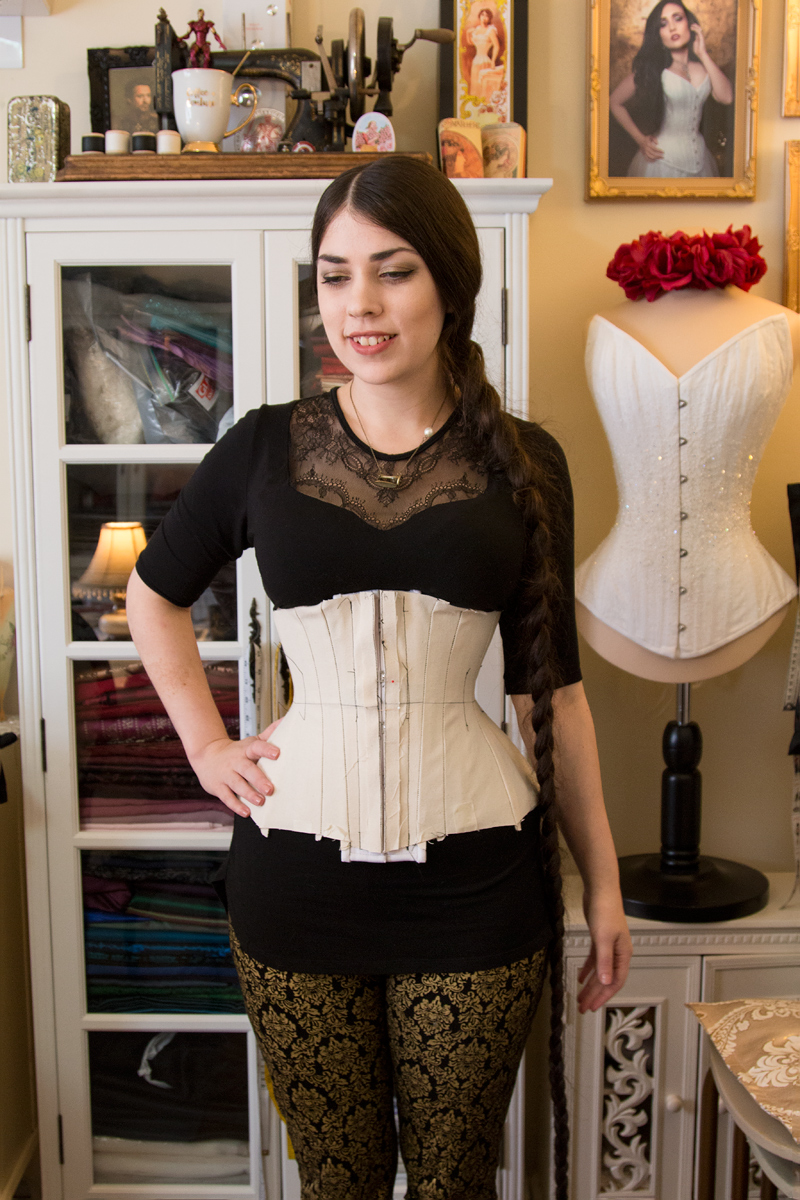 Book your place in this Beginner's Corsetry Class and learn how to make your own steel-boned genuine underbust corsets. At the end of this corsetry course you'll have a custom fitted black corset and personalised pattern to keep. You'll gain the confidence, knowledge and inspiration to build on your success and make more corsets on your own. Receive expert guidance from an industry professional in a fun, warm environment. All shapes, sizes and ages welcome!
Dates: Monday 16th to Thursday 19th October 2017 (4 days)
Times: 9:30am - 2:30pm each day (20 hours of tuition)
This class is spread over 4 days (instead of the usual 3) to accommodate those of you with children or those who prefer shorter study days.
Please note there will be some 'homework' each evening.
Location: Vanyanís studio, Healesville, Victoria, Australia
For accommodation and travel advice, please click here.
Price includes: all materials, corset pattern, morning and afternoon refreshments
Experience: you must already know how to sew and use a sewing machine (read more)
Small class size: 2-4 attendees
Payment in full must be received prior to course commencement
Prior to class commencement we will contact you for your measurements
IMPORTANT: 
For all course details, student requirements and skill level, a list of what to bring and what to wear, please click here.
$

795.00