Ebonique Lace and Satin Skirt with Pockets
View cart
"Vanyanís Tote Bag" has been added to your cart.
At Vanyanís, we believe that elegance goes hand in hand with comfort and utility. This is why our decadent satin skirt has two generously deep hidden pockets – freeing you of the need for a clutch should you choose.
Featuring an exquisite panel of Leavers Lace over a burgundy satin panel, this skirt is the height of luxury and we've loved bringing a couture feel to this garment. The skirt is fully lined in cupro (a hypoallergenic, anti-static fabric made from the silky fibres of the cotton plant) which feels incredibly soft against your skin. The featured lace is a match to our Sweetheart Tops.
The skirt is cleverly cut to accentuate your waist and hips, without adding 'bulk' at the front. The luxurious black satin is gathered at the back and sides, joining the flat front. The hemline is generous and you instantly want to swish about when you wear it. Why not wear a petticoat underneath for a vintage feel?
As Coco Chanel once said, "Simplicity is the keynote of all true elegance".
(To ensure the long life of this garment, please see the 'Fabric & Care' tab below for all care instructions.)
Add to Wishlist

SKU:

EBLS-BUR
Categories: Ready to Wear, Skirts
Tags: australiandesigner, basics, blackskirt, burgundyskirt, cocktail, corporate, cupro, eboniquelaceskirt, ethicalfashion, laceskirt, leaverslace, melbournefashion, satinskirt, slowfashion, vanyanis, vanyaniseboniquecollection, versatilefashion
For your chance to be featured, use #EboniqueLaceSkirt on Instagram.

For the best fit, please check your measurements against the sizing chart above. For help and instructions on how to take your measurements,
click here
. Please note, this is a non-stretch garment with the size based on your waist measurement.
To assist you in assessing the fit of these garments and how they may fit your own figure, you will find some information about the models measurements and the garment sizes they are wearing alongside fit notes from the designer in our Lookbooks (click here).
Fabric Content
Satin: 100% Polyester (luxurious feel, with a high thread count).
Lining: Cupro (a hypoallergenic, anti-static fabric made from the silky fibres of the cotton plant. It is durable, breathable and often used as a silk substitute).
Lace: 50% Nylon 50% Rayon
Care Instructions
For best results we recommend dry cleaning.
Or, hand wash in cold water. Or, gentle machine wash in a garment bag in cold water. Do not bleach. Do not tumble dry. Do not wring. Warm iron with pressing cloth.
At Vanyanís, we believe in slow fashion – high quality, versatile pieces made to last – not fast fads to be discarded in a few months. Rather than a passing trend, we focus on fashion as an investment; a Vanyanís wardrobe is a collection of timeless favourites made with quality and ethics at the fore, because we pride ourselves on paying a living wage.
Designed in the Yarra Valley, Australia.
Made in Bangkok, Thailand.
For more information about our ethical manufacturing process, click here.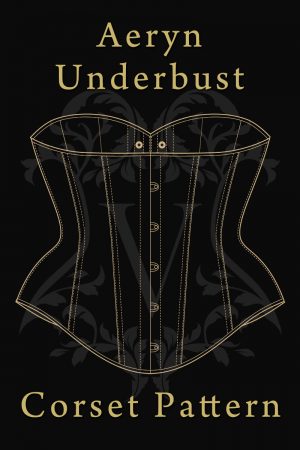 Patterns, School Shop
The Vanyanís Aeryn underbust pattern is available exclusively for Vanyanís and Royal Black corset making students. This underbust pattern was developed for the Vanyanís Beginner's Corsetry Course, and has proven to be a huge success with all who've tried it. It has a curvy silhouette with a lovely sweetheart shape at the upper back. The back panels have been drafted to create a smooth silhouette and eliminate any "back fat" or "overspill". This pattern creates a comfortable corset with a dramatic shape.
The corset pattern has six panels (per side) and is patterned to lace up closed on the wearers body (if you prefer a 2" lacing gap, simply select one size smaller). The pattern has been created to be as user friendly as possible. Seam allowances are clearly marked on all panels as well as a helpful letter system across of the top of the panel pieces (to help you sew the panels together correctly). We recommend sewing a toile (mock-up) to check and adjust the fit, before commencing your final project.
Available in corset sizes 18" to 44" it can fit natural waists of 20" to 50". To work out which size you'll need, please refer to the size chart located in the tabs below. This pattern is sold in "packs" of three sizes. Sewing instructions are not included. This pattern is licensed for personal use only (please refer to the tabs below for full terms of use).
Once purchased, the pattern pack will be immediately emailed to you as a PDF in both A3 and A4 formats, so you can print it out and get started with your corset straight away. (The A4 version will need to be taped together after printing). Tip: make sure you print the file at "100%", not "shrink to fit". There is a printed scale measurement on each page so you can check that it has printed correctly.
The files will be sent from sales@vanyanis.com so make sure you add this email to your address book so your patterns don't end up in the 'spam' folder!
Please use #VanyanisAerynCorsetPattern when posting your projects on Instagram, as we'd love to see your creations!
$

12.00